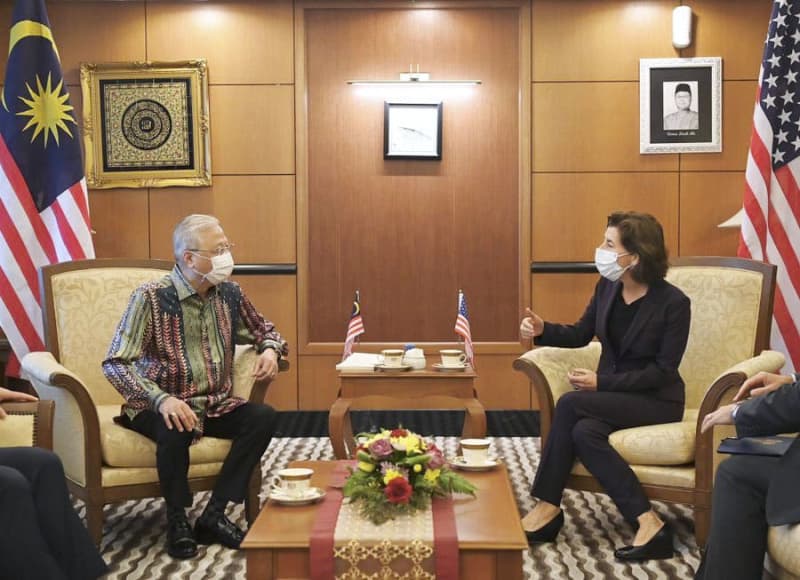 U.S. Commerce Secretary Gina Raimondo said Thursday a new Indo-Pacific economic framework it proposes will focus on the digital economy and be unlike a traditional free trade agreement, in an attempt to re-engage with the region economically.
"We don't envision it to be a traditional free trade agreement like the CPTPP," said Raimondo, who arrived in Malaysia on Thursday, referring to the Comprehensive and Progressive Agreement for Trans-Pacific Partnership, known informally as the Trans-Pacific Partnership or TPP.
The framework, which Raimondo called "a new framework for a new economy," would cover such topics as supply chain resiliency, semiconductors, infrastructure, cybersecurity, privacy settings and tech standards, she said in a teleconference with media in Kuala Lumpur.
The TPP was advocated by then U.S. President Barack Obama to deepen Washington's economic engagement with Asia and Pacific regions, but his successor Donald Trump pulled the United States out of the deal in 2017.
Formal negotiations for the framework are expected to begin next year, Raimondo said, adding that it is still premature to talk about its legal structure or membership.
"The president asked me to come to the region this week to lay the groundwork, to hear from our allies and start to coalesce around what the framework might look like," she said, explaining the framework is an initiative taken by U.S. President Joe Biden.
The United States will not return to the TPP as Biden believes there are other ways to deepen its economic integration with the Indo-Pacific region than the TPP, she stressed.
Raimondo's visit to Malaysia was part of her Asia tour this week as the commerce secretary. She flew to Malaysia after visiting Japan and Singapore.
Earlier Thursday, Raimondo met with the Malaysian Prime Minister Ismail Sabri Yaakob and her counterpart Mohamed Azmin Ali in Kuala Lumpur.
Raimondo and Azmin co-hosted a roundtable on semiconductors to collaborate with industry players on the product's supply chain transparency and security, according to a joint statement by the two.
Azmin, in a separate statement, said the discussions also touched on the global shortage of semiconductors.
Approximately 7 percent of the global total semiconductor trade flows through Malaysia, according to government statistics.