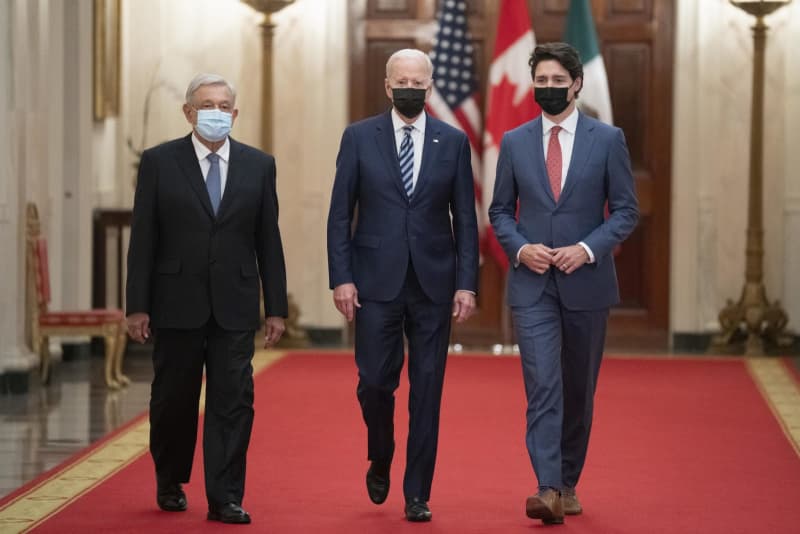 Leaders of the United States, Canada and Mexico on Thursday vowed to remove forced labor from their supply chains and defend human rights, in a sign of concern over China's alleged abusive treatment of the Muslim Uyghur minority in the Xinjiang region.
"A modern, resilient North American economy has no place for goods made through labor exploitation," U.S. President Joe Biden, Canadian Prime Minister Justin Trudeau and Mexican President Andres Manuel Lopez Obrador said in a joint statement after their meeting at the White House.
The three countries, which generate close to one-third of global goods and services, will support the strong protection of labor rights and commit to implementing the prohibition on the import of goods produced with forced labor under a revamped trilateral trade agreement that went into force last year, the White House said.
Concerns have been growing internationally over China's human rights violations against the Uyghurs in the far-western Xinjiang autonomous region, including using them as forced labor.
The first North American Leaders' Summit since 2016 was hosted by Biden as part of his efforts to revitalize U.S. relations with its allies and partners following a turbulent four years in trade and diplomacy under his predecessor Donald Trump.
Biden has also been calling for democracies around the world to come together to push back against countries such as China, which the administration views as challenging the rules-based international order.
At the outset of the talks, the Mexican president said economic integration among the three countries is the "best instrument" to face the competition stemmed from growth in other regions of the world, especially China.
"If the trend (of China's expansion) seen in the last decade should prevail for the next 30 years, by 2051 China would account for 42 percent of the world market and United States, Mexico, and Canada would remain with 12 percent," he said, adding that such prospects are an "unacceptable disproportion in the economic sphere."
The three leaders also underscored their commitment to protect human rights, especially for members of the most vulnerable and historically marginalized communities, and vowed to work to inspire democratic development around the world, according to the joint statement.
They also agreed to cooperate in tackling the coronavirus pandemic -- such as by providing donating vaccines to help meet demand in Latin America and the Caribbean -- and the climate crisis and coordinating on migration issues.