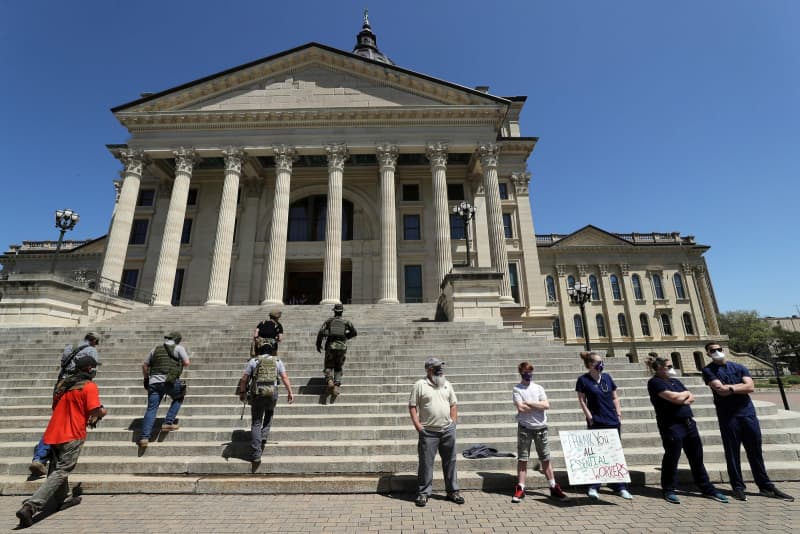 TOPEKA, Kan. — As Kansas lawmakers prepared to vote Monday night on a Republican-driven measure pushing back on federal COVID-19 vaccination rules, they began peering down at their phones at the new message that had just arrived.
Democratic Gov. Laura Kelly — without explaining why — had committed to signing the bill.
The announcement created awkward scenes. Minutes later, most Democrats cast votes against a proposal the de facto leader of their party had just promised to approve. Some Republicans, triumphant after a whirlwind 13-hour special session, thanked their usual political nemesis for backing the legislation they badly wanted.
On Tuesday, Kelly formally signed the legislation and offered the first explanation of her decision.
"I know there are Kansans who believe this legislation goes too far, and there are others who believe this legislation doesn't go far enough. But I was elected to lead, and leadership means seeking compromise," Kelly said in a statement, sidestepping specific discussion of the policy.
The governor said she had been clear she believes it's too late to "impose a federal standard."
The prepared statement came several hours after Kelly refused to answer questions from reporters during the annual Christmas tree delivery to Cedar Crest, the governor's residence in Topeka.
"We're talking about Christmas trees here," Kelly said.
By signing the bill, Kelly fulfilled a promise earlier this month to challenge federal vaccination rules — making her one of the very few major Democrats to do so. But Kelly's stance has also frustrated, even angered, portions of her base heading into a difficult election year.
Democratic lawmakers have slammed the bill as an empty promise that would hurt businesses and confuse employees. The measure aims to make it easy for workers to opt out of employer-issued COVID-19 vaccine mandates by creating a broad religious exemption.
Both Republicans and Democrats said Kelly had effectively backed herself into a political corner by speaking out against the mandates as early as she did. If she vetoed the bill she would look like a hypocrite, said Christopher Reeves, a consultant and former Democratic national committeeman.
"(Signing the bill) will make her someone who appears on Fox News as an attack piece on other Democrats running for governor nationally because conservative pundits will point to her and say 'see, see.' And that stings," Reeves said before lawmakers voted Monday.
He added Tuesday that her decision wasn't likely to win her any votes but could hurt her, and other Democrats', chances in 2022.
'Bad Bargain'?
The Legislature passed the bill Monday night at the end of a special session that lasted just a single day. It allows workers at businesses and other organizations with COVID-19 vaccine mandates to easily claim a religious exemption. Employees fired after being denied an exemption are eligible for unemployment benefits under the bill.
The bill requires the Kansas Department of Labor to investigate allegations of businesses not following the law, and authorizes the Attorney General's Office to go to court to enforce its provisions. Courts could fine businesses with fewer than 100 employees up to $10,000 per violation. Larger businesses would face a maximum fine of $50,000.
Nearly every Democrat in the Legislature voted against the bill, despite Kelly's last-minute stamp of approval.
"The governor made her deal with Republican leadership and I wasn't a party to that deal … I think that the governor has made a bad bargain," Rep. John Carmichael, a Wichita Democrat, said.
House Democrats said they learned of Kelly's final position only when she issued a public statement around 10:40 p.m. Just over an hour before that, House Republican leaders had told their caucus' they'd received indications the governor would sign the bill.
"What we've been hearing all day is that she was studying the situation closely and hadn't made up her mind one way or another up until the statement came out," House Minority Leader Tom Sawyer said Monday night after the Legislature adjourned. "I think she should explain why she's signing the bill."
Rep. Jason Probst, of Hutchinson, was the only House Democrat to vote in favor of the bill. He called the rhetoric leading up to the session and during it "political theater" but said he had an obligation to vote in line with workers in his district.
"Normally if you have a Democratic governor the Democratic caucus is on board with that. I tend to take the tone that people ought to vote their districts and in my district I have a lot of people that work for companies like Tyson who are unhappy that they have a company ordered mandate."
House Speaker Ron Ryckman, an Olathe Republican, said it was evident communication broke down. Rep. Stephen Owens, the Hesston Republican who carried the bill, called the disconnect between Kelly and Democrats a failure in leadership.
In the Senate, Democrats were disappointed but said Tuesday they had been communicating with Kelly's office ahead of the decision.
"I think Democrats were voting their district and the governor is looking at statewide. So yes, we disagreed on this but I can see why that would be her vote," said Senate Minority Leader Dinah Sykes, a Lenexa Democrat.
Election ahead
Kelly is one of the most vulnerable Democratic governors up for re-election in 2022. She is the only Democratic gubernatorial incumbent on the ballot next year in a state won by former President Donald Trump.
Incumbent Kansas governors have traditionally faced difficulty getting re-elected when their party controls the White House. The last was Democrat Robert Docking, who won his first re-election in 1968 when President Lyndon Johnson was in office.
Bob Beatty, a political scientist at Washburn University, said Kelly's actions were reminiscent of former Democratic Gov. Kathleen Sebelius' efforts to walk a tightrope and appeal to Republican voters. He recalled how Sebelius, a longtime friend of Kelly, had proposed cutting taxes on machinery and equipment as she entered an election year.
"I'll never forget she proposed this in one of her state of the states and after the speech, I'm out in the hallway and I hear a Republican say, 'She can't do that, that's our issue," Beatty said.
Kelly's likely Republican opponent in the 2022 general election, Attorney General Derek Schmidt, is waging several lawsuits challenging the federal vaccination rules and has been a vocal opponent of the mandates since September. Republicans said the dynamic put extra pressure on Kelly.
"Well, it is an election year and you know, she's no fool, right?" said Senate President Ty Masterson, an Andover Republican. "She was in a bit of a box in the sense that she needed to be seen as supporting people's individual rights and liberties and, you know, to give her the credit, she stood up and signed this and I'm thankful for that."
Earlier this month, Kelly broke publicly with the Biden administration after the Occupational Safety and Health Administration (OSHA) rolled out its vaccination rule, which requires businesses with more than 100 employees to ensure they're vaccinated or tested regularly.
The requirements, and other federal rules directing most health care workers to be vaccinated and federal contractors to employ vaccinated workers, are all under ongoing litigation filed by Republican attorneys general and other opponents.
Biden rolled out the federal vaccination initiatives in September. OSHA didn't release its rule until Nov. 4, which was also two days after Republican Glenn Youngkin defeated Democrat Terry McAuliffe in the Virginia governor's race, which national Democrats took as a wake up call for its candidates nationally.
Kelly made her first critical remarks about the OSHA rule on Nov. 5, then issued an even stronger statement the following day.
"I reviewed the new vaccine mandate from the Biden Administration. While I appreciate the intention to keep people safe, a goal I share, I don't believe this directive is the correct, or the most effective, solution for Kansas," Kelly said.
\-------