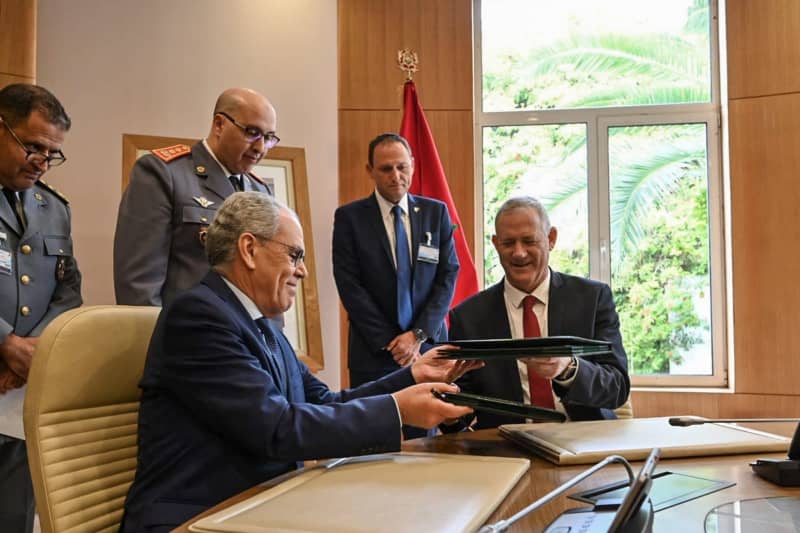 Israel and Morocco signed a security memorandum of understanding on Wednesday during a visit from Israeli Defence Minister Benny Gantz, a follow-up to the two countries' decision to normalize relations last year.
The agreement lays the foundation for cooperation in several fields including intelligence, industrial collaboration and military training, according to a spokesperson for Gantz.
Gantz signed the deal with senior Moroccan defence official Abdellatif Loudiyi.
"It is a very significant development, which will enable us to work on joint projects and promote industrial cooperation. Relations between Israel and Morocco should be expanded and enhanced," Gantz said.
Both officials hailed progress made in the defence field by signing an agreement on information protection and a memorandum of understanding on cooperation in cybersecurity, Morocco's state news agency MAP reported.
They also discussed ways of bolstering military cooperation between the two countries and "renewed their joint will" to boost ties, the agency added without providing further details.
In August, Israel and the North African country signed some agreements for political consultations as well as in the fields of culture, youth, sports and air service.
Morocco and Israel inked a US-brokered deal to establish official ties late last year, weeks after deals signed by Bahrain and the United Arab Emirates with Israel.
The deals moved away from the decades-old line of Arab states to refuse relations with Israel as long as the conflict with the Palestinians is not resolved.
Previously, only two Arab states - Egypt and Jordan - had maintained diplomatic relations with Israel.