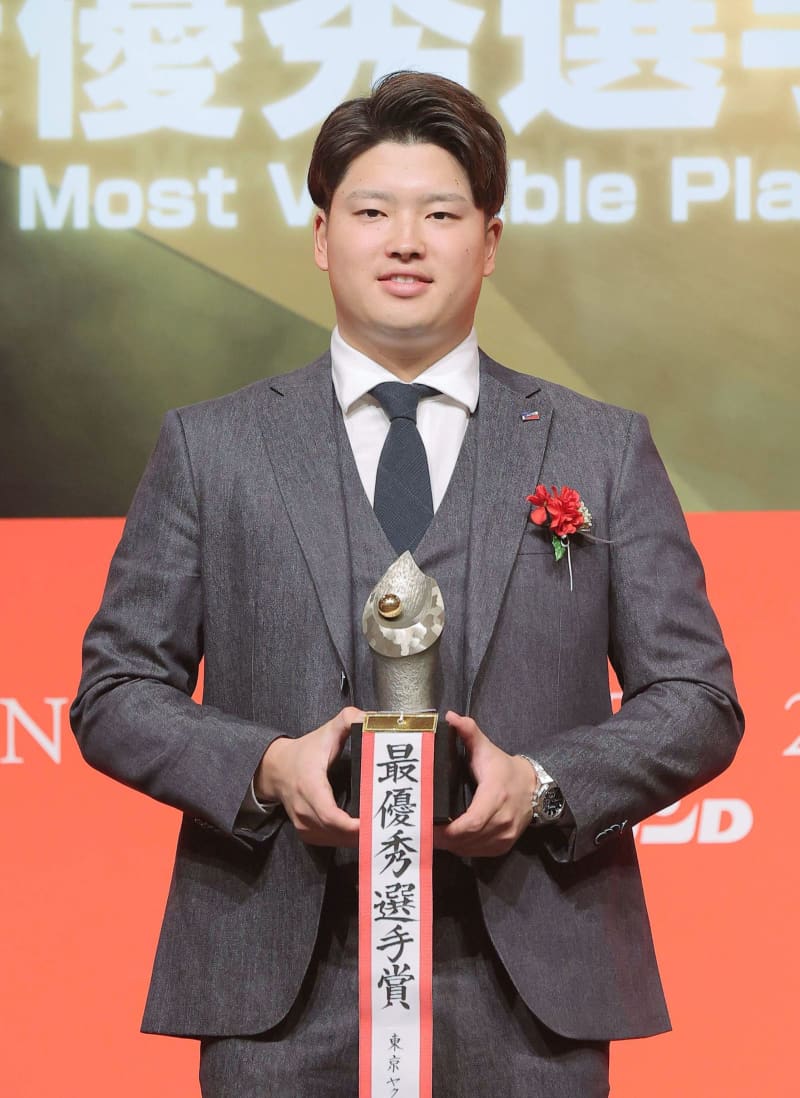 A pair of youngsters walked away with Japanese pro baseball's top honors on Wednesday as Yakult Swallows third baseman Munetaka Murakami won the Central League's MVP award, while Orix Buffaloes ace pitcher Yoshinobu Yamamoto was named Pacific League MVP.
The awards are decided in a poll of media members covering Japanese pro baseball for five or more years, who each cast first-, second- and third-place votes, worth five points, three points and one point, respectively.
Yamamoto's teammate, 20-year-old lefty Hiroya Miyagi won the PL's Rookie of the Year Award, while Hiroshima Carp closer Ryoji Kuribayashi got the nod in the CL.
The 21-year-old Murakami played all 143 regular-season games for the Swallows and all nine of their postseason games en route to the team's first Japan Series championship in 20 years.
The 23-year-old Yamamoto went 18-5 to lead Orix to its first Japan Series appearance in 25 years and was already named the winner of the Eiji Sawamura Award as Japan's most impressive starting pitcher.
Murakami tied Yomiuri Giants third baseman, Kazuma Okamoto, for the CL home run lead with 39 and drove in 112 runs, second to Okamoto's 113. The Swallows youngster led the league in walks and total bases but was runner-up in on-base percentage and slugging average to Hiroshima Carp right fielder Seiya Suzuki.
Yamamoto, who dominated the PL's Best Nine voting with 279 of 282 votes cast, was without any real pitching peers this year. The right-hander led the PL with six complete games, four shutouts, 18 wins, a .783 winning percentage, 193-2/3 innings, 206 strikeouts and a 1.39 ERA.
Miyagi, Orix's first-round draft signing from 2019, was second on the Buffaloes in innings pitched. His 13 wins and 2.51 ERA were second in the PL behind Yamamoto. Miyagi received 201 votes, with Nippon Ham Fighters pitcher Hiromi Ito finishing second with 21.
"As I pitched in more and more games, the pitches I was confident in throwing increased," Miyagi said. "I struggled a bit in the second half, but I was able to receive this award thanks to the support of my teammates."
Kuribayashi saved 37 games, the second-most in the CL.
"This award is the result of polishing my craft at the same time as my good rivals," said Kuribayashi, who received 201 votes, with DeNA BayStars second baseman Shugo Maki finishing runner-up with 76.
In what was a superb season for rookies, "special rookie awards" were announced for six other players -- Ito, Maki, Swallows pitcher Yasunobu Okugawa, Hanshin Tigers shortstop Takumu Nakano and his teammates, outfielder Teruaki Sato and pitcher Masashi Ito.