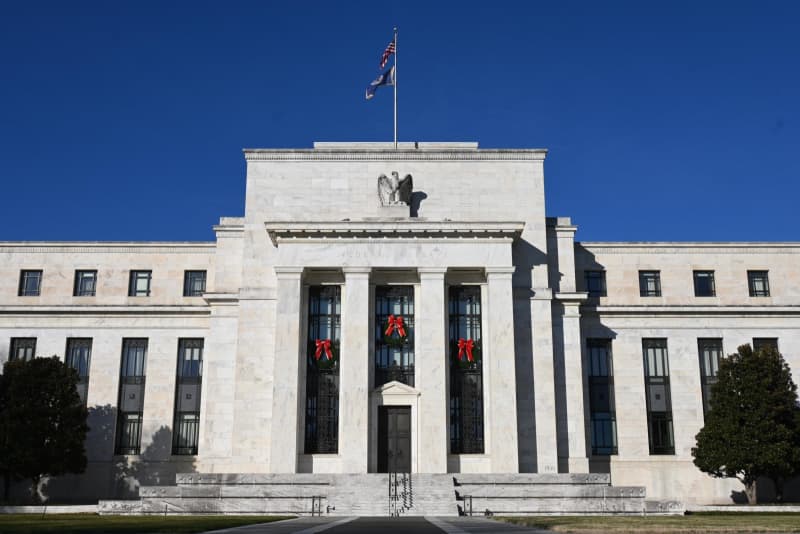 The U.S. Federal Reserve on Wednesday hinted at the possibility of three interest rate hikes next year while deciding to roll back its support for the coronavirus pandemic-hit economy faster than initially planned amid concerns over rising inflation.
After a two-day meeting of the policy-setting Federal Open Market Committee, the bank said it will begin reducing its monthly purchases in Treasuries and mortgage securities by $30 billion, up from the $15 billion announced in November, citing "inflation developments and the further improvement in the labor market."
The Fed maintained its target range for the federal funds rate at 0 to 0.25 percent, as widely expected.
Its latest summary of economic projections, meanwhile, showed that all 18 of the Fed's policymakers are now anticipating rate hikes in 2022 from the current near-zero rate, compared with nine in September.
The Fed forecast the U.S. gross domestic product to grow a real 5.5 percent in the fourth quarter of 2021 from a year earlier, revised downward from the 5.9 percent expansion estimated in September, while expecting a 4.0 percent rise next year.
The unemployment rate is projected to be 4.3 percent in 2021, down 0.5 percentage point from the previous forecast, and 3.5 percent in 2022. The pace of price increases is expected to rise to 5.3 percent this year, up from the September forecast of 4.2 percent, before falling to 2.6 percent in 2022.
Economic recovery following a deep downturn from the coronavirus pandemic has caused supply chain disruptions, pushing up prices around the world.
In the United States, the consumer price index was up 6.8 percent in November from a year earlier, marking the sharpest rise in over 39 years, according to Labor Department data.
Fed Chairman Jerome Powell told a Senate committee in late November that the central bank should consider wrapping up the taper of its asset purchases possibly "a few months sooner," citing the strength of the U.S. economy and high inflationary pressures.
The current near-zero interest rate policy and the quantitative easing measures were introduced in March last year as the pandemic intensified in the United States.