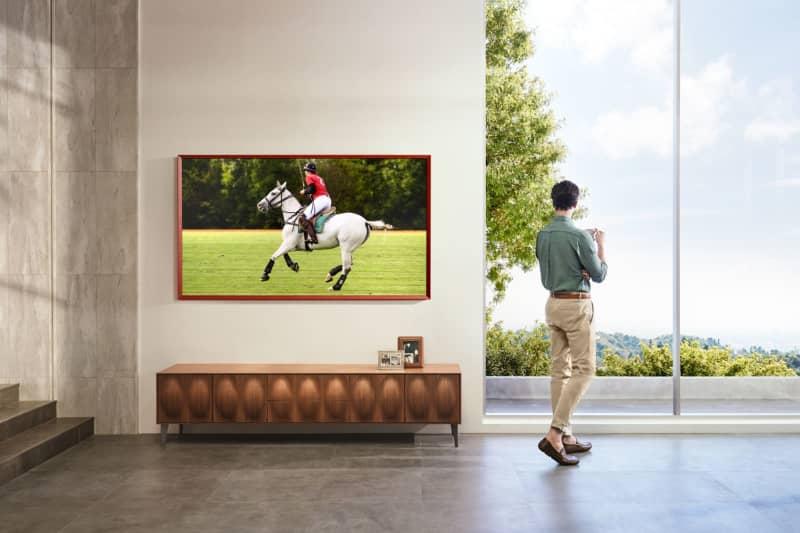 TV manufacturer Samsung is set to offer a brand-new platform dedicated to NFTs in its upcoming models, making it possible to browse, buy and admire certified digital works directly on your TV.
When presenting these new TV models at this year's Consumer Electronics Show (CES), Samsung announced that it will soon roll out a new platform entirely dedicated to NFTs, accessible from certain of the brand's smart TVs.
The idea is to let users browse, buy and then display on their TVs various works acquired in the form of NFTs, from different marketplaces. An NFT, or Non-Fungible Token, is a unique certified digital token that guarantees authenticity and exclusivity. These NFTs usually contain a wealth of information about the work and its creator, as well as its full history (buyers, resellers, etc.). The idea is that now, after investing in NFTs, buyers can display them in their living room, like new paintings on the wall.
This offer will complement Samsung's Art Store, which already lets users display numerous works of art on the brand's TVs, in partnership with some of the world's top museums, starting with the Louvre in Paris, the Van Gogh Museum in Amsterdam and the Prado Museum in Madrid, for a monthly subscription of $4.99. These works look particularly impressive on Samsung's The Frame line of TVs, launched in 2017. These TVs stand out with their unique, slim design, and a look that echoes a painting or artwork when mounted on a wall.
This new NFT platform is just one of the features of Samsung's new "Smart Hub," a set of online services that will also allow users to play online games, make video calls and even watch the same shows along with friends. It will feature in the South Korean manufacturer's Micro LED, Neo QLED and The Frame models.
CES runs January 5-7, 2022, in Las Vegas, and this year takes the form of a hybrid event, with manufacturers on site and others unveiling new products through online presentations.