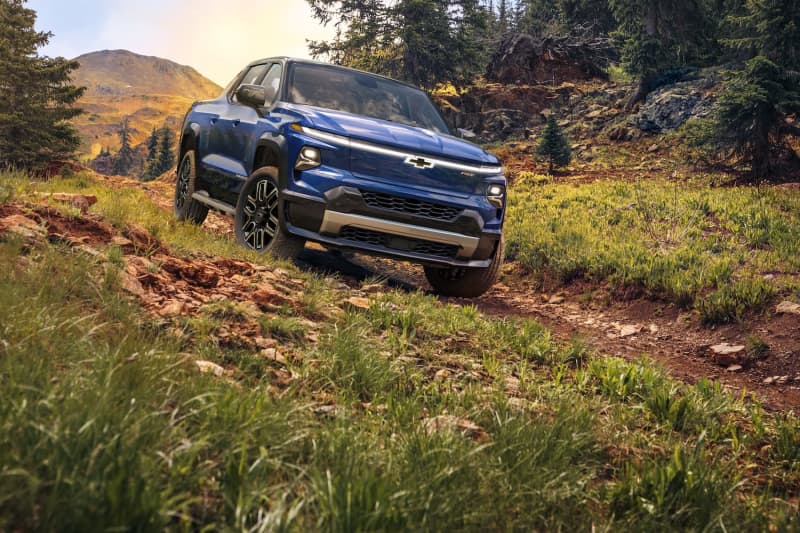 The 2024 Chevrolet Silverado EV has officially debuted, and we're here to tell you about it. With GMC CEO Mary Barra herself emceeing the virtual debut, it's clear that General Motors aims to make a big impact with this new electric pickup truck. And in many ways, it certainly does. The Silverado EV – especially the RST First Edition model we're covering here in this article – premieres several industry firsts for electric trucks, while borrowing some existing technology from the GMC Hummer EV. And like the Hummer, the Tesla Cybertruck, Rivian R1T, and the Ford F-150 Lightning, customers can place a reservation for one.
"At Least 664 HP And 780 LB-FT Of Torque"
GM tells us that the 2024 Chevrolet Silverado EV RST First Edition will put out a minimum of 664 horsepower and 780 lb-ft of torque from its 24-module Ultium battery pack that shares much commonality with the GMC Hummer EV. All of this power – more than even a Camaro ZL1 – is accessible through the Silverado EV's Wide Open Watts Mode, or WOW Mode. Yes, it works like the Hummer's Watts To Freedom Mode, or WTF Mode, which sequences the truck to slingshot itself to 60 mph as fast as possible. In this case, the Silverado EV RST First Edition is said to do 0-60 in just 4.5 seconds. Pretty exceptional, for a big boy. A top speed was not disclosed.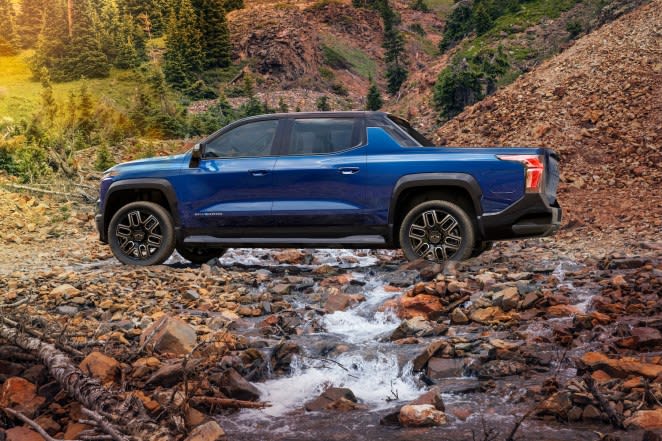 Image via Chevrolet## Four Wheel Steering, Crew Cab Only
For those looking for some body style variety, it ain't here. The Chevrolet Silverado EV will be offered exclusively as a Crew Cab truck, like its platform mate, the Hummer EV. Also like the Hummer, the 2024 Chevrolet Silverado EV RST First Edition will feature an automatic adaptive air suspension, as well as four wheel steering. It will not offer Crab Walk Mode out of the gate. It will offer 24 inch wheels. And where the Hummer offers the targa-style "Freedom Panels" on the roof, the Silverado EV makes it all fixed glass to peer into the heavens in a weatherproof fashion.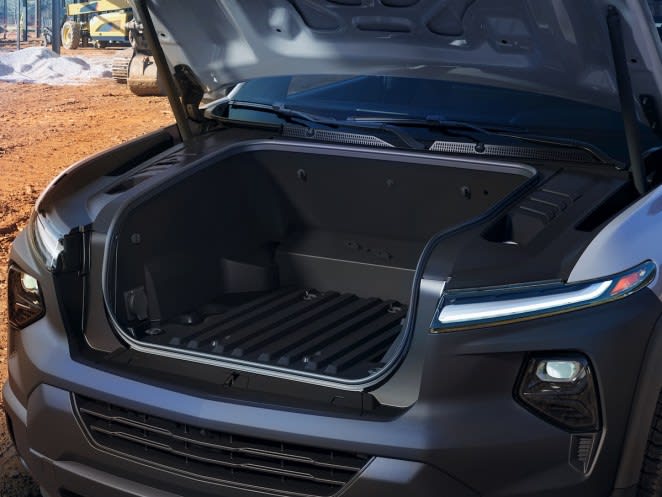 Image via Chevrolet## 2024 Chevrolet Silverado EV RST Adds Space, Storage
The packaging nature of an electric vehicle allows for incredible interior space and flexibility that an ICE vehicle just can't accommodate. For the Silverado EV, that means the second row of seats is pushed ever rearward, leaving lots of space open for cargo, or passengers six feet tall and above.
Up front, a vault-style eTrunk provides a lockable, weatherproof compartment in the front of the vehicle, and has enough space to fit a large hardside suitcase, complete with accessory power outlets. Chevy plans to offer several eTrunk accessories for both fleet and retail customers to load gear based on the unique needs of the customer.
Inside the cabin, the modular console of the 2024 Chevrolet Silverado EV RST features a capacity of just over 7 gallons, which can fit anything from a lunch cooler, to a small gym bag.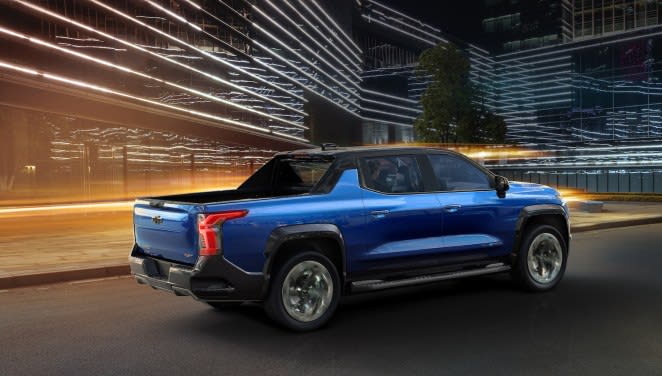 Image via Chevrolet## Silverado EV RST Range, Charging, Payload, And Towing
The 2024 Chevrolet Silverado EV RST First Edition features DC fast charging capabilities of up to 350 kW, enabling approximately 100 miles of range to be added in 10 minutes based on preliminary GM estimates. Total driving range for the Silverado EV RST is GM-estimated at 400 miles, but the EPA will have the final say on the matter, should the new electric truck be classified as a Light Duty vehicle.
The Silverado EV can also be used as a power source. When combined with the available accessory power bar, the PowerBase charging system of the Chevrolet Silverado EV offers up to 10 outlets, to provide a total of 10.2 kW of all-electric power for countless worksite or recreational needs, including powering houses, as well as being able to charge other electric vehicles using an accessory charge cord.
2024 Chevrolet Silverado EV owners can plot their charging around the Energy Assist feature in the myChevrolet Mobile App, and can create energy-efficient route planning even while towing.
Speaking of which, the max towing capacity of the 2024 Chevrolet Silverado EV RST First Edition is currently estimated to be 10,000 pounds. Max payload comes in at 1,300 pounds. Yes, for its size and the money (we'll get to that in a bit), these numbers aren't going to replace the ICE variants of the Chevrolet Silverado anytime soon.
Chevrolet Silverado EV RST owners also have access to Ultium Charge 360, GM's holistic approach to EV charging, which is designed to simplify the overall charging experience, including access to more than 100,000 publicly available charging points in the U.S. and Canada.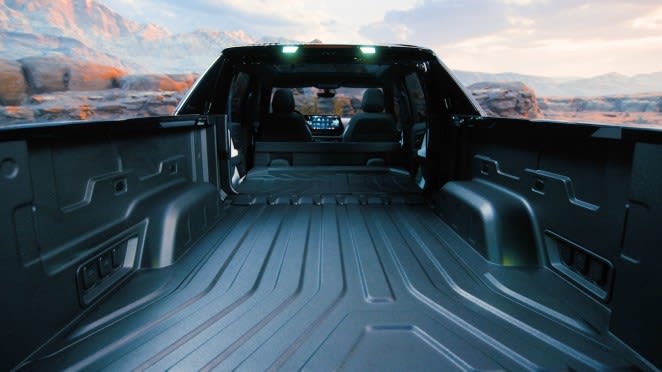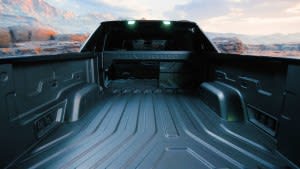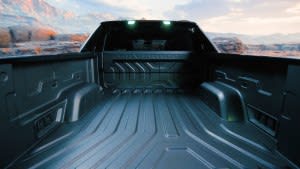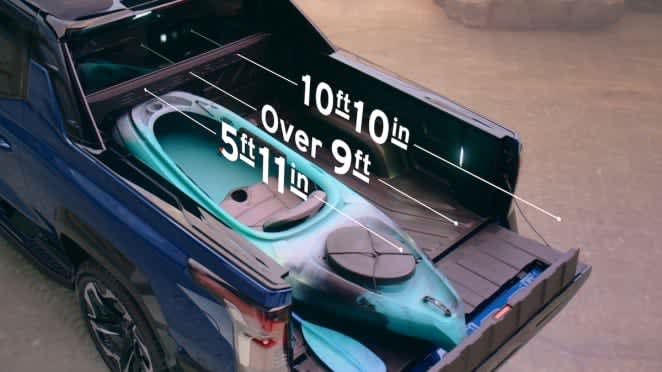 The Return Of The Midgate!
Chevrolet Avalanche fans will remember this party trick. For the first time in nearly a decade, the Midgate design has returned, opening up the truck bed to the cab of the 2024 Chevrolet Silverado RST, allowing for incredible storage capacity. And, unlike the Avalanche, a 60/40 split in the Midgate allows for a partial passthrough instead of a full commitment of dropping the entire second row. And as the graphic depicts above, the 5'11" bed that comes with the Silverado EV can feel like a 9-foot bed with the Midgate dropped and the Multi-Flex Tailgate closed. Drop it down and lay up that tray-style bulkhead, and you have a load floor that's nearly 11 feet long. Imagine camping in that thing.
For those thinking the obvious, an available tonneau cover allows low laying such as lumber or a kayak to be loaded into a fully lockable, weatherproof storage compartment. For anything bigger, well, we'll have see what sort of solutions will come for that. But never mind that. Midgate!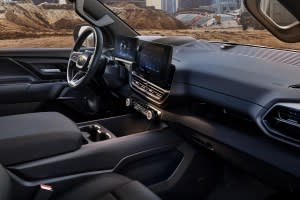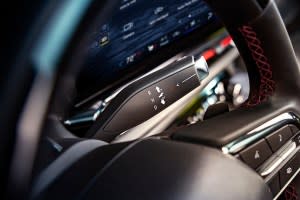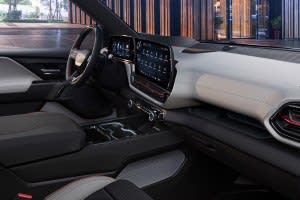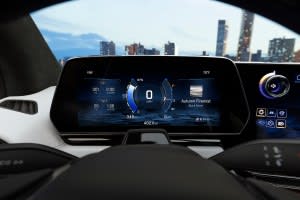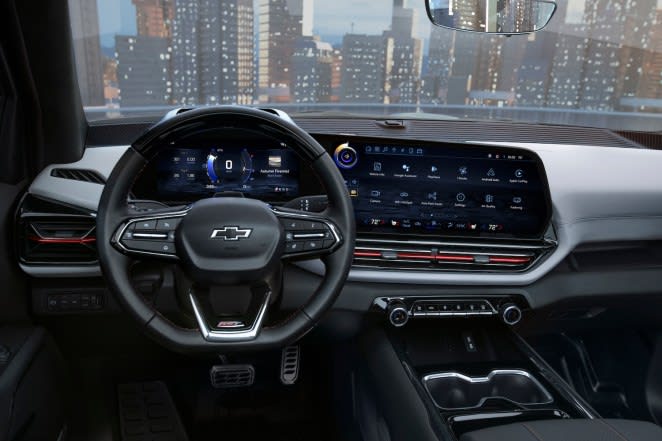 There Is No Start Button (?!)
So, Chevrolet remembered the Midgate but forgot the start button in the Silverado EV RST? Well, the didn't forget it. It was deliberately left out. With this new hands-free start sequence, the vehicle turns on automatically after the driver enters with either a key fob or an enabled smart phone, cutting out a step in the start-up process. Now all the driver has to do is select a gear from the column, buckle up (it's mandatory now), and off they go.
As the driver approaches the 2024 Chevrolet Silverado EV RST, they're greeted with a unique lighting sequence. When they enter the cockpit, a high-resolution 3D animation appears on the truck's large 17-inch-diagonal LCD infotainment screen, which is paired with a neighboring 11-inch diagonal driver instrument display – similar to what we see in the Cadillac Escalade. But unlike the Cadillac, the Silverado EV RST features a colorized head-up display with a massive field of view spanning over 14 inches.
Powering all of this technology will be the brand's first application of Ultifi, a new Linux-based software platform. Developed in-house at GM, it's the automaker's way of describing fast and frequent OTA updates to the truck's operating system, theoretically evolving it over time.
Additionally, the 2024 Chevrolet SIlverado EV RST First Edition will come with GM Super Cruise technology, for hands-free driving on geo-fenced roads.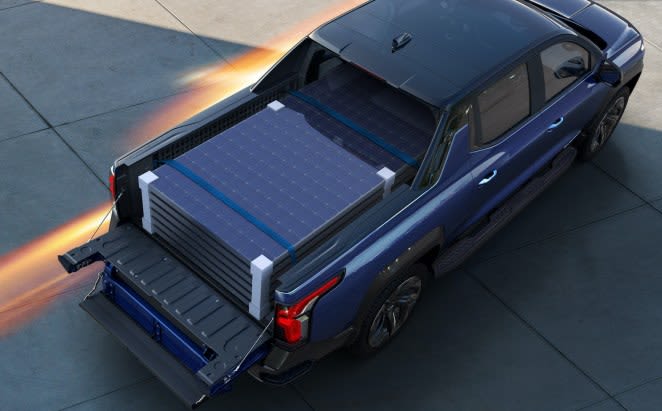 Image via Chevrolet## 2024 Chevrolet Silverado EV RST: Price, Availability, And Reservations
The 2024 Chevrolet Silverado EV RST First Edition model will be the first variant available to retail customers, but not until the fall of 2023. Customers can reserve it for just $100 when the books open at 1:00 PM, ET today on the Chevrolet website. While the deposit is nominal, the MSRP of the Silverado EV RST First Edition is a steep $105,000 USD plus destination fees. So if you missed your shot to spend six figures on a Hummer EV Edition 1, here's the next best thing.
Farther down the road, Chevrolet will open up availability to the Silverado EV WT for retail customers for $39,900 plus destination. With the Ford F-150 Lightning scheduled to begin production this summer, the Silverado EV WT will come to retail customers roughly two years after. However, the timeline is still fluid, and we expect a few adjustments between then and now. Either way, it will probably hit the market before the Tesla Cybertruck.
What do we think? Let us know in the comments below.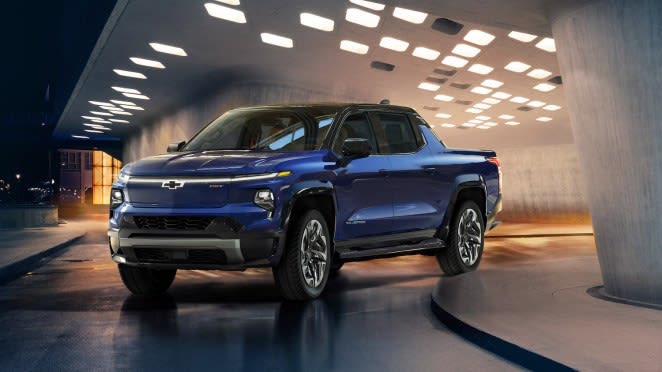 Image via Chevrolet