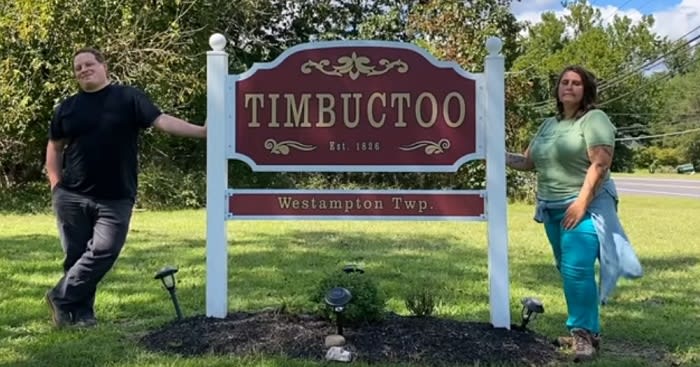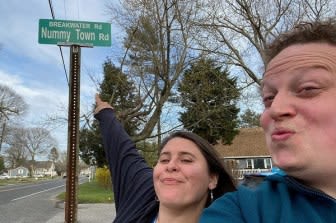 Devon McEnteer and Mike Salkewicz visit Nummy Town Road in Cape May County. This photo is included on their gardenstatestomp.com website.
The folksinger Dave Van Ronk included the names of 80 New Jersey locations — including many he undoubtedly never visited personally — in his 1985 novelty song "Garden State Stomp." Van Ronk wasn't a New Jerseyan; a lifelong New Yorker, he was a major figure on the Greenwich Village folk scene for decades. I don't know if this is true, but I imagine he got the idea for the song by driving to gigs and seeing signs for places like Ho-Ho-Kus and Piscataway. I don't think he ever explained how the song came about, and since he died in 2002, at the age of 65, there is no way to find out.
But anyway … I'm writing this post because I want to tell you about a wonderful new video and website I found out about via a report by my former Star-Ledger colleague Brian Donohue on News 12 New Jersey. The married couple Mike Salkewicz and Devon McEnteer of Morris County love to travel, but the pandemic forced them to cancel a planned trip to Scotland, they write on their gardenstatestomp.com website. Suffering from cabin fever, they decided to visit all the places in the song (over the course of eight months), sometimes with their dog Mavis. They also made a video of themselves doing so; Van Ronk's song provides the soundtrack. You can watch it below.
The website has separate pages for each location, and shares some of the research the couple did.
"Some places remain easily recognizable — from the tenacious Ironbound section of Newark to the small town of Netcong that somehow acts as a navigation point on almost every major highway in the state," they write. "… Others are unincorporated communities — old towns and villages that melted into a municipality along the way, and now are only kept alive by the will of their residents or a glimpse at an old map. Timbuctoo in Westampton is a dedicated preservation effort by descendants of freed slaves, while the Blue Ball section of Adelphia only comes into focus when looking back to documents from the mid-19th century.
"Then, Dave starts throwing in everything from small creeks (Shabakunk) to parks (Wawayanda) to a long-abandoned Boy Scout camp (Mahalala). Most impressive, though, is that these places were culled from a vast array of maps and documents throughout our state's history; some places vanished from maps and documents long before other places came to be — some of those are nearly long-gone memories themselves."
Maybe as a sequel, they can visit all the places in Steve Forbert's "Strange Names (New Jersey's Got 'Em)."
%CODE1%
We need your help!
CONTRIBUTE TO NJARTS.NET

Since launching in September 2014, NJArts.net, a 501(c)(3) organization, has become one of the most important media outlets for the Garden State arts scene. And it has always offered its content without a subscription fee, or a paywall. Its continued existence depends on support from members of that scene, and the state's arts lovers. Please consider making a contribution of $20, or any other amount, to NJArts.net via PayPal, or by sending a check made out to NJArts.net to 11 Skytop Terrace, Montclair, NJ 07043.
$ Donation Amount:
Custom Amount
Select Payment Method
Personal Info
First Name *
Last Name
Email Address *
Donation Total:
$20.00