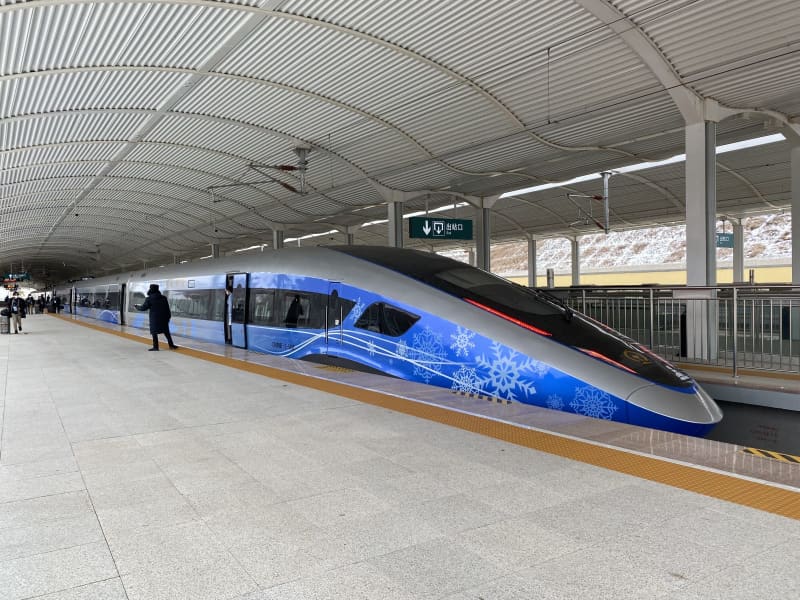 Thanks to tight restrictions aimed at stopping the spread of COVID-19, foreign athletes, media staffers and officials at the Beijing Winter Olympics will only glimpse everyday life in China from inside the so-called closed loop management system separating them from local residents.
While the Olympic exclusion zone is essentially limited to sports venues, press centers and accommodation, it also affords some visitors a close-up look at one of the most visible symbols of China's growing economic power -- the country's high-speed railway network.
The main Olympic hub in central Beijing is connected to two mountainous snow sports zones by the world's first automated high-speed railway line, featuring a driverless Fuxing bullet train launched in time for the Feb. 4-20 games.
Although the pandemic derailed plans to showcase the state-of-the-art train to Olympic spectators from around the world, it will ferry accredited visitors back and forth from the out-of-town competition zones at speeds of up to 350 kilometers per hour.
The Yanqing venue cluster, 75 km northwest of central Beijing, will host downhill skiing plus bobsled, luge and skeleton, while the Zhangjiakou zone, 180 km from the capital in neighboring Hebei Province, will stage the majority of the skiing and snowboarding events, including ski jumping.
The two Olympic clusters are serviced by the Beijing-Zhangjiakou intercity railway, opened in 2019 along a route mirroring one of China's oldest train lines.
After arriving at Beijing's Qinghe Railway Station via designated Olympic bus or taxi, games travelers pass through a separate entrance and waiting area to board the high-speed trains, using carriages segregated from those carrying ordinary passengers.
They quickly leave central Beijing behind, speeding quietly to their destinations in a small fraction of the time required by a car.
The state-run China Railway Corporation opened the country's first high-speed line just 14 years ago, but the network has since expanded at a remarkable rate and become a major source of national pride.
According to state media, China has laid 40,000 km of domestic high-speed railway, dwarfing all other nations, and it plans to add another 1,400 km by the end of 2022.
The country's railway infrastructure prowess has also become a key component of its international development projects, with Chinese-built railways in service in several Asian and African countries, and more under construction as part of the wide-ranging Belt and Road Initiative.
Foreign media members riding from Beijing to Zhangjiakou a few days before the start of the games took away a positive first impression of the new bullet train.
"It's so quiet and elegant," remarked Milan Jovanovic, covering the games for Slovenian television. "Our trains are many years behind."
Russian TV presenter Daniil Levin said the Fuxing compared favorably to high-speed services in his home country.
"In Russia, you are only going 200 kilometers per hour and it is not as smooth as this," said Levin, who was somewhat less impressed by other aspects of his journey within the closed loop.
"We had to wait inside a small waiting room (at Qinghe Station) with no toilet for half an hour. That was not so good," he said.
The high-speed line connecting the Olympic zones is set to have a lasting impact beyond the games, with some subway and intercity lines becoming better integrated with the bullet train network as a result of its construction.