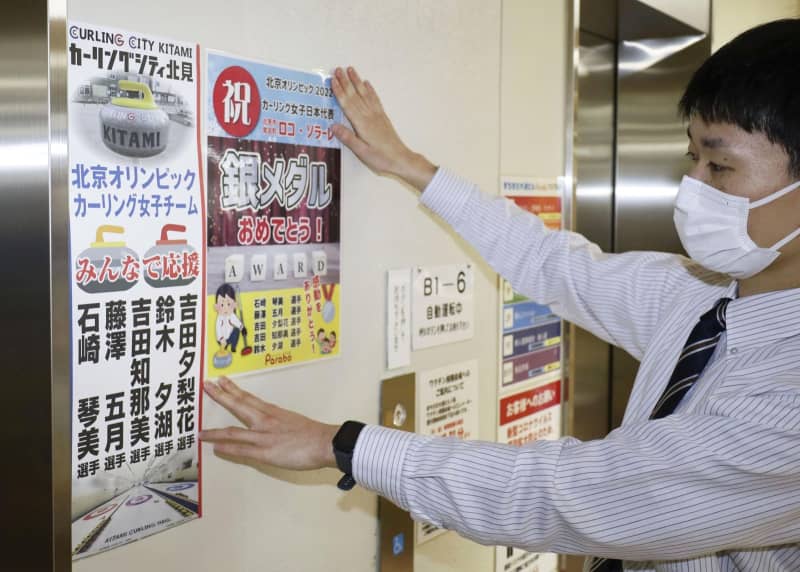 Excitement has reached a fever pitch in the Hokkaido hometown of Japan's women's curling team on Monday, a day after its silver medal-winning feat on the final day of the Beijing Olympics.
Millions in Japan tuned in to the Olympics to watch Loco Solare play Great Britain in the curling final, where they lost 10-3, and Kitami has seen an increase in media attention since curling put the city on the map.
A large banner draped down the front of the city hall in Kitami, the heartland of Japanese curling, to celebrate the country's best-ever Olympic finish in curling after the team's bronze in Pyeongchang four years ago.
At a commercial complex in front of Kitami station, its workers decorated the walls with posters congratulating the team to engage shoppers and build community spirit.
"The way they kept their smiles on the big (Olympic) stage and carried themselves with dignity, that was inspiring. I hope this energizes local communities," said Mitsugu Kano, one person putting up posters.
The company that makes the cheesecakes that in 2018 curling fans became obsessed with when they saw team members eating them as halftime snacks saw their products sell out at various shops as the team moved closer to a medal.
A special version wrapper bearing the Loco Solare logo became a huge hit.
Visitors flocked to Tokoro shrine in Kitami to buy miniature curling stone charms that became a sold-out success in 2018. Three members of the Loco Solare were born and raised in Tokoro, a tiny town with a population of 3,400.
Kazuyuki Mikado, the 55-year-old chief priest of the shrine who has experience and knowledge of the game, hoped that the attention on curling will continue after the Olympic fever fades.
"It would make me happy if these products related to athletes play a role in increasing interest in the sport," he said.