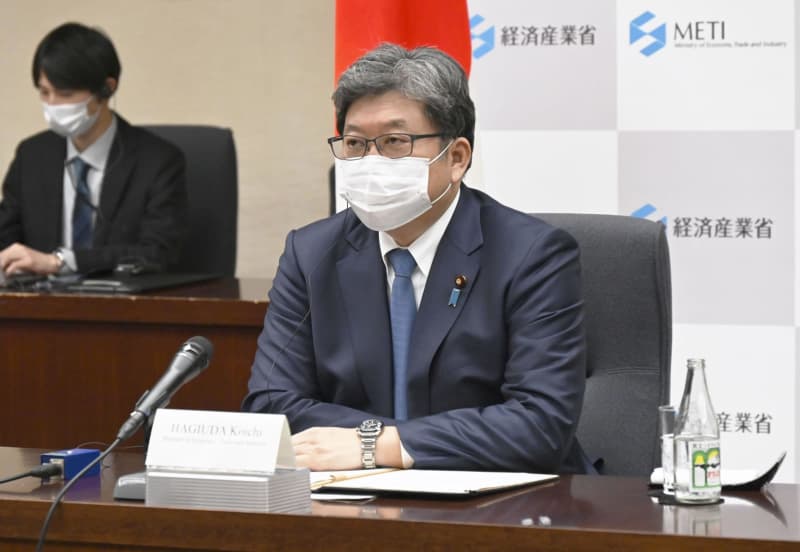 Energy ministers from the Group of Seven developed nations met online on Thursday as Russia's invasion of Ukraine has driven crude oil prices to their highest levels in over a decade and raised concerns about supplies worldwide.
The ministers from Britain, Canada, France, Germany, Italy, Japan and the United States plus the European Union, are also expected to discuss efforts to reduce their dependency on energy shipments from Russia following the imposition of a slew of sanctions against Moscow.
Japan's industry minister Koichi Hagiuda, who is in charge of dealing with the country's energy issues, is scheduled to meet the press in Tokyo after attending the extraordinary meeting.
The meeting was convened after the United States on Tuesday banned imports of Russian crude oil, certain petroleum products, liquefied natural gas and coal in the latest round of sanctions against Moscow for its invasion of Ukraine beginning Feb. 24.
The European Union, which is highly dependent on Russian energy, has also announced a plan to phase out its reliance on Russian fossil fuels before 2030.
Canada has decided to continue not purchasing any crude oil from Russia, and Britain has said it will cut Russian oil imports in stages by the year-end.
Meanwhile, resource-poor Japan remains cautious about joining Western nations in taking a similar step.
Asked about Japan's response to the U.S. ban, Prime Minister Fumio Kishida told reporters on Wednesday that ensuring stable energy supplies is a "national interest," while expressing his readiness to coordinate with other G-7 nations in deciding on Tokyo's approach.
In light of its geographical vicinity and the necessity to decentralize supply sources, Japan had promoted energy imports from Russia.
Russia accounted for 3.6 percent of Japanese crude oil imports, and 8.8 percent of its liquefied natural gas imports in 2021, according to data from the Japan External Trade Organization.
Working in lockstep with other G-7 nations, Japan has rolled out a series of sanctions against Russia, such as excluding seven Russian banks from the SWIFT global payments network to disrupt the country's trade and money transfers.