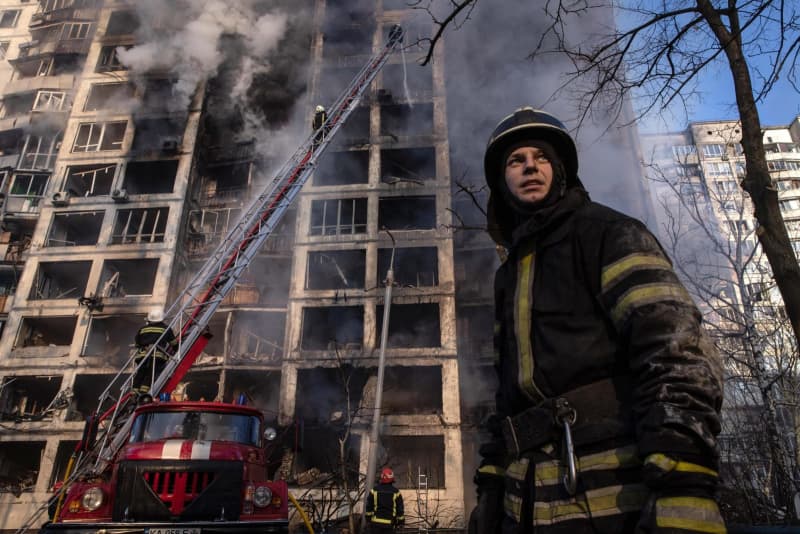 Ukraine and Russia resumed their fourth round of cease-fire talks on Tuesday, a Ukrainian official said, as Moscow's forces expanded further into the Eastern European country's territory and conflict raged in several regions.
The two sides had paused discussions after meeting online Monday. Cease-fire talks between Kyiv and Moscow have so far failed to yield significant results as the war entered its 20th day.
"Negotiations are ongoing," Mykhailo Podolyak, adviser to Ukrainian President Volodymyr Zelenskyy, said on Twitter, adding that the renewed consultations included such topics as a cease-fire and the withdrawal of troops from Ukrainian territory.
Russia's Defense Ministry said Tuesday it has taken full control of the Kherson region in southern Ukraine. If true, it would be the first oblast to be taken by Russia since the invasion began on Feb. 24. An oblast is an administrative division equivalent to a state or province.
The capture would also be a strategic win for Russian forces, which can now control Kherson's coastline adjacent to the neighboring Crimean Peninsula, which Moscow seized from Ukraine in 2014.
Officials in the western city of Rivne said 19 people were killed after Russian missiles struck a television tower on Monday, while casualties were also reported in the capital Kyiv, where two people died after apartment blocks were shelled.
Many refugees have fled to cities in the west like Lviv, or crossed the border into neighboring countries like Poland.
Around 3 million people are estimated to have been displaced by the conflict, according to the International Organization for Migration, a U.N. agency.
A humanitarian corridor opened in hard-hit Mariupol allowed around 150 cars to flee the city. The civilian death toll stands at 2,500 since Russian forces began to lay siege to the southeastern port city, according to Reuters news agency, but local authorities reportedly estimate that the true figure is far higher.