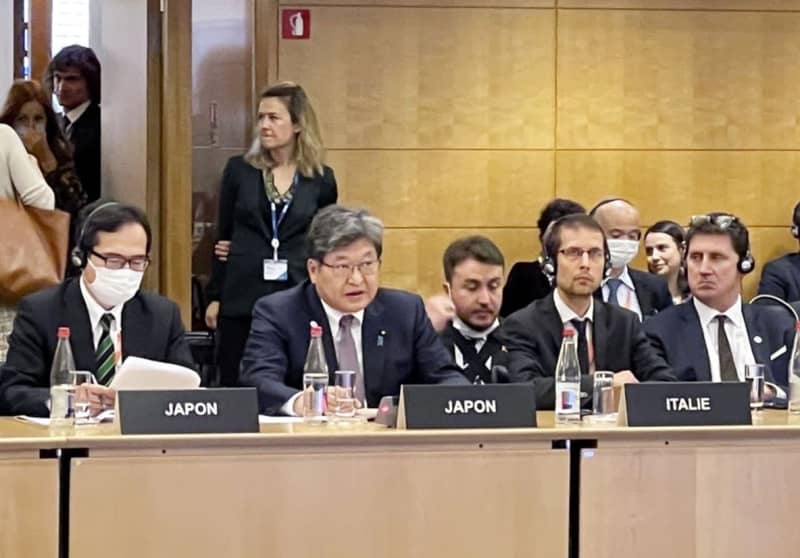 Ministers from energy-consuming countries are set to pledge Thursday that they will strengthen their energy security through measures such as reducing reliance on Russia, a major gas and oil producer that has drawn international sanctions for its aggression against Ukraine.
Energy and climate ministers of the International Energy Agency, whose members include the United States, Japan and the other Group of Seven major developed nations, are expected to issue a statement after wrapping up their two-day meeting in Paris, according to a Japanese official.
The biennial ministerial gathering of the 31-member IEA came as Western sanctions on Russia, a non-IEA member, have prompted surges in energy prices on the back of fears over supply disruptions.
Russia is the world's third-largest oil producer and the second-biggest natural gas producer, according to the Paris-based IEA.
Washington has banned imports of crude oil, certain petroleum products, liquefied natural gas and coal from Moscow, while the European Union, which is highly dependent on Russian energy, has also announced a plan to phase out its reliance on fossil fuels from Russia before 2030.
To ensure the stability of global oil markets, the IEA agreed early this month to release a total of 60 million barrels of oil from its emergency reserves, the first such coordinated action since 2011.
The latest meeting "will address today's urgent energy security challenges," including the need to accelerate the transition to clean energy, the IEA said.
Koichi Hagiuda, minister of economy, trade and industry, and Kiyoshi Odawara, senior vice foreign minister, are representing Japan at the Paris meeting, according to the government.
Hagiuda will visit Brussels on Friday for talks with top European Union officials before wrapping up his five-day European tour through Saturday.
On Wednesday, Hagiuda held separate talks in Paris with IEA Executive Director Fatih Birol and U.S. Energy Secretary Jennifer Granholm.