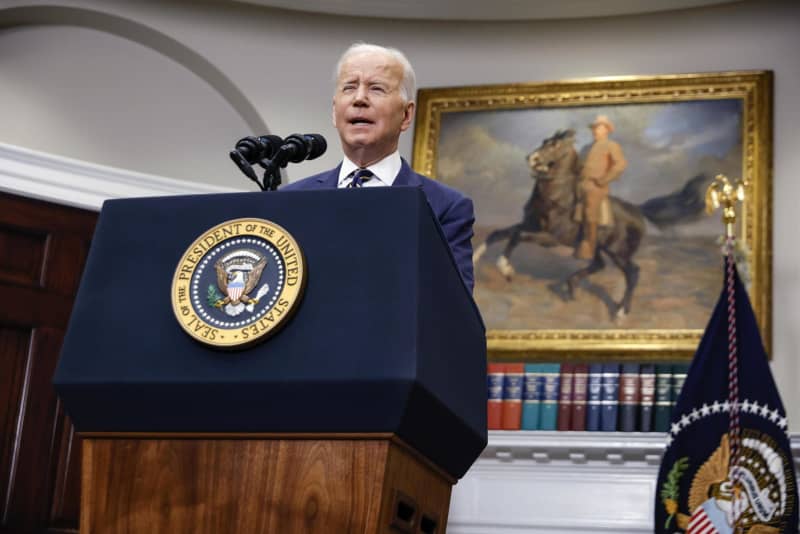 President Joe Biden on Friday signed into law a bill to suspend normal trade relations with Russia amid Moscow's ongoing invasion of Ukraine, paving the way for the United States to raise tariffs on imports.
The move came after the United States, Japan and other Group of Seven industrialized nations agreed last month to take steps to strip Russia of its "most-favored nation" status, under which the country enjoyed low tariffs and other benefits as a member of the World Trade Organization.
The United States, the European Union, and other U.S. allies and partners are imposing a range of sanctions on Russia to pressure the country to halt its military aggression in Ukraine which has now continued for more than a month.
Revoking the most-favored nation status puts Russia in the same category as North Korea and Cuba in terms of trade relations with the United States, with experts saying it could see U.S. tariffs on Russian products increasing from 3 percent to an average of about 30 percent.
Belarus, which has supported Russia's war in Ukraine, will also lose the most-favored nation status under the newly enacted law.
According to the Office of the U.S. Trade Representative, Russia was the United States' 26th-largest goods trading partner with $28.0 billion in two-way trade in 2019.
Biden also signed into law on Friday a bill prohibiting the importation of energy products from Russia. He has already signed an executive order to ban Russian oil, liquefied natural gas, coal and other energy products.