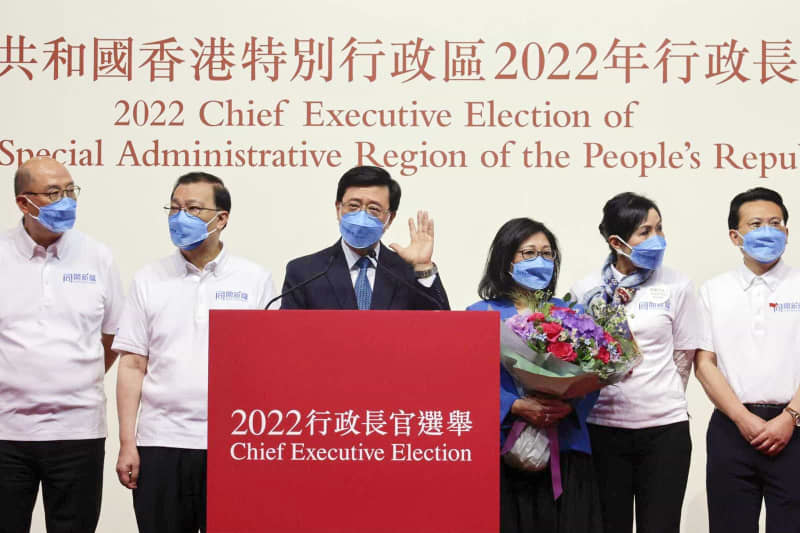 John Lee, the Hong Kong government's former No. 2, was selected as the city's next chief executive in an uncontested election on Sunday, becoming the first person to secure the top job after rising through the ranks of the police.
As the sole candidate, Lee received 1,416 votes from the 1,461-member Election Committee mainly consisting of pro-Beijing members, according to the returning officer.
Lee, 64, will be sworn in for a five-year term on July 1, the 25th anniversary of Hong Kong's handover from Britain to China and the halfway point of Beijing's "one country, two systems" policy that was put in place in 1997 and set to last for 50 years until 2047.
Lee was appointed secretary for security in 2017. He played a major role in pushing for an extradition bill in 2019 and directed the police response to the subsequent large-scale protests against the bill.
During his tenure as the top security official, the Hong Kong government cracked down on several pro-democracy newspapers, including Apple Daily, which folded on June 24, 2021.
Following the closure, Lee was promoted to chief secretary for administration, the post considered second-in-command, under Chief Executive Carrie Lam, who decided not to seek re-election citing family reasons.
Lee's victory had been considered a sure thing since the security hard-liner and only candidate favored by Beijing was confirmed in mid-April as the sole runner in the leadership election.