By Aaditya Krishnamurthy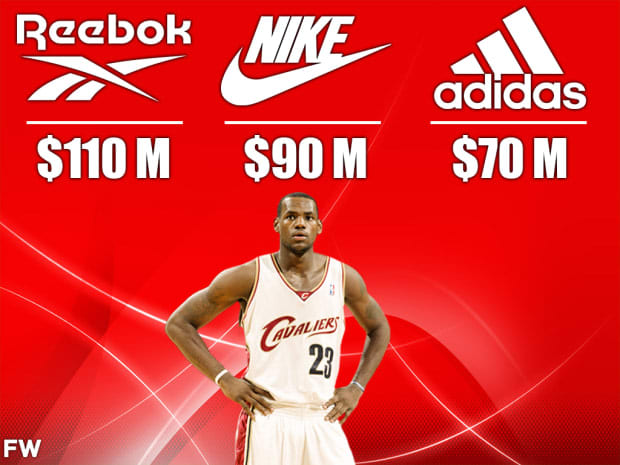 View the original article to see embedded media.
LeBron James is one of the biggest names on the planet. The King has been dominating the NBA for almost 20 years now and has been a superstar his entire career. LeBron was a massive name even before he entered the league, as he was expected to be the next big superstar in the NBA upon his arrival.
With the incredible potential LeBron James had, it should come as no surprise that James was sought after by big shoe companies to sign an endorsement deal.
LeBron James, prior to coming into the league, was the subject of a bidding war by shoe companies including Nike, Adidas, and Reebok.
All three companies wanted to make LeBron the face of their brand and their biggest representative in the NBA. All three brands made their offers to LeBron, and an 18-year-old was tasked with a big decision.
Surprisingly, Adidas only offered LeBron James $70 million across 10 years to sign with them, the lowest of all three companies.
Nike offered LeBron James an estimated $87-to-$90 million across 7 years to sign with them. But the biggest offer made to LeBron James was from Reebok, who offered LeBron a mammoth $110 million contract over 10 years.
"Make sure you get this. I like that picture. But y'all got me in Adidas. I don't like Adidas. I'm a Nike guy. I'm so excited about being a Nike guy, I just felt that was the best fit for me. Somewhat had to with the money, of course. But I just think they showed me that it was going to be a long-term deal... Hopefully the average 10-15 years, just trying to make (Nike) the way it was, I don't want to say it, way it was with Michael Jordan. But I'm just trying to do the best I can."
Despite Reebok offering the most money, LeBron rejected their offer, as it came with a $10 million advance which prevented him from negotiating with Nike and Adidas.
In the end, LeBron James followed in the footsteps of his idol, Michael Jordan, and signed on the dotted line with Nike. LeBron James spoke at the press conference, talking about his excitement to work with Nike.
As Briand Windhorst wrote in LeBron, Inc: The Making of a Billion-Dollar Athlete, LeBron signed with Nike because he felt it was the best move for him, as they would make great commercials and campaigns around him.
On top of that, LeBron cared more about his legacy rather than the money he would make from the deal he would sign. LeBron told Brian Windhorst in 2018 that signing with Nike was the best decision of his career.
LeBron picked Nike because he believed they would put him in great commercials and design memorable campaigns. He picked them because he thought they could give him the best shoe designs.

But he also picked them because, in that vital moment, he valued legacy over an all-out cash grab. That showed a value system and an instinct that would end up setting the stage for many of the business decisions he made over the rest of his career.

"Signing with Nike," LeBron said in 2018, "is the best business decision I've ever made."
An executive who worked with Adidas at the time spoke a few years later about why they lowballed LeBron James. The executive noted that Adidas did have the money to match Reebok and Nike, but no player was getting massive contracts then.
He convinced Adidas to offer $100 million, but then when he presented the contract offer, he was surprised to find that the offer only had $70 million. The executive even apologized to LeBron and Gloria James. Adidas' lowballing LeBron James, and going back on their original offer is what sealed their fate.
__*You have to understand, Kobe got $1\.5 million with other things in \[his\] contract\. Tracy got close to maybe $1\.82 million\. So the numbers were moving up, but nobody was paying … anybody that kind of money\. And Adidas was rolling\. Well, we were, I convinced the owners\. I wanted Adidas to give him $100 million, $10 million a year, guaranteed\. $100 million is what it would have come to\. And that number was off the wall\. No one \[had\] ever gotten close to that \[at the time\]\.
*__

We were going to bet our whole future on this kid, LeBron. There was no question that he wasn't going to be courted by other people because obviously he was going to be, but no one believed in him, not $100 million worth. That I do know.

__*That number, I talked to \[Adidas's owners\], looked them in the eye … and said, 'This is what I'm going to do\.' And they said, 'Yes\.' I never would have \[offered $100 million\] to LeBron James \[if they hadn't said yes\]\. I mean, what advantage was that, to lie? They OK'ed it\. So they knew, $100 million\. I didn't spring it on them that day\. They knew for nine months\.*__

__*So now we come down to the presentation\. We bring him and his whole team on\. Private airplane\. We're going to get them \[to\] a Lakers playoff game\. Imagine in Malibu, overlooking the Pacific Ocean, and we lay out the plan\. And the number \[was\] supposed to be $100 million\. I sat down that day \[with\] Gloria James, \[LeBron's\] lawyer, and … LeBron, and all these people\. I saw the contract\. It wasn't $100 million\. It was like $70 million, and they had incentives on it\.*__

__*It wasn't so much the number, $70 million or $100 million, because $70 million was a hell of a lot of money, right? But you have to understand what it was to me\. The reason I was, and I still am respected, I believe, in that world, is \[that\] if I said something to you, you \[would\] believe me\. If we had a deal, we had a deal\. \[Adidas\] changed the number on me\. I'll never forget that as long as I live\.*__

We went to a little corner of this mansion. Gloria, me, LeBron … and I apologized. I'll never forget what they did. They put their arms around me and they said, "Sonny, we understand. We know what you did. We're going to be fine."
Adidas and Reebok's failed pursuit of LeBron James is a fascinating story, as they were in a good position to sign him. But mistakes from both companies led to them losing one of the most lucrative endorsement deals that they could have made.
LeBron has become one of Nike's biggest figures, and even signed a lifetime contract with Nike worth more than $1 billion. And he played a big role in Nike being named the most valuable apparel brand in the world today. But it is fascinating to think about what could have been.