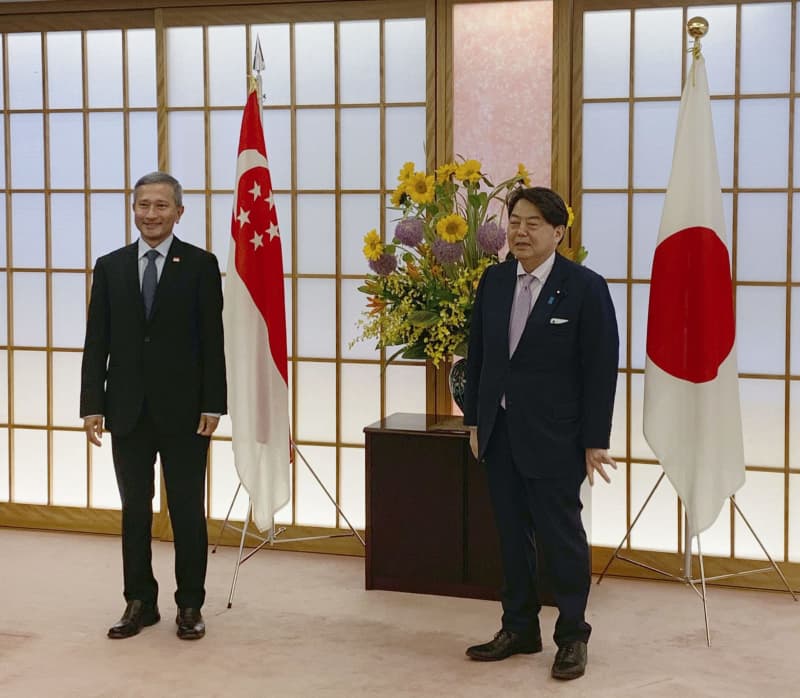 Japan agreed with Singapore and Malaysia on Wednesday to work together to address issues related to a new U.S.-led Indo-Pacific economic framework, an initiative apparently intended to counter China's growing influence in the region.
Foreign Minister Yoshimasa Hayashi met separately with his Singaporean and Malaysian counterparts in Tokyo and vowed to strengthen bilateral ties toward a "free and open Indo-Pacific," a vision advocated by Tokyo and Washington to counter Beijing's military clout, according to Japan's Foreign Ministry.
The meetings came after U.S. President Joe Biden on Monday announced the launch of the Indo-Pacific Economic Framework for Prosperity to tackle new challenges ranging from setting standards for the digital economy, securing supply chains and promoting major investments for clean energy transition.
The IPEF has been joined by 12 other countries including Japan and the two Southeast Asian nations, although details including how negotiations will proceed and how agreements will be enforced remain unclear.
Hayashi and Singaporean Foreign Minister Vivian Balakrishnan "welcomed" the launch of the IPEF, while condemning Russia for its invasion of Ukraine that began in February, the Japanese ministry said.
In coordination with Western countries, Japan and Singapore have been imposing economic sanctions against Moscow such as prohibiting the export of items that can be used as weapons, and suspending transactions with some Russian banks.
Later in the day, Hayashi and Malaysian Foreign Minister Saifuddin Abdullah confirmed they will collaborate to "maintain maritime peace, stability and prosperity," and that no unilateral change of the status quo by force will be tolerated in any region, without referring to any nations specifically, according to the ministry.
Hayashi also affirmed continued cooperation from Singapore and Malaysia in dealing with North Korea's nuclear and missile threats, following Pyongyang's firing of three ballistic missiles, one of which is believed to have been of intercontinental range, off its east coast earlier in the day.