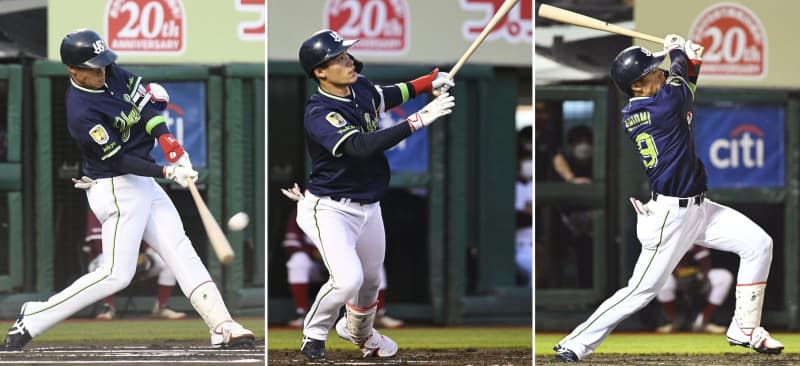 Yasutaka Shiomi homered three times and drove in five runs as the Central League's Yakult Swallows overpowered the Pacific League's Rakuten Eagles 8-1 on Friday.
Shiomi opened the scoring in the interleague battle between league leaders at Rakuten Seimei Park with a first-inning home run off Ryota Takinaka (1-4), hit a three-run shot in Yakult's four-run second and added a solo home run, his eighth of the season, in the fourth.
He grounded out in both of his remaining at-bats in his bid to tie Japan's record with four homers in one game.
"Sure, I was thinking about it," Shiomi said. "Tetsu (slugger Tetsuto Yamada) told me I would get a good pitch to hit, and I did, but I wasn't able to put a good swing on it."
"That speaks to the limits of my ability, so I need to practice more."
Yakult lefty Keiji Takahashi (4-1) surrendered a run in the first as Rakuten tied it 1-1 before Taiki Hamada broke the tie with a solo home run in the second, his third of the season.
Takahashi struck out 10 without issuing a walk over eight innings, while Takinaka was done after five, having allowed six runs.
"Tonight was a lame effort on my part. We had a (two-game) winning streak and I ruined it," Takinaka said.
The last-place Hanshin Tigers joined the CL winners, getting past the Lotte Marines 1-0 on a ninth-inning Teruaki Sato home run. Roki Sasaki started and threw six scoreless innings for the Marines. The DeNA BayStars were also 1-0 winners over the PL's Seibu Lions.
The PL's last-place Nippon Ham Fighters beat the Yomiuri Giants 3-2 behind Daiki Asama's eighth-inning tie-breaking home run and a complete game from Naoyuki Uwasawa (4-4).