By Eddie Bitar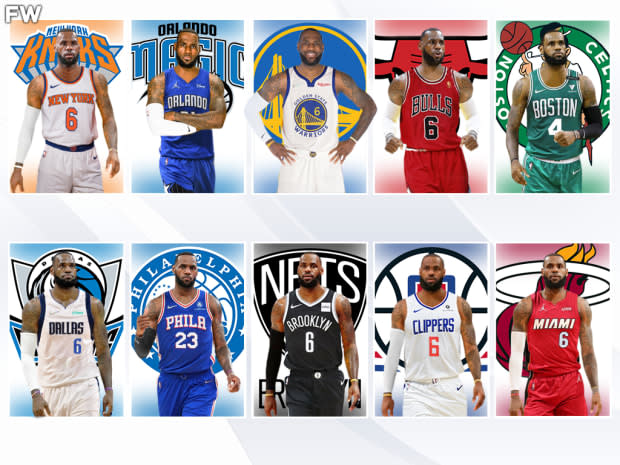 View the original article to see embedded media.
There is no doubt that LeBron James is one of the greatest players of all time, and has consistently been one of the most untradeable players in the league since his rookie season. No matter the package that was available, The King would never be dangled as trade bait. The reason was that the man was capable of carrying just about any team to championship contention, especially in his prime. But as he has aged, James' impact has slightly waned even if his numbers look superstar level.
At age 37, James is in the final stages of his career, and teams looking to add The King must be looking to win now. The Los Angeles Lakers are in win-now mode but they might have to accept the fact that the roster is stuck as currently constructed because Russell Westbrook is an untradeable asset while Anthony Davis is looking more injury-prone by the season. With James heading to age 38 at some point next season, it is very possible that the Lakers could trade The King with the hopes of setting the team up for success next season and the years following.
To entertain that idea, here are the trade packages that each NBA team can possibly offer for LeBron James. While it is unlikely that a top-5 player of all time would ever be traded, as guys like Kobe Bryant received the same trade attention but never got traded, it would be interesting to consider the best and most realistic trade offer each NBA franchise could offer for potentially a two-year rental of LeBron James.
---
Atlanta Hawks
Trade Offer For LeBron James: John Collins, Bogdan Bogdanovic, 2022 No. 16 Pick, 2024 First-Round Pick
The Atlanta Hawks suffered through a frustrating season this year, despite the presence of their All-NBA star Trae Young. Atlanta finished 8th in the East after reaching the Eastern Conference Finals last year and barely got into the playoffs that ended in a 5-game destruction at the hands of the Miami Heat. To pair Young with LeBron James and try their chances at the Finals, they will have to give up young star John Collins, sharpshooter Bogdan Bogdanovic, and valuable first-round picks. The Lakers can also field two shooting big men in Collins and Davis while giving Westbrook a consistent shooter.
---
Boston Celtics
Trade Offer For LeBron James: Jaylen Brown, Payton Pritchard
The Boston Celtics are fighting for a chance to return to the NBA Finals for the first time since 2010, and have an elite duo in Jayson Tatum and Jaylen Brown. Together, they have led the Celtics to the Eastern Conference Finals thanks to their two-way play. But to make a legitimate title run again next year, they might have to sacrifice Jaylen Brown and backup point guard Payton Pritchard to form arguably the best duo in the NBA with James and Tatum, two top-10 players in the game. Los Angeles also create a new Big Three that fit better together in Brown, Westbrook, and Davis.
---
Brooklyn Nets
Trade Offer For LeBron James: Kyrie Irving, 2023 First-Round Pick
The Kyrie Irving situation negatively influenced the Brooklyn Nets' season, because they barely made the playoffs and were swept by the young Boston Celtics in the first round. Kevin Durant and Kyrie Irving are one of the most talented duos in NBA history, but Kyrie cannot be trusted to stay focused on basketball. To relieve their headache, the Nets could swap Kyrie and a pick for LeBron James, with a chance to form one of the best duos with James and Durant. The Lakers also take a shot at creating their own Big Three while receiving a pick they could use.
---
Charlotte Hornets
Trade Offer For LeBron James: Miles Bridges, Terry Rozier
Charlotte are an up-and-coming team in the Eastern Conference, but the only man who could be legitimately untouchable has to be LaMelo Ball. To give Ball a superstar he could learn from and also contend for a title with, the Hornets could swap out two starters for a superstar in LeBron James. James and Ball would be an exciting duo on the court, with The King joining forces with Michael Jordan creating unlimited media storylines. For the Lakers, they complete their starting lineup with two players that play hard and can shoot the three.
---
Chicago Bulls
Trade Offer For LeBron James: Zach LaVine, Lonzo Ball
The Chicago Bulls' season greatly depends on what Zach LaVine decides to do in free agency because his leaving essentially means hopes for competing for a title are out the window. But one option, if LaVine wants to leave, could be negotiating a sign-and-trade with the Lakers for a chance to pair DeMar DeRozan, Alex Caruso, and Nikola Vucevic with LeBron James. Los Angeles also acquire a pure point guard in Lonzo Ball and a franchise player in Zach LaVine to pair with Anthony Davis.
---
Cleveland Cavaliers
Trade Offer For LeBron James: Jarrett Allen, Collin Sexton, 2022 No. 14 Pick, 2024 First Round Pick
The trade package that would break the internet would see LeBron James returning to Cleveland to form an exciting core with Darius Garland and Evan Mobley. Clearly, Garland and Mobley are untouchable and would learn from the greatness of LeBron James on how to win and play team basketball at an elite level. The best way for The King to go out would also be in his hometown Cavaliers team, with the hopes his franchise drafts Bronny James Jr as well. For the Lakers, Sexton and Allen complete an exciting roster that could push for a Western Conference Semifinals berth, if healthy.
---
Dallas Mavericks
Trade Offer For LeBron James: Spencer Dinwiddie, Jalen Brunson, Dorian Finney-Smith, 2022 No. 26 Pick, 2024 First Round Pick
The Dallas Mavericks desperately need to surround Luka Doncic with appropriate talent, because one-trick pony role players are not going to cut it. Rather, they should look to form one of the most talented duos ever with Doncic and LeBron James. While Luka continued to learn the ropes of superstardom with James by his side, the Mavericks can rack up wins and strive for top-3 seeding in the West. For the Lakers, two scoring guards, a strong two-way forward, and some picks could improve the team next season and the following seasons as well.
---
Denver Nuggets
Trade Offer For LeBron James: Jamal Murray, Aaron Gordon
The Denver Nuggets, and their fanbase, are patiently waiting for Jamal Murray to finally return to the court for NBA action. Without Murray, the Nuggets are a first-round exit despite Nikola Jokic winning MVP awards. With Murray, the team has a great chance to make the Western Conference Finals. But with Jokic and LeBron James, the Nuggets can win it all. A trade that sends Murray and starter Aaron Gordon would change the NBA landscape because Denver would pair two players with a combined 6 MVP awards while the Lakers improve with two starters that can shoot.
---
Detroit Pistons
Trade Offer For LeBron James: Jerami Grant, Saddiq Bey, 2022 No. 5 Pick, 2024 First Round Pick, 2026 First Round Pick
The Detroit Pistons were in full-on tank mode this season, building around No. 1 overall pick Cade Cunningham. Even if the team lacked talent and winning intangibles, the Pistons played hard and came up with some big wins (including LeBron James' Lakers) last season. To give Cade Cunningham a superstar to learn from, the Pistons could ship off their fringe All-Star in Jerami Grant, budding forward Saddiq Bey, and three valuable first-round picks. The Lakers also acquire two starters to pair with their Big Two of Westbrook and Davis.
---
Golden State Warriors
Trade Offer For LeBron James: Draymond Green, Jordan Poole, James Wiseman, Jonathan Kuminga
The Golden State Warriors are properly built, as is. With Stephen Curry and Klay Thompson, the sharpshooting is at an elite level under head coach Steve Kerr. But if they could add LeBron James, they absolutely have to go for it because a championship or two would be guaranteed. A trio of James, Curry, and Thompson would be impossible to defend against, but it would require the sacrifice of 3 key players and a promising player in Wiseman. For the Lakers, they should do this deal in a heartbeat to solidify their future and also compete next year as well.
---
Houston Rockets
Trade Offer For LeBron James: Christian Wood, Kevin Porter Jr, Josh Christopher, 2022 No. 3 Pick, 2022 No. 17 Pick
The Houston Rockets are another team in tank mode because they are going all-in in developing their future star, Jalen Green. The franchise is onto something with the young guard, and what could be better than giving him an elite star in LeBron James to learn from? To do so, the Rockets must let go of Kevin Porter Jr, Josh Christopher, and their first-round picks. Would they do that for a one or two-year rental of The King? Possibly, especially if they can draft Bronny James Jr, somehow.
---
Indiana Pacers
Trade Offer For LeBron James: Malcolm Brogdon, Myles Turner, 2022 No. 6 Pick
The Indiana Pacers are not a great team, but they could have a great player in Tyrese Haliburton who can score and also carry an offense with his playmaking. To continue developing Haliburton, the Pacers could add LeBron James to form a dynamic offensive duo while giving the fanbase something to cheer about. For the Lakers, two starters that can shoot and defend, along with the No. 6 pick, could give the team a boost next season and also the next few seasons.
---
Los Angeles Clippers
Trade Offer For LeBron James: Paul George, Terance Mann
The Clippers are looking forward to next year because Kawhi Leonard and Paul George will (hopefully) be back as the best two-way duo in the league. As great as Paul George is, he is not LeBron James. James and Kawhi Leonard would ravage defenses with their size and skill, with Leonard acting as the primary defender to relieve James. Together, the Clippers would be the title favorites. The Lakers also form one of the best Big Threes in NBA history with George, Davis, and Westbrook.
---
Memphis Grizzlies
Trade Offer For LeBron James: Jaren Jackson Jr, Dillon Brooks, Zhaire Smith, 2022 No. 22 Pick, 2024 First Round Pick
The Memphis Grizzlies is a team that is budding as title-contenders in the Western Conference and had a shot to make the Western Conference Finals this year had Ja Morant stayed healthy. To quicken their contending status, they should combine Morant with LeBron James to legitimately challenge for the title next year. Morant can learn from The King, and Grizzlies fans could see the best team in their franchise history. The Lakers also rebuild for the future with young players and also have a more well-rounded roster next year.
---
Miami Heat
Trade Offer For LeBron James: Bam Adebayo, Duncan Robinson
Miami have developed Bam Adebayo effectively well because his partnership with Jimmy Butler has already seen the catalyst for a Finals appearance in 2020. The Heat is a well-coached squad with a mix of talented players, but LeBron James would take them over the top. James' return to Miami would be a storyline ending to his career, and his partnership with Jimmy Butler would be too much for the opposition to handle. The Lakers also form a twin-towers pairing with Adebayo and Davis, a change of philosophy.
---
Milwaukee Bucks
Trade Offer For LeBron James: Khris Middleton, 2022 No. 24 Pick, 2024 First Round Pick, 2023 Second Round Pick
The Milwaukee Bucks will be title contenders for the foreseeable future, and more championships could be on the horizon, regardless of their disappointing 2022 postseason campaign. But one way to ensure a championship next year would be combining Giannis Antetokounmpo and Jrue Holiday with LeBron James. By far the best trio in the league, the Bucks will be guaranteed the 2023 NBA championship. The Lakers also give Russell Westbrook and Anthony Davis a shooter who plays elite perimeter defense to help them contend as well.
---
Minnesota Timberwolves
Trade Offer For LeBron James: D'Angelo Russell, Patrick Beverley, Naz Reid, 2022 No. 19 Pick
Minnesota have Karl-Anthony Towns and Anthony Edwards as untouchables, but the rest of the roster has to be made expendable for a chance to acquire LeBron James, one of the all-time greats. The Timberwolves made the playoffs this year, and they could win the title as soon as next year if they can bring James on board. The Lakers would have to welcome back D'Angelo Russell and deal with Patrick Beverley to make that happen, but it could help them in the long run as Russell is only 26 years of age.
---
New Orleans Pelicans
Trade Offer For LeBron James: Zion Williamson, Devonte' Graham
New Orleans have a solid core right now with Brandon Ingram playing like an All-Star and the acquisition of CJ McCollum, but there have been too many rumors that Zion Williamson does not want to be with the Pelicans long-term, a possible reason why he is so out-of-shape right now. One way to rid themselves of their problem and still compete in the West would be to swap Zion for LeBron. The Lakers would do this in a heartbeat because Zion could be the face of the league one day and the player gets the big market he desires.
---
New York Knicks
Trade Offer For LeBron James: RJ Barrett, Julius Randle, Derrick Rose
The New York Knicks are craving a superstar for the first time since Carmelo Anthony was taking over the scoring charts, and Julius Randle has not been the answer. Rather, LeBron James would be the perfect player. The King would shine in New York, and the fans would worship him as long as he continues his superstar level of play. Losing RJ Barrett would hurt a little too much, which makes this deal unlikely. But the Lakers would absolutely do this deal to acquire two long-term options and a fan-favorite point guard in Derrick Rose who would come off the bench.
---
Oklahoma City Thunder
Trade Offer For LeBron James: Shai Gilgeous-Alexander, Josh Giddey, 2023 First Round Pick
The Oklahoma City Thunder could be in the mix to draft Bronny James Jr in the near future, so why not acquire 4-time MVP LeBron James from now? The Thunder are probably in for the long-term with their young players, but they could make a dramatic u-turn by trading Shai Gilgeous-Alexander and Josh Giddey along with a valuable first-round overall pick. The Lakers would do this deal because two budding All-Stars and possibly a third one through the draft fixes their roster.
---
Orlando Magic
Trade Offer For LeBron James: Jonathan Isaac, Markelle Fultz, 2022 No. 1 Pick
The Orlando Magic have the No. 1 pick in the 2022 NBA Draft, meaning they could be in the mix to take Chet Holmgren or Jabari Smith. But that also means the Magic could ship out that option, along with two injury-prone (but promising) young players for a chance to acquire LeBron James. The King gives the Magic their first superstar since Dwight Howard, and guys like Jalen Suggs and Moritz Wagner could learn the ropes from The King. The Lakers get a chance to take the best rookie in the Draft, a player who can help immediately and over the next few seasons.
---
Philadelphia 76ers
Trade Offer For LeBron James: James Harden, Matisse Thybulle, Tyrese Maxey
The Philadelphia 76ers have an untouchable in Joel Embiid, and it looks like James Harden might not be the long-term answer for the franchise. The Beard is aging, and would probably be suited as a third option on a championship team. The Lakers could take Harden, budding star Tyrese Maxey, and defensive wing Matisse Thybulle to pair with Westbrook and Davis. This deal is a win-win because James and Embiid could win the title together while the Lakers form an exciting starting lineup in this blockbuster package.
---
Phoenix Suns
Trade Offer For LeBron James: Deandre Ayton, Mikal Bridges
The Phoenix Suns suffered a disastrous exit from the 2022 postseason, not coming close to the Finals berth they had one year prior. It is no secret that Chris Paul is in his final years, and the point guard is a close friend of LeBron James. The Suns will not trade Devin Booker, but they can form the best Big Three in the league with James joining the shooting guard and the point guard to win a championship in a "one last hurrah". The Lakers also form an excellent starting lineup with two players that can defend, an absolute necessity.
---
Portland Trail Blazers
Trade Offer For LeBron James: Anfernee Simons, Josh Hart, Eric Bledsoe, 2022 No. 7 Pick, 2024 First Round Pick
The Portland Trail Blazers will reward Damian Lillard for his loyalty by never considering a trade for their star and also striving to surround him with the best players in the league. Very few players in the game, even today, are as great as LeBron James. The King and Lillard will be a force in the West, even if Anfernee Simons will seemingly be an All-Star someday. The Trail Blazers go all-in with this deal, while the Lakers acquire a mix of shooters and defenders to pair with Davis and Westbrook.
---
Sacramento Kings
Trade Offer For LeBron James: De'Aaron Fox, 2022 No. 4 Pick, 2024 First Round Pick, 2026 First Round Pick
The Sacramento Kings tried to make the playoffs with the Domantas Sabonis trade, but it didn't work. What if the franchise had a chance to break their playoff drought with a move for LeBron James? James would help improve Davion Mitchell's game as a playmaker and floor general, while also giving the King two All-Star players. Losing De'Aaron Fox won't be easy, but there is no doubt that James is a better playmaker and floor general than Fox is right now. For the Lakers, acquiring a young point guard could help smooth out the Russell Westbrook "era" in LA.
---
San Antonio Spurs
Trade Offer For LeBron James: Dejounte Murray, Keldon Johnson, 2022 No. 9 Pick
The San Antonio Spurs have an All-Star in Dejounte Murray and a nice talent in Keldon Johnson, but neither player will somehow create a title contender for the franchise. The Spurs hold the No. 9 pick in the draft, but they could move all of these pieces to give Gregg Popovich an all-time great player to create storylines. For the Lakers, acquiring an All-Star guard and two young players would be a blessing for them.
---
Toronto Raptors
Trade Offer For LeBron James: Pascal Siakam, OG Anunoby, 2023 First Round Pick, 2025 First Round Pick
The Toronto Raptors made the playoffs this year, but they are not a great team by any means. Scottie Barnes has proven to be untouchable, but the rest of the roster could be moved for a chance to bring in LeBron James. Fan-favorite Fred VanVleet would likely be preferred over Pascal Siakam, meaning the Lakers could create an excellent duo with Pascal and Davis down low along with Anunoby bringing his two-way game on the perimeter. This could be a win-win because the Raptors could be a title-contender with their Big Three and the Lakers can push in the West with theirs.
---
Utah Jazz
Trade Offer For LeBron James: Rudy Gobert, Jordan Clarkson
The Utah Jazz will probably have to break up Donovan Mitchell and Rudy Gobert, and the Frenchman would be more expendable than their shooting guard. Gobert is a 3-time Defensive Player of the Year, but he is not the player that LeBron James is. A duo of James and Mitchell would be exciting to watch, especially if the team keeps their shooters around them. The Lakers can form a twin-towers pairing with Davis and Gobert, and Clarkson could slot into the starting lineup with Russell Westbrook.
---
Washington Wizards
Trade Offer For LeBron James: Bradley Beal
The Washington Wizards could be losing Bradley Beal soon, and the franchise would be happy having LeBron James lead them over the next two years. The Wizards have tried to build a contender, but John Wall's injuries have killed the franchise over the past few years. Beal is in his prime at 28 years old, and he could be looking for greener pastures. The Wizards have Kristaps Porzingis on the roster, and LeBron could take him and the team back into the playoffs. The Lakers also create a Big Three with Bradley Beal, mainly through a reunion with Russell Westbrook.
Next
LeBron James's Contract Breakdown: The King Is Earning $188 Per Second And $11,299 Per Minute
LeBron James' NBA Playoffs Resume Is Incredible: The King Played In The 10 NBA Finals, Winning 4 NBA Championships
5 Blockbuster Trades The Lakers Fans Would Like To See This Offseason
The Most Expensive NBA Players For The 2023 Season By Tiers: Stephen Curry Will Earn $48.07 Million
How The Lakers Landed Their Biggest Stars Over The Years: Kobe Bryant Joined The Lakers On Draft Night, LeBron James And Shaquille O'Neal Signed As Free Agents