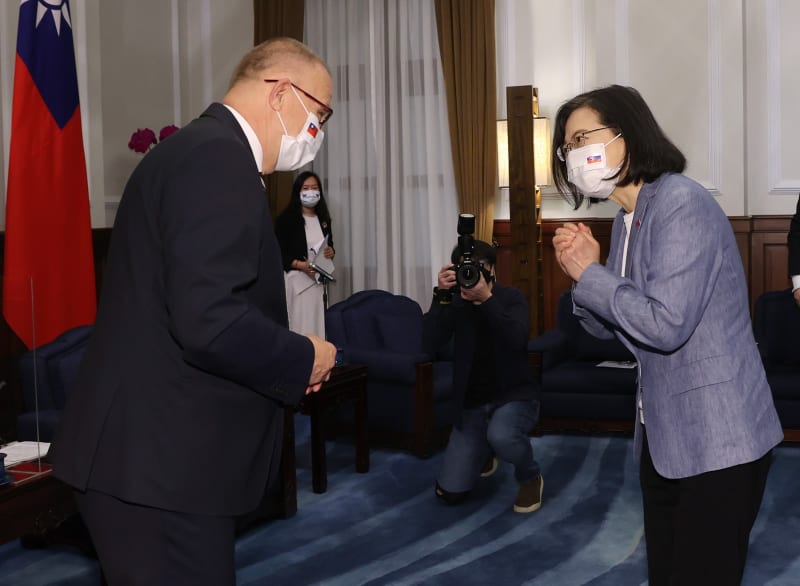 The head of a 10-member parliamentary delegation from Slovakia said Tuesday it is ready for the repercussions of its visit to Taiwan and a rebuke from China.
"We stand here today to tell you that we will not yield to any interference or obstruction from outside forces, and that we are ready to resist any threat imposed by authoritarian regimes to democracies," Milan Laurencik, deputy speaker of the Slovak National Council, said in his meeting with Taiwan President Tsai Ing-wen in Taipei.
Laurencik said his country and Taiwan are "geographically distant but closely linked" by their hard efforts to forge common ideals, such as freedom and democracy.
Laurencik, who is leading the delegation with President of the Bratislava Region Juraj Droba, described Tsai as "the embodiment of freedom and democracy" and agreed that both sides will boost cooperation on such areas as the economy and technology.
During the six-day visit through Friday, the delegation is expected to sign an agreement on judicial cooperation with Taiwanese Foreign Minister Joseph Wu.
Wu will also honor Peter Osusky, a Slovak lawmaker and chairman of the Slovakia-Taiwan Parliamentary Group, for his promotion of bilateral relations over the years, according to officials.
Delegation members will also visit Kaohsiung where Droba will sign a partnership agreement with the southern port city, the officials said.
On Tuesday, Droba invited Tsai to visit his region, saying he will "have a red carpet ready."
This is the second delegation Slovakia has sent to Taiwan in six months. A 43-member delegation led by the country's deputy economic minister Karol Galek visited Taiwan last December.
At that time, China's Foreign Ministry denounced the visit, saying it "seriously undermines the political mutual trust between China and Slovakia," and said the Tsai government's move to pursue "Taiwan independence" would prove to be "a dead end."
Taiwan and mainland China have been separately governed since they split due to a civil war in 1949. China regards Taiwan as a renegade province to be united with the mainland, by force if necessary.