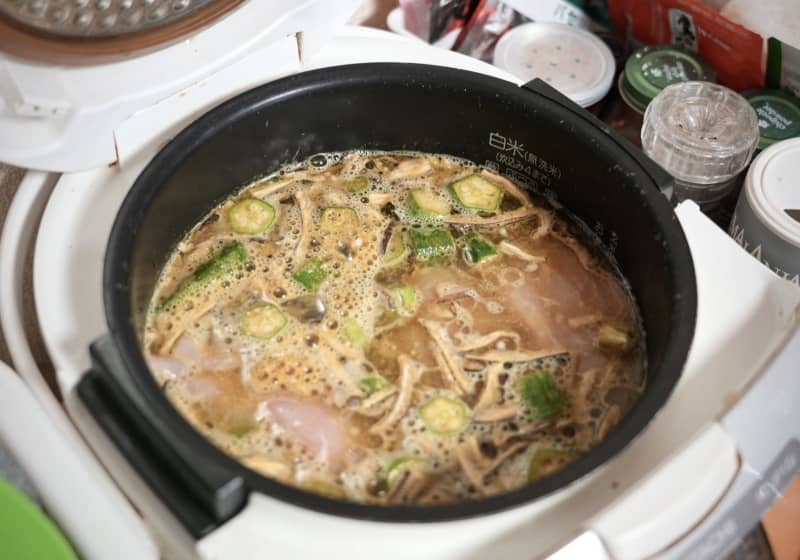 A slimy, mushy, gloopy, earth-colored dish is overcoming bad first impressions with its savory umami flavor and waistline-reducing qualities, helping people in Japan lose weight while feeling fulfilled rather than famished.
Diners are said to eat with their eyes first, but "numa," which translates to swamp in Japanese, has become the in-thing on social media, with people proudly posting snaps of what some might describe as an unappetizing sludge.
The rice porridge dish with chicken and vegetables was created by Yuki Azami, a 35-year-old competitive bodybuilder and certified chef.
"I want people to enjoy the act of eating and be able to lose weight slowly, which is the healthy approach," said Azami.
Azami, who goes by the nickname Shiny Azami, launched his YouTube channel in November 2018 to share workouts and numa recipes. Since the channel's inception, his videos have accumulated more than 100 million views.
Numa requires just five ingredients: rice, chicken breast, okra, dried seaweed and dried shiitake mushrooms. Throw everything into an electric rice cooker with a big slug of water, add some salt and curry powder, press the start button and wait. It's that easy.
Numa contains the primary macronutrients -- proteins, fats and carbohydrates -- and Azami, who previously worked in a hospital kitchen, says it is "recommended for people who like eating a lot, people who are bad cooks and people who have a hard time sticking to a diet."
Although it is ranked among the world's least obese nations, a significant percentage of Japan's population is trying to lose weight, some for health reasons, others because of poor body image, and the diet and weight loss industry is flourishing.
According to Tokyo-based research company Fuji Keizai Co., sales of high-protein snacks and supplements increased by a factor of four in the 10 years since 2011, when it was about 56 billion yen ($415 million).
Successful retailers spot and follow the latest food trends on social media, allowing them to capitalize and generate increased revenues.
In June last year, Towa Kanbutu Corp., a dried food manufacturer in Fujieda, Shizuoka Prefecture, collaborated with Azami and rolled out a new line of what it markets as a "high-quality" instant numa mix.
They have sold more than 10,000 units in six months, including other similar products.
A male office worker in his 20s living in Tokyo started the numa diet in February intending to lose the kilograms he gained on a weight loss rebound.
"Numa is great because it's low in calories but hard to feel hungry, and the recipe can be tweaked in different ways," he said.
The young dieter says it isn't necessary to overhaul one's whole eating regime to slim down. Just swapping a regular meal for numa to get back on track after overeating makes a difference, he said. He saw remarkable results, having lost six kilograms in two months.
Healthcare experts support the numa diet, saying it is healthy and reasonable.
"It saves you the hassle of meal planning and it's easy to count calories which makes numa appealing," said Ayako Tada, a nutritionist who helped develop the diet app Asken.
But Tada points out that numa is not a cure-all, and warned eating only the rice-based porridge over an extended period has the potential to cause a dietary imbalance, such as a lack of iron and calcium.
Having the same limited foods over and over every day keeps things simple but food variety is important for health, Tada says. Considering numa as the only source of protein is a diet mistake to avoid, she said.
"The smart thing to do is to just make numa your post-workout meal, and cycle it in with a normal dietary pattern."