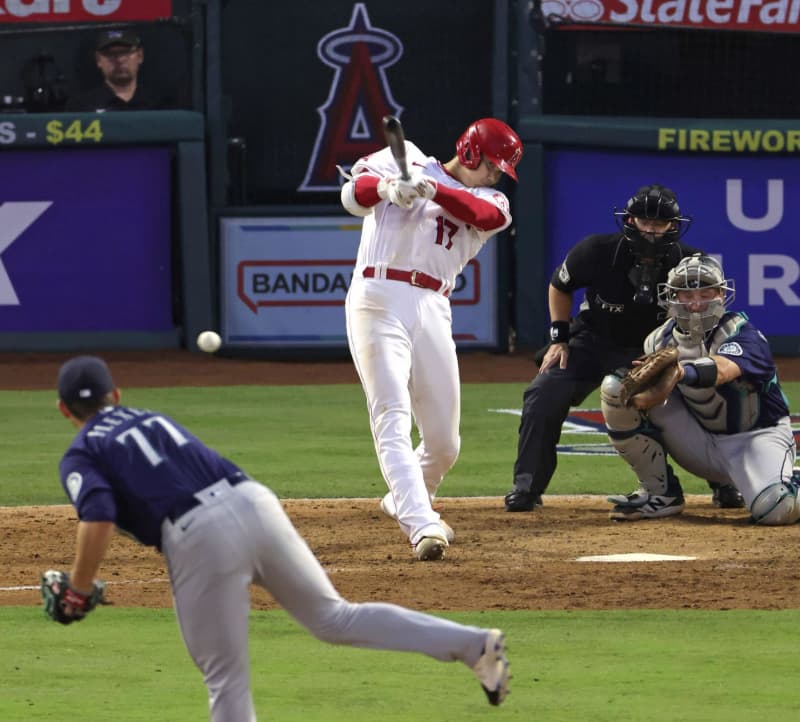 Shohei Ohtani went 1-for-3 with an RBI but struck out with a chance to tie the game Friday for the Los Angeles Angels, who lost 4-3 to the Seattle Mariners in their series opener.
Coming off two of the biggest performances of his career, the two-way star drew a walk in the bottom of the first at Angel Stadium before grounding a single in the fourth to extend his hitting streak to four games.
After Mike Trout's one-out RBI triple in the sixth, Ohtani brought the three-time American League MVP home on a groundout, narrowing the Mariners' lead to 4-3.
Seattle intentionally walked the hot-hitting Trout in the eighth, bringing Ohtani to the plate with one out. Looking to add to his 15 home runs, the reigning AL MVP struck out swinging against right hander Andres Munoz.
The Mariners led 3-0 before Trout put the Halos on the board with his solo home run in the fourth. Trout finished 2-for-3 with two runs and two RBIs.
Ohtani on Wednesday threw 13 strikeouts, his most in MLB, as the Angels beat the Kansas City Royals 5-0. That came a day after he drove in a career-high eight runs, six coming on a pair of three-run homers, in a 12-11 loss to the Royals.