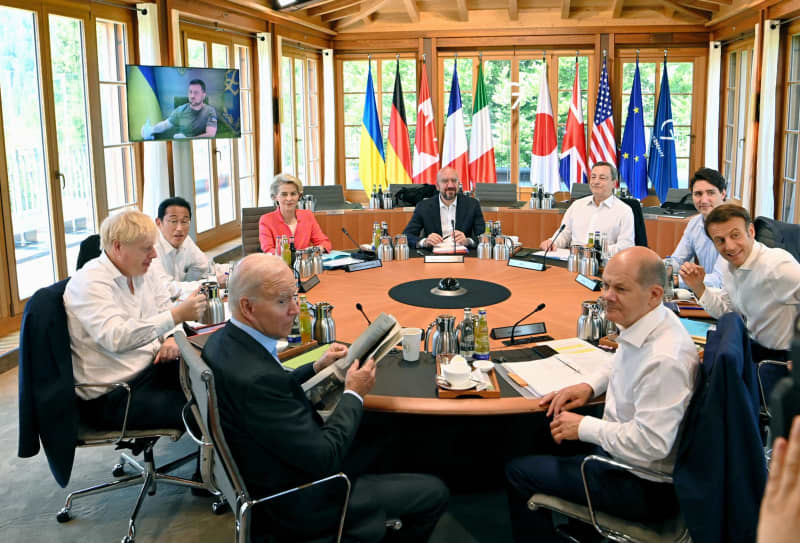 Leaders from the Group of Seven industrialized nations on Tuesday will double down on moves to isolate Russia, with more sanctions targeting its key revenue sources in response to its war in Ukraine.
The G-7 will wrap up three days of talks in Schloss Elmau, southern Germany, where discussions have been dominated by rising inflation and shortages in energy and food, issues that have put the global economy in a perilous situation.
Japanese Prime Minister Fumio Kishida attended the summit with an eye on setting the stage for next year when Japan takes over the G-7 presidency from Germany.
With Russia so far showing few signs it plans to end its invasion, Kishida is expected to explain that having Hiroshima host the 2023 leaders' gathering will be a symbolic step in promoting peace given the city, which was devastated by an atomic bomb during World War II, is an example of the horrors of war.
The G-7 -- Britain, Canada, France, Germany, Italy, Japan, the United States plus the European Union -- is expected to issue a communique summing up three days of talks on the Ukraine crisis, energy and food security, and climate change.
The leaders have already imposed a raft of sanctions on Russia that have brought broader economic consequences. Further punitive measures would include a ban on gold imports from major producer Russia and a price cap on its oil.
Coordinated and targeted sanctions are designed to strike at Russia's war chest and hamper its ongoing offensive that has dragged on for more than four months. Despite some G-7 members' dependence on Russian energy sources, the group has expanded its sanctions regime to target crude oil and coal.
Still, surging energy, raw material and food prices are threatening to curb economic growth as major economies scramble to tame cost-push inflation at levels unseen in years.
The global food crisis was another key theme at the three-day summit as Russia continues to block Ukrainian grain exports at Black Sea ports. The G-7 confirmed it will extend necessary support to the most vulnerable countries and rejected Russia's assertion that Western sanctions are to blame for shortages.
"We remain appalled by and continue to condemn the brutal, unprovoked, unjustifiable and illegal war of aggression against Ukraine by Russia and aided by Belarus," the G-7 leaders said in a statement Monday. "This devastating war has produced dramatic consequences far beyond Europe."
For Japan, the war in Ukraine has increased concern that China could be emboldened in the Indo-Pacific region where it has become increasingly assertive.
Kishida told his G-7 counterparts the group should prevent other countries -- most notably China -- from taking the "wrong lessons" from Russia's use of force to change the status quo.
In a counter to Beijing's "Belt and Road" infrastructure initiative, the G-7 launched its own plan to promote development among low- and middle-income nations by announcing a program to make available $600 billion by 2027.
The G-7 offering will provide an alternative to the Belt and Road pathway which has been criticized for saddling poor nations with huge debts and leaving them beholden to Beijing.