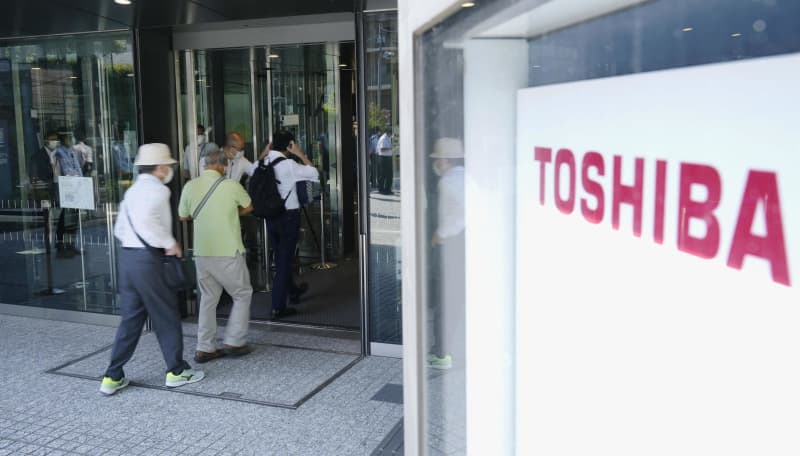 Toshiba Corp. shareholders on Tuesday approved a proposal for appointing 13 board members, including two new members from overseas investment funds that are considered activist investors.
Under the new management, the Japanese conglomerate with a nearly 150-year history is expected to hasten steps to revamp itself, including going private amid frustration among investors by its lackluster efforts to raise corporate value.
Six of the 13 approved for the board of directors at Tuesday's regular shareholders meeting come either from investment funds or at their recommendation, including the newly selected two.
Toshiba's fund-centric nomination has attracted criticism from one of its incumbent directors, former Nagoya High Court Chief Judge Mariko Watahiki, who said the proposal "lacks diversity, fairness and balance as a board of directors."
Concerns were raised during the meeting in Tokyo over the nomination of Nabeel Bhanji of Elliott Investment Management and Eijiro Imai of Farallon Capital Japan LLC as new board members.
Toshiba said it has signed agreements with their investment funds to deal with potential conflicts of interest and issues of confidentiality.
Two influential U.S. proxy advisory firms had recommended shareholders approve the company's board nomination.
"Toshiba is no longer a monolith and cannot move forward (by itself) anymore," said one 63-year-old investor ahead of the meeting. "It's unavoidable to appoint these activist shareholders as board members."
Prior to the shareholders meeting, board chairman Satoshi Tsunakawa issued a statement saying Toshiba believes that having Bhanji and Imai join the board as representatives of major shareholders "strengthens the alignment between shareholders and management."
Toshiba has said it received 10 business strategy proposals from potential partners, including those calling for the company to go private, and will narrow them down after the shareholders meeting.
"We will continue to consider all options, and present results that will satisfy our shareholders," Toshiba President and CEO Taro Shimada said at the meeting.