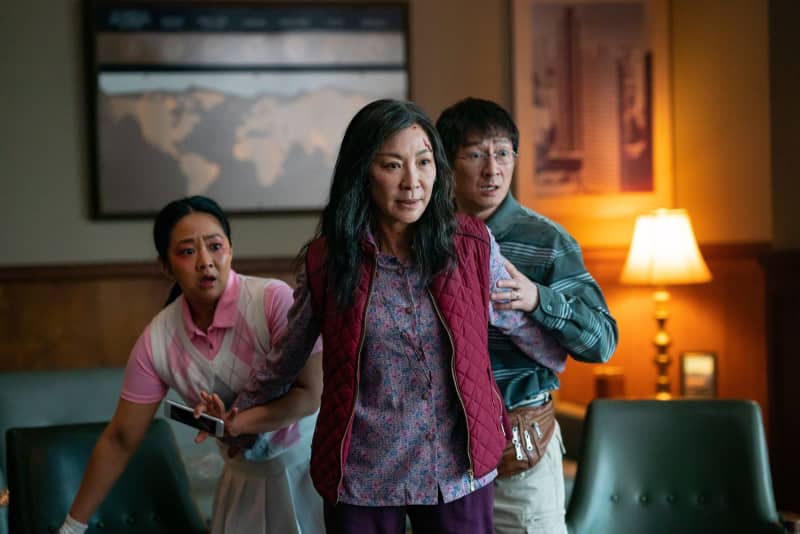 An inventive sci-fi action film that was a surprise hit at the box office tops the DVD releases for the week of July 5.
"Everything Everywhere All at Once": A harried laundromat owner discovers she's a part of a huge multiverse during a tax audit. Starring Michelle Yeoh, Stephanie Hsu and Ke Huy Quan.
"The audaciously daring and original filmmaking on display is indeed laudable, as well as the obvious delight poured into the making of this film," writes Tribune News Service critic Katie Walsh in her review. "Drawing from classic martial arts movies, video games, and psychedelics probably, there are a few inspired bits and great performances throughout, especially from Yeoh, who demonstrates a real ability for comedy."
ALSO NEW ON DVD JULY 5
"Downton Abbey: A New Era": The Crawley clan welcomes a film crew to the estate, and untangles the mystery of the French villa willed to the Dowager Countess by a long lost beau, in this second film based on the British period drama.
"Memory": Action-thriller starring Liam Neeson as an assassin in the early stages of Alzheimer's who takes one last job, which soon finds him turning his gun on those who hired him.
"Monstrous": Christina Ricci plays a mother who flees her abusive ex-husband with her young son, only to find a new monster lurking after moving to a remote house.
"Okja": Criterion release of the 2017 Netflix film from director Boon Joon Ho about a Korean farm girl living in the mountains with a giant pig, who is removed and taken to New York, where an agri-business CEO has has sinister plans for the animal. Starring Tilda Swinton and Paul Dano.
"Zero Contact": This sci-fi thriller made virtually during the pandemic, with each actor in different locations, features Anthony Hopkins as an eccentric tech genius whose death triggers contact from a mysterious AI entity seeking to reactivate an initiative that may enable time travel.
OUT ON DIGITAL HD JULY 5
"The Eden Theory": A small town is rocked by a mysterious disappearance in the sci-fi horror film, with the missing person's best friend the obvious suspect, except for the strange and unexplainable events that seem to be taking place.
———