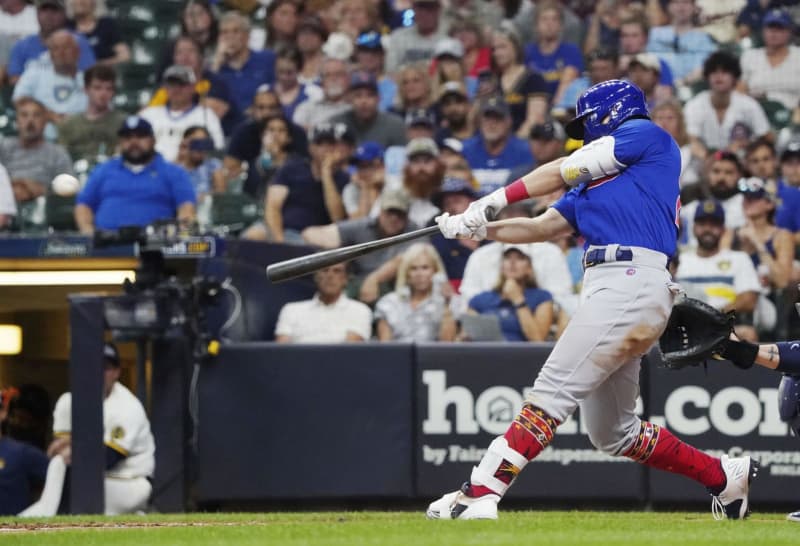 Chicago Cubs outfielder Seiya Suzuki hit a go-ahead, inside-the-park solo home run in the ninth inning Monday before the Milwaukee Brewers sent the game into an extra inning and claimed a 5-2 victory.
In his first game back from the injured list, Suzuki hit a drive off Brewers All-Star closer Josh Hader that bounced at an angle off the left-center wall while he sprinted around the bases. The Japanese player's head-first slide into home plate beat catcher Pedro Severino's tag.
It broke a tie but David Robertson could not hold the 2-1 lead Suzuki's blast gave him after Milwaukee's Christian Yelich drew a two-out, bases-loaded walk that made it 2-2.
Victor Caratini hit a three-run homer in the 10th off Scott Effross (1-4) to end the game.
It was Suzuki's first homer since April 17 and his fifth of the season, and it was also the first Cubs' inside-the-park home run since Javier Baez hit one in 2017.
Suzuki rejoined the Cubs after missing more than a month with a sprained finger. He played just three minor-league rehab games. He was activated from the injured list earlier in the day to play in his first MLB game since May 26.
"I was growing frustrated (by the slow recovery process). It was my first major league game in a long time so I told myself I'd have fun today," said Suzuki, who went 2-for-4.
"I was feeling the joy of finally being able to play baseball on this stage again," he said.