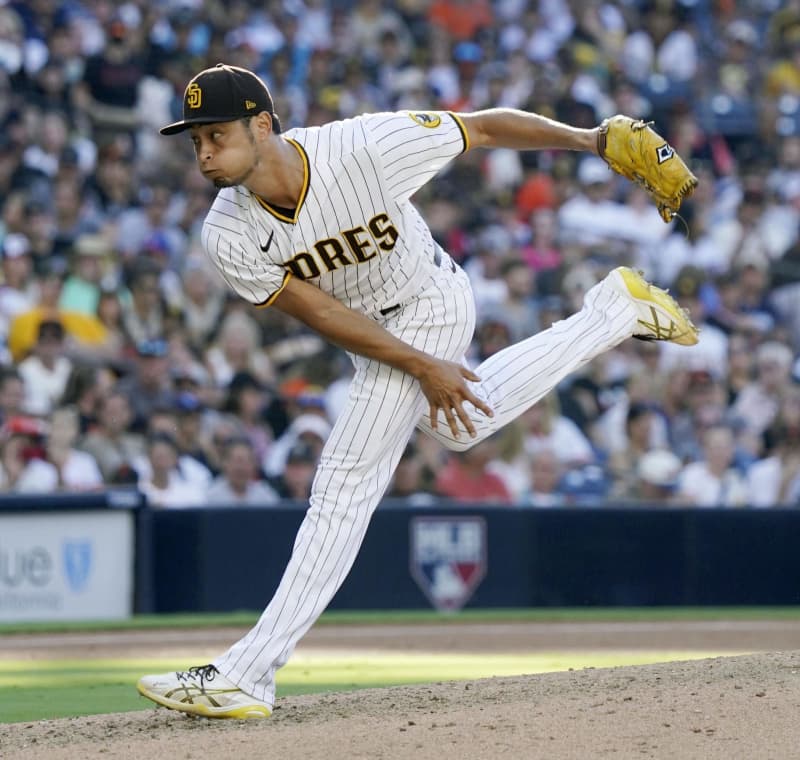 Yu Darvish pitched seven innings of three-hit, one-run ball on Saturday, but the San Diego Padres bats were not able to back him up in a 3-1 loss to the San Francisco Giants.
The Japanese right-hander, who has not won a game since June 20, made a quality start but was outdueled by Carlos Rodon (8-5) in the clash between southern and northern California clubs at Petco Park.
The Giants' left-hander went the distance, throwing 112 pitches for 12 strikeouts, while allowing one run on three hits and two walks. He retired 22 of the final 23 San Diego hitters on the way to his first complete game since tossing a no-hitter last season.
Darvish struck out six and walked two, and was not involved in the decision. Luis Garcia (4-5) relieved Darvish with the game tied 1-1 in the eighth and gave up a tie-breaking two-run homer to Wilmer Flores.
"For the first two innings, I sensed they were sitting on breaking balls. (Catcher Austin) Nola and I decided to go after them with as many fastballs as we could. That turned their plan on its head," Darvish said.
The Padres did not record a hit after the second inning, when they plated their lone run on a hopper that Brandon Belt mishandled at first base after Rodon loaded the bases.
The Giants won for the second time in 10 games. The Padres lead the four-game series 2-1.
At Oriole Park at Camden Yards, Shohei Ohtani went 0-for-3 with a walk as the Los Angeles Angels were shut out by the Baltimore Orioles 1-0, dropping the first three games of the four-game series that concludes Sunday.
At American Family Field, Yoshitomo Tsutsugo went 2-for-4 with a run scored to help the Pittsburgh Pirates beat the Milwaukee Brewers 4-3. Tsutsugo had a double, a single and a pair of strikeouts.