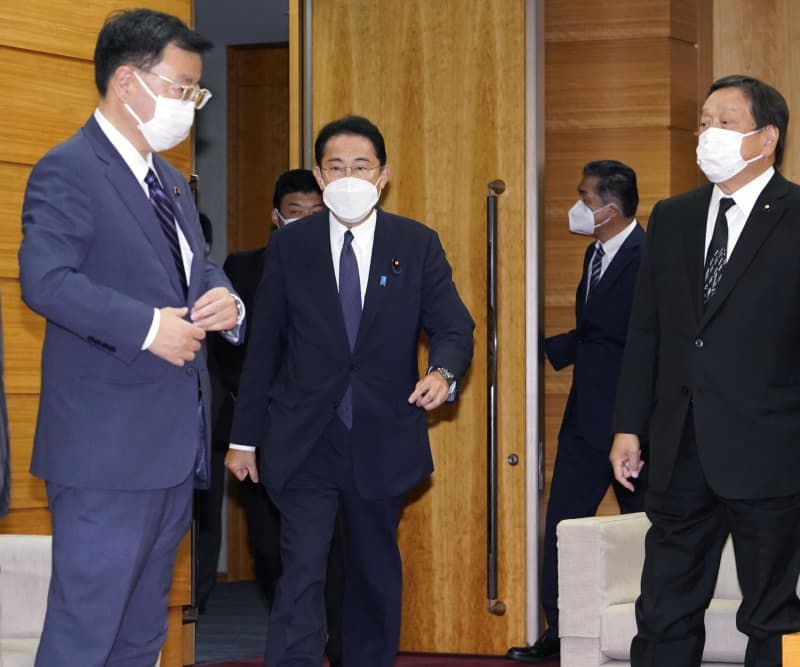 Japanese Prime Minister Fumio Kishida said Friday his government will take fresh measures to ease the pain from rising prices, with inflation a top priority for his reshuffled Cabinet amid dipping public support.
Kishida said price hikes, particularly for energy and food items, are having a "huge impact" on companies and consumers, telling a government meeting that he will instruct officials on Monday to implement relief steps "seamlessly."
Rising energy, raw material and grain prices, largely attributed to Russia's war in Ukraine, have been dealing a blow to the world's third-largest economy.
The government has already announced a series of inflation-relief measures, including subsidies intended to bring down retail gasoline prices, aiding farmers hit by surging fertilizer costs, and keeping the price of imported wheat that the government sells from rising above levels before the war began in February.
"Bread and noodles, which are made from wheat, are essential items in our daily lives. It's critical that their prices are stable," Kishida said at the meeting, attended by newly appointed Cabinet ministers and business leaders.
"I will instruct (officials) to extend support by catering to the needs of each region and to take additional steps focusing on energy and food items that make up the bulk of the recent price hikes," he added.
After attending the meeting at the Prime Minister's Office, Nobuhiro Iijima, president of Yamazaki Baking Co., said his company has already reviewed the pricing of its plain bread and pastries.
"We couldn't be happier if we can somehow avoid another price review," he said.
Japan has not seen inflation accelerating as fast as in the United States or some European nations. Prices rises have not been broad-based, partly because companies do not want to scare off consumers by hiking retail prices at a time when domestic demand is weak.
But consumers are already feeling the pinch of higher prices of everyday goods, which could put a damper on a rebound in consumption after the lifting of restrictions that were put in place to rein in COVID-19 infections.
Kishida said after he reshuffled the Cabinet on Wednesday that he will use fiscal spending without hesitation to respond to inflation and COVID-19, first tapping 5.5 trillion yen ($41 billion) in reserve funds allocated in a supplementary budget for the current business year to next March.
The prime minister is scrambling to reverse a recent downtrend in his approval ratings, due largely to public suspicions about the ruling party's links to the Unification Church following the shock killing of former Prime Minister Shinzo Abe.
The man who shot Abe from behind during a campaign speech ahead of the House of Councillors election in early July told investigators that he believed the former premier had links to the religious group, which he blamed for financially ruining his family after her mother made huge donations.
In a Kyodo News survey conducted Wednesday and Thursday, nearly 85 percent of respondents said politicians should cut their ties with the religious group. The approval rating for Kishida's Cabinet recovered slightly to 54.1 percent after a reshuffle, from a worst-ever 51.0 percent in late July.
The church, now formally known as the Family Federation for World Peace and Unification, has drawn attention over problematic practices such as so-called spiritual sales, in which people are talked into buying items for exorbitant prices.