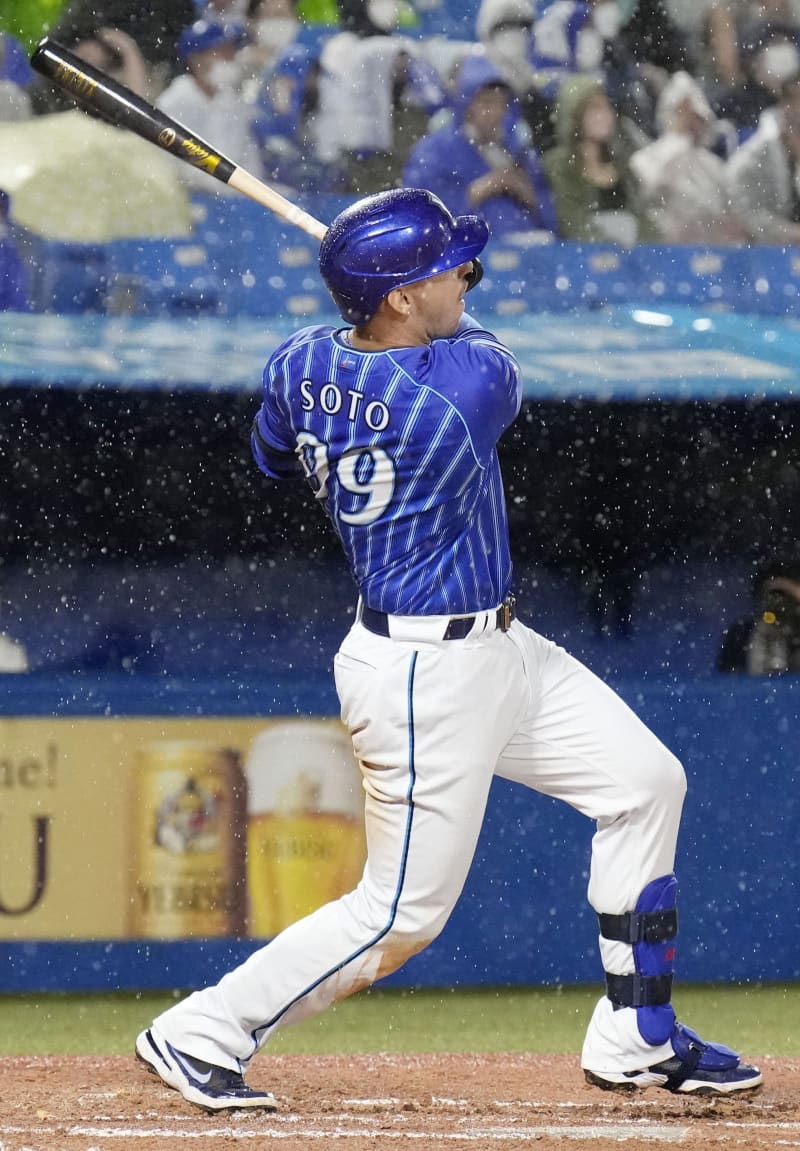 Neftali Soto blasted a two-run tie-breaking home run and the DeNA Baystars handed the Central League-leading Yakult Swallows their seventh-straight loss, 4-3, on Friday.
The second-place BayStars' win at Jingu Stadium, their eighth in nine games, moved them to within six games of first place. The Swallows' losing streak is their longest of the season.
DeNA's Shinichi Onuki (9-4) allowed two runs, both on solo home runs, over six innings to earn the win. Swallows right-hander Yasuhiro Ogawa (5-7) allowed four runs in his six innings.
The Swallows' Munetaka Murakami hit his league-leading 41st homer in the second inning, but DeNA came back to take the lead.
Masayuki Kuwahara doubled in the tying run in the third, Soto doubled in the fourth and scored on a catchable fly ball behind first that dropped for a double.
Yakult's Jose Osuna tied it 2-2 in the fifth with his 13th home run, but Soto, seized control of the game in the sixth, hitting his 10th home run with a man on.
"I wanted to make sure I had a good at-bat. I was looking to put a good swing on a pitch in the strike zone," he said through his interpreter.
"Our pitchers have really been getting the job done, and that has put us in a good position to win."
The Swallows managed five base runners in the eighth inning, but cost themselves the game with some poor base running, and could only manage one run.
Reliever Taisei Irie inherited a one-out bases-loaded jam, walked Osuna to force in a run, but preserved the lead by popping up slugger Tetsuto Yamada for the final out.
BayStars closer Yasuaki Yamasaki worked the ninth for his 25th save.
Elsewhere in the CL, the Hiroshima Carp came from behind to beat the Yomiuri Giants 6-5, while Yudai Ono (5-7) threw a four-hitter in the Chunichi Dragons' 4-0 win over the Hanshin Tigers.
In the Pacific League, the Seibu Lions' Takeya Nakamura became the 14th player in Japanese pro baseball to hit 450 career homers in the league leaders' 5-1 win over the Rakuten Eagles.
The Orix Buffaloes beat the SoftBank Hawks 6-3 behind a pair of Masataka Yoshida homers, and the Lotte Marines beat the Nippon Ham Fighters 3-2.