By Ishaan Bhattacharya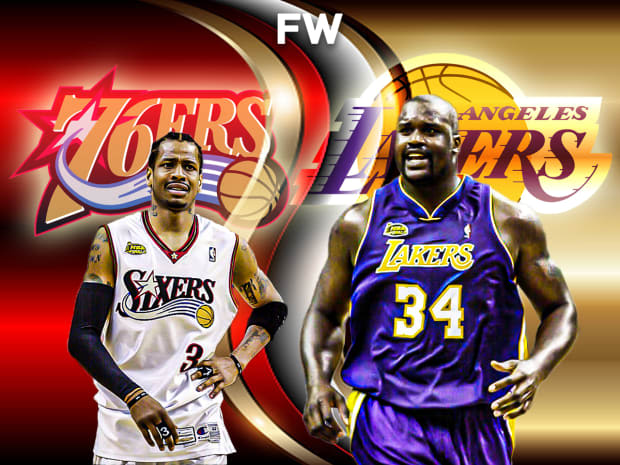 View the original article to see embedded media.
The 2001 NBA Playoffs saw one of the most dominant postseason teams of all time win the championship at the end of it. The Los Angeles Lakers absolutely bulldozed the competition as they looked to repeat as NBA Champions after their title win in 2000 as well. After sweeping the Western Conference, the Lakers were staring down a historic 15-0 postseason run (the first round was a 3-0 sweep over Portland) as they matched up against the Philadelphia 76ers led by Allen Iverson.
Iverson was named league MVP that season but the 76ers were no match for the Shaquille O'Neal and Kobe Bryant-led Lakers that year. After watching the Lakers go 11-0 through the West, the 76ers stunned the world by stealing Game 1 of the series behind a 48-point performance from AI.
The Lakers would regain control and win the series 4-1, winning 4 consecutive games in convincing fashion. Those Finals were the only time AI reached the final stage of the playoffs and was recently looking back on it. He came to the conclusion that Shaq made the ultimate difference, saying that the 76ers lost because they woke up a sleeping giant after Game 1.
View the original article to see embedded media.
Shaq averaged an incredible 33 points, 15.8 rebounds, 4.8 assists, and 3.4 blocks in the Finals series, easily clinching Finals MVP honors. Despite Iverson's best efforts, the Lakers were far too much of a juggernaut for him to overcome with the roster that he had.
That 2001 run was the last time Philly made it to the NBA Finals, a feat they hope to repeat 2 decades later with Joel Embiid and James Harden. If the 76ers can add Kevin Durant, they will have to deliver on the promise of a championship for the City of Brotherly Love as soon as possible.