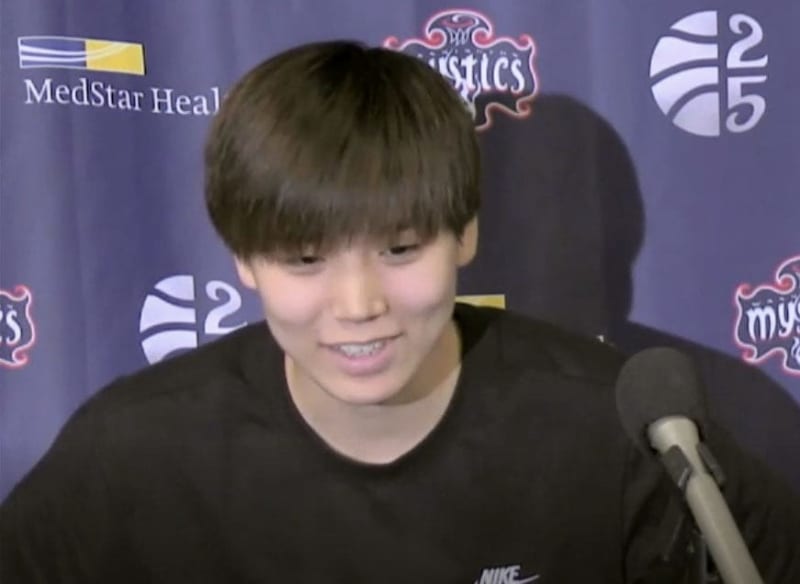 Washington Mystics guard Rui Machida believes the experience of playing with the greatest players in the women's game in her first season in the WNBA has allowed her to grow on the court.
The 29-year-old Japanese played in all 36 regular season games, averaging 1.8 points and 2.6 assists in almost 13 minutes per game, as the Mystics reached the playoffs only to be beaten in the first round.
Still, playing overseas has been both a joyous and enlightening experience, Machida said.
"Every player in the WNBA is top notch and I understand why it's the best league in the world. I gained a valuable experience," Machida said in an online interview on Tuesday.
The Mystics lost their first-round playoff series, a best-of-three affair, to the Seattle Storm, 2-0.
Machida came to the world's attention at the Tokyo Olympics where she played a major role in Japan's run to the gold medal game. She led all players in assists, with 12.5 per game, and was named to the tournament's All-Star five.
When the Fujitsu RedWave announced Machida's move in February, the Women's Japan Basketball League team said that she would play for the Mystics from May to September, then return to Japan to play for Fujitsu after the end of the season.
Machida expressed interest in playing in the WNBA again next season, but she also knows she has to make a bigger impact on the offensive end of the court by scoring points rather than just dishing out her highlight assists.
The diminutive point guard struggled with her shooting in the WNBA, finishing the season at just 31 percent overall from the field and 20.6 percent from behind the three-point line.
"I've been trying to improve my shooting mechanics but there's still more work to be done," she said.