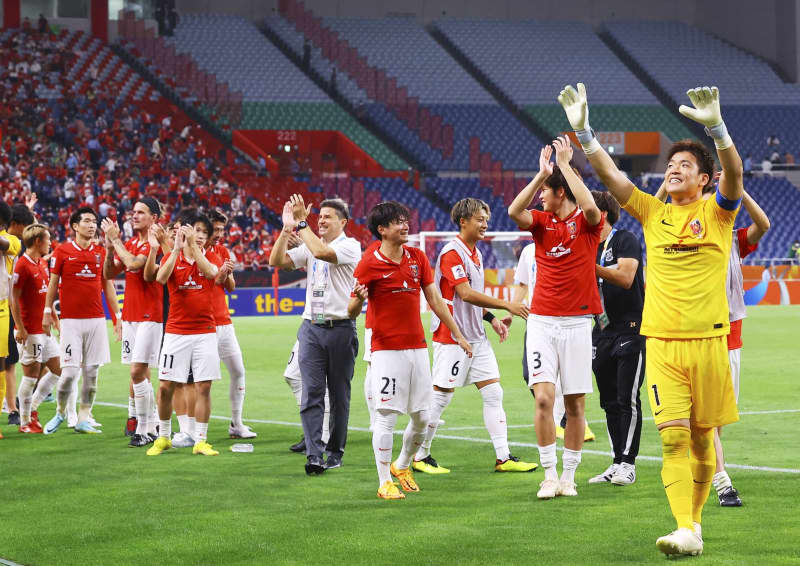 Keeper Shusaku Nishikawa blocked two penalty kicks as Japan's Urawa Reds advanced to the Asian Champions League final by winning the penalty shootout after drawing their semifinal 2-2 after extra time with South Korea's Jeonbuk Hyundai Motors on Thursday.
Nishikawa blocked Jeonbuk's first two shots before Reds clinched it 3-1 on Ataru Esaka's kick at their Saitama Stadium home ground and will now go in search of their third Asian championship.
"Winning the penalty shootout allows us a chance to gain some long-awaited revenge for (our loss in) 2019," Nishikawa said of Reds' last appearance in the final.
"I'm good in penalty shootouts. My teammates and fans were under pressure, but I enjoyed the shootout. Our guys played their hearts out for 120 minutes and never gave up. I'm happy I had my chance at the end."
The two-leg final will be held on Feb. 19 and 26.
Jeonbuk took their only lead in extra time when Han Kyo Won's leg deflected a cross into the net in the 116th minute, only for Danish striker Kasper Junker to drill home a loose ball four minutes later as time was running out.
Junker equalized after Reds midfielder David Moberg stole the ball at midfield. After the ball caromed around the penalty area, keeper Lee Bum Soo blocked a header, only for it to roll to Junker.
Reds broke the ice in the 11th minute. Hiroki Sakai outraced his marker to an exquisite pass between two defenders from Sweden's Moberg and delivered a square ball past keeper Lee for Yusuke Matsuo to tap in from point-blank range.
The hosts were fortunate not to have put the ball in their own net on a couple of occasions when under intense pressure, but Jeonbuk equalized in the 55th minute with Paik Seung Ho converting from the penalty spot.
Urawa defender Ayumu Ohata, however, conceded a penalty kick when he brought down midfielder Song Min Kyu in the penalty area from behind.
Junker, who energized Reds after coming on in the 79th minute, came within inches of winning it in the final seconds of injury time when he fired past the keeper but hit the post.
Lee got up quickly and blocked a shot from close range to send the game to extra time.