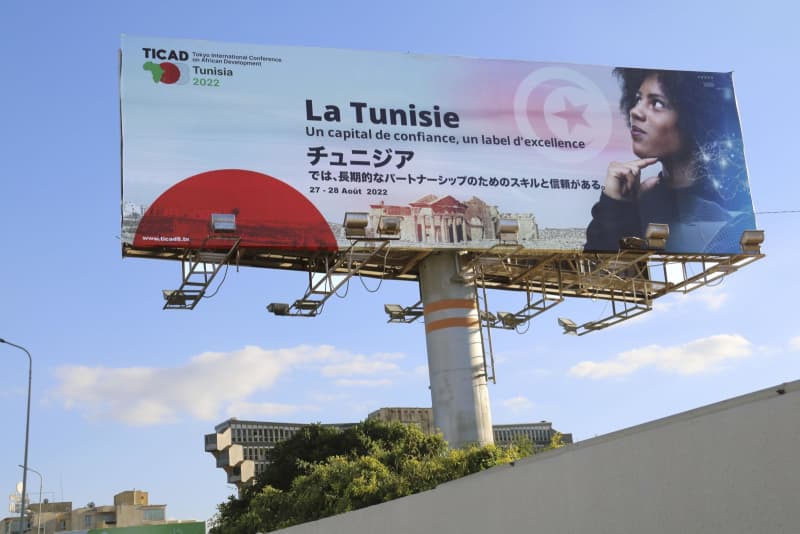 Japanese and African leaders will begin talks Saturday on ensuring sustainable growth despite the challenges posed by Russia's war in Ukraine and China's outreach to the continent with infrastructure investments.
Japanese Prime Minister Fumio Kishida, remotely participating in the eighth round of conference on African development known as TICAD in Tunisia, is expected to stress the importance of investing in people and growing together with Africa in an apparent bid to draw a contrast with Beijing.
Concerns about an assertive China have loomed over the African development conference in recent years as critics blame Beijing for burdening poor nations with huge debts via its massive loans and investments in infrastructure.
The two-day conference will cover a range of pressing issues confronting the continent, often called the last frontier for growth. The participants are expected to discuss ways of coping with the food crisis, exacerbated by disrupted grain shipments and their soaring prices amid Russia's war in Ukraine, ensuring energy security and improving healthcare services as the COVID-19 pandemic continues.
Also on the agenda will be how to ensure fair and transparent development finance at a time when China is seeking to expand its sphere of influence with its Belt and Road infrastructure investment program.
Japan has been pushing for quality, open and sustainable infrastructure to meet an expected rise in demand for infrastructure in emerging economies.
The leaders are expected to release an outcome document at the end of the conference, co-hosted by the United Nations and the World Bank, among others.
In his speech, Kishida will pledge to invest in fostering the talents of 300,000 people over the next three years, primarily in the agriculture and health sectors, government sources have said.
Investing in human capital is at the forefront of Kishida's vision for a new form of capitalism as he seeks to rev up the world's third-largest economy.
Kishida had planned to visit Tunisia for the latest round of talks that have been led by Japan since their inception in 1993 but gave up on the idea after he tested positive for the novel coronavirus. Foreign Minister Yoshimasa Hayashi will be attending the conference in person.
The previous round of TICAD, or the Tokyo International Conference on African Development, was held in 2019 in Yokohama near Tokyo.