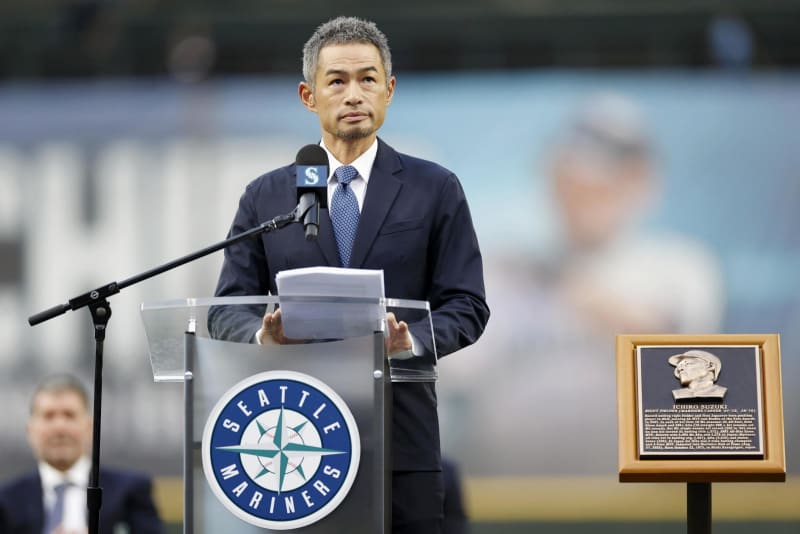 Former Seattle Mariners superstar Ichiro Suzuki became the 10th player inducted into the club's Hall of Fame on Saturday, the one-of-a-kind outfielder receiving rapturous applause at T-Mobile Park as he gave a 15-minute speech in English.
The 48-year-old Japanese played 13 and a half of his 19 MLB seasons in Seattle. A 10-time MLB All-Star, Suzuki won 10 Gold Gloves and two batting titles and was the 2001 AL MVP and rookie of the year. He retired in March 2019.
Going to the podium, Suzuki greeted the crowd by shouting, "What's up, Seattle" to thunderous applause.
"Twenty-two years ago, my life forever changed when I became a Seattle Mariner. I am beyond grateful to this organization and this city," Suzuki said as he thanked his teammates, club personnel, fans and family.
"I am touched by the warm support of so many Mariner Hall of Famers who made time to be here tonight...I am honored to join this new Mariners team. Thank you all for being here to welcome me in person."
Suzuki joined his first MLB manager, Lou Piniella, play-by-play announcer Dave Niehaus, and players Alvin Davis, Jay Buhner, Edgar Martinez, Randy Johnson, Dan Wilson, Ken Griffey Jr., and Jamie Moyer in receiving the team's top honor.
Former and current MLB players appeared in video messages, including Daisuke Matsuzaka, Mike Trout, Albert Pujols, Randy Johnson, and reigning AL MVP Shohei Ohtani.
Several of those mentioned the inevitability of Suzuki joining Martinez, Johnson and Griffey in the National Baseball Hall of Fame after he becomes eligible in 2025.
"I've been a fan of you since I was young," Ohtani said in Japanese. "It is a little strange for me to now speak in a video message about you, but I will continue to honor you and do my best. Congratulations on your day."
Now a special assistant at the club, where he works with Mariners' major and minor leaguers, Suzuki spoke of his mission and offered some advice.
"Baseball will forever be my soul, and my mission is to keep helping both players and fans appreciate this special game," Suzuki said.
"I want our players to know I am with you in your fight to be the best. I was 27 years old when I came to Seattle. I could never imagine my career in America would last 19 seasons and that I would still be in Seattle today."
"Your future has possibilities that you cannot imagine as well. So embrace it by giving your best without imposing a limit on yourself. If a skinny, undersized guy from Japan can compete in this uniform and stand before you tonight to accept this honor, then there's no reason you cannot do it either."
Suzuki set Nippon Professional Baseball's single-season hit record of 210 in 1994 with the Orix BlueWave, won three consecutive Pacific League MVP awards and seven straight PL batting titles before moving to MLB in 2001.
The fleet-footed hitting machine, also known for his defensive skills and cannon arm in the right field, set MLB's single-season hit record with 262 in 2004 and had 200-plus hits for 10 straight MLB seasons.
In his 28-year-career, Suzuki had 1,278 hits in Japan's majors and 3,089 in MLB, for a total of 4,367 -- more than MLB career hit leader Pete Rose's 4,256 in top-flight pro competition.
In the summer of 2012, with the Mariners going nowhere, Suzuki moved to the New York Yankees and later to the Miami Marlins before an unexpected 2018 homecoming saw him back in Seattle.
"When I returned in 2018, it was as if I had never left. The passion with which you welcomed me back touched my heart. It is one of the best memories of my career, and I will never forget that feeling," Suzuki said as the crowd chanted his name.
"It is my greatest honor to have played for you as a Seattle Mariner. I will keep doing my best for you and the Mariners."
Suzuki, whose last game was at Tokyo Dome, remains Seattle's franchise leader in hits (2,542), batting average (.321), at-bats (7,907), triples (79), and stolen bases (438).