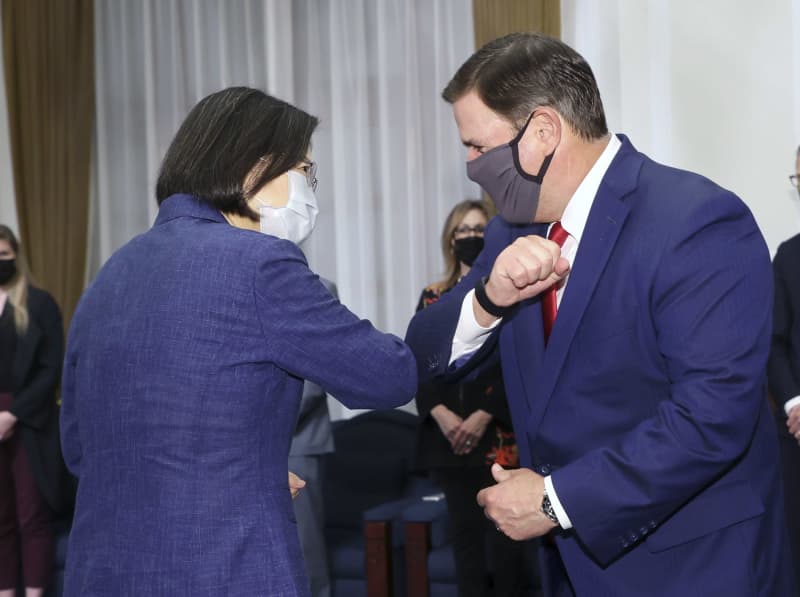 Taiwan President Tsai Ing-wen met with the governor of Arizona on Thursday, agreeing to boost cooperation in the semiconductor and other high-tech industries in defiance of pressure from China, which opposes official contacts between the island and the United States.
"This will help build more secure and more resilient supply chains," Tsai told a delegation led by Gov. Doug Ducey, underscoring that Taiwan needs such cooperation in the face of authoritarian expansionism and post-pandemic economic challenges.
"We look forward to jointly producing 'democracy chips' to safeguard the interests of our democratic partners and create greater prosperity."
Taiwan Semiconductor Manufacturing Co., a world-leading chipmaker, is currently building a $12 billion factory in Arizona.
Tsai said the project will "serve as a benchmark for Taiwan-U.S. high-tech industrial supply chain cooperation," adding that she is confident that Taiwan and Arizona will expand their cooperation into other areas than technology.
The delegation is aimed at reaffirming "our shared values, our friendship and our strengths," Ducey told Tsai. "Arizona stands with Taiwan," he said.
The governor said he last month signed legislation to establish Arizona's first foreign trade office in Taiwan.
"It is a partnership rooted in friendship and trust, one that goes back decades," he said while emphasizing that the partnership goes beyond shared business priorities.
Ducey visited Taiwan amid growing tensions between the United States and China following U.S. House of Representatives Speaker Nancy Pelosi's trip to the island last month. Pelosi is the third-highest ranking U.S. official after President Joe Biden and Vice President Kamala Harris.
On Wednesday, a Chinese Foreign Ministry spokesman said the United States must "stop all forms of official contact and stop sending wrong signals to Taiwan independent separatist forces."
China and Taiwan have been governed separately since they split in 1949 due to a civil war. Beijing has regarded the island as a renegade province to be reunified with the mainland, by force if necessary.