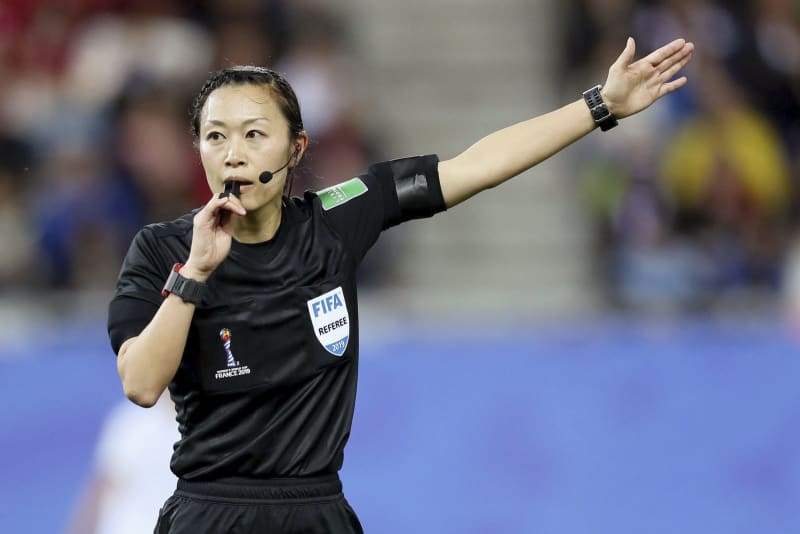 Yoshimi Yamashita is one of three World Cup referees FIFA has chosen to become the first women to officiate on soccer's biggest stage, and the Japanese is ready to show that she and other female officials belong in men's sport.
Understandably, the history-making, barrier-breaking Yamashita said she feels additional pressure as she prepares mentally and physically for the quadrennial soccer tournament that kicks off in the Middle Eastern country of Qatar in 80 days.
"I feel a huge responsibility as a Japanese national and also as a woman," the 36-year-old said as part of an appearance organized by the Foreign Press Center Japan.
"Feeling those responsibilities on my shoulders, I would like to do my best at the World Cup," she said.
For the first time in history, FIFA, soccer's world governing body, picked three women referees and three women assistant referees to officiate at the men's World Cup, which will take place in Doha and other Qatari cities in November and December.
In a pool of 36 referees, the three women are Yamashita, who has officiated at the Women's World Cup, the Tokyo Olympics and Japan's J-League; France's Stephanie Frappart and Rwanda's Salima Mukansanga.
Coming from Japan, a country with a relatively poor gender equality record, Yamashita will take the stage in a conservative Islamic nation where women have limited rights.
Although she never saw it coming, she said she is unafraid of the moment now it is bearing down on her.
"I don't have anything to fear...Anxiety versus hopes and expectations, in terms of ratio it's 0.1 versus 9.9," Yamashita said.
"I never asked myself if I want to officiate men's World Cup games because it didn't occur to me that it was possible. It's not so much that men's matches and women's matches are different, every match is different."
Yamashita, who first experienced soccer as a 4-year-old, debuted as a referee when she was 23. In 2015, she registered as an international referee and in 2019 she obtained a Class-1 qualification.
She is well versed in the demands of officiating at an elite level, but knows she will have to get used to a much quicker tempo in Qatar, and will be expected to make instant decisions and well-reasoned judgment calls in a high-paced game environment.
According to Yamashita, referees are not notified until the last minute which games they will work.
"The fact that women will start officiating men's World Cup games means this is a message to people that the potential for women is ever increasing and broadening, and that is something I feel myself too," Yamashita said.
What will she do if her gender is brought up when she makes contentious decisions on the pitch?
"I have not encountered such an experience myself yet. But if there should be such an incident, I will deal with the situation with a cool head and do what any referee should do."
For Yamashita, trusting her team members as a referee is more important than how many women are on her team.
Though gender is not the first thing on her mind when she is on the pitch, and she was clear she feels her gender is neither an advantage nor a disadvantage, she has some thoughts as to how Japan might be able to improve gender inequality in sports.
"The first thing that needs to happen is for the number of female players, female teams and female competitions to increase, and we are still in that stage," Yamashita said.
As she blazes a trail, Yamashita hopes to encourage more women and girls in Japan to consider officiating to transform what is currently viewed as normal.
"For a woman to officiate men's games and for that to be seen as the norm, I believe that this kind of an arrangement must continue. In order for that to happen, I feel a strong pressure that I need to earn people's trust."