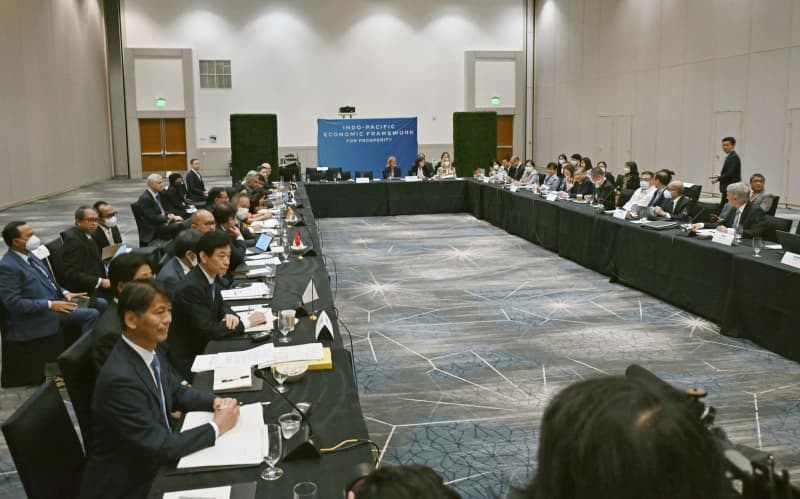 Ministers from 14 member states of a U.S.-led Indo-Pacific initiative began a two-day meeting Thursday in Los Angeles, hoping to declare the start of formal negotiations for codifying a rules-based economic order in the region where China is increasing its clout.
In the first in-person ministerial gathering of the Indo-Pacific Economic Framework, or IPEF, participants are expected to release a ministerial statement containing an agreement on cooperation for recovery of supply chains of vital products, such as semiconductors and critical minerals, in the event of disaster and contingency.
The vulnerability of the chip supply chain has come under scrutiny as the coronavirus pandemic and Russia's war on Ukraine have disrupted supplies of the essential components.
The IPEF members are focusing on setting high standards in new areas like the digital economy, cross-border data flows and data localization, as well as labor issues, on top of the supply chain issue.
The ministers from countries like Japan, Australia and India are discussing four policy pillars the group aims to promote -- fair trade, supply chain resilience, clean energy together with decarbonization and infrastructure, as well as proper taxation and anti-corruption.
Japanese trade minister Yasutoshi Nishimura said before the meeting that he hopes the Los Angeles session will result in the launch of official negotiations centering on the four pillars.
"There are still some areas left for discussions. We would like to lead discussions so as to find common grounds," Nishimura, minister of economy, trade and industry, told reporters Wednesday.
Unlike a conventional trade agreement, IPEF does not involve tariff cuts and other trade liberalization measures -- issues sensitive to the United States.
President Joe Biden's predecessor, Donald Trump, withdrew the world's biggest economy from the Trans-Pacific Partnership trade deal in 2017 over such concerns.
The Biden administration has created the framework as a vehicle to counter China's ascendance in the region, which has scared developing countries through economic coercion and debt-trap diplomacy.
In a show of U.S. economic engagement in the fast-growing region, Biden announced the establishment of IPEF during his trip to Japan in May.
The Biden administration has repeatedly explained IPEF is an administrative arrangement that will not offer market access, and the benefits for participants will come as "incentives and opportunities" rather than tariff liberalization.
The economic framework will be an executive agreement that does not require legislative approval either.
In Los Angeles, IPEF member states are expected to determine which countries will join negotiations for which of the four pillars, an outcome that will be released in the post-meeting document, according to Japanese delegates.
Trade experts say the flexible approach appears to have lowered participation hurdles for some countries, especially those in Southeast Asia.
The current 14 IPEF members -- Australia, Brunei, Fiji, India, Indonesia, Japan, Malaysia, New Zealand, the Philippines, Singapore, South Korea, Thailand, the United States and Vietnam -- account for about 40 percent of world gross domestic product.