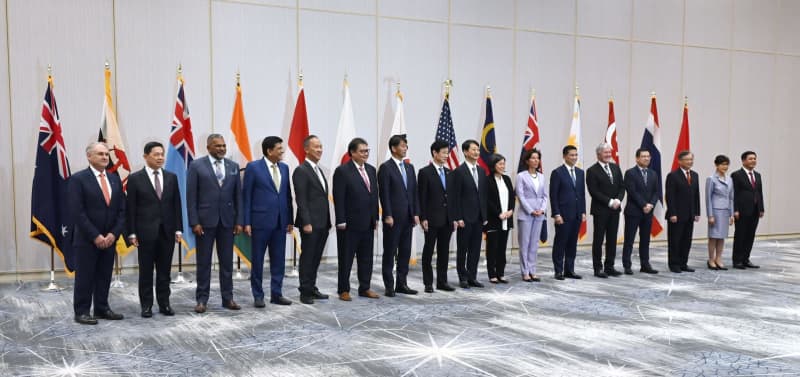 Ministers from 14 member states of a U.S.-led Indo-Pacific initiative on Friday are set to launch formal negotiations for codifying a rules-based economic order in the fast-growing region where China is expanding its clout, as they wrap up a two-day meeting in Los Angeles.
The ministers are expected to declare the start of formal talks for the Indo-Pacific Economic Framework on four policy pillars the group aims to promote -- fair trade, supply chain resilience, clean energy with decarbonization and infrastructure, as well as proper taxation and anti-corruption.
Following the first in-person ministerial talks, they are also likely to release a post-meeting statement determining which countries will join negotiations for each of the four pillars.
The statement is also expected to contain an agreement on cooperation for the recovery of supply chains of vital products, such as semiconductors and critical minerals, in the event of a disaster or other contingency.
Unlike a conventional trade agreement, IPEF does not involve tariff cuts and other trade liberalization measures, prompting critics to question the initiative's value to participating countries.
Japanese Economy, Trade and Industry Minister Yasutoshi Nishimura told reporters after the conclusion of the first day of IPEF meeting, "We have gained mutual understanding on the importance of securing stable energy supply and transition to clean energy at the same time, and move forward to that goal."
Nishimura also said Japan has offered its help for IPEF member states to transition to clean energy, taking into account their unique backgrounds.
The White House projects the Indo-Pacific region with some 60 percent of the world's population to become the largest contributor to global growth over the next 30 years.
The launch of the framework aiming to set high economic standards was announced during U.S. President Joe Biden's visit to Japan in May.
U.S. officials say IPEF is a key part of Biden's strategy for the Indo-Pacific region.
The current 14 IPEF members -- Australia, Brunei, Fiji, India, Indonesia, Japan, Malaysia, New Zealand, the Philippines, Singapore, South Korea, Thailand, the United States and Vietnam -- account for about 40 percent of world gross domestic product.