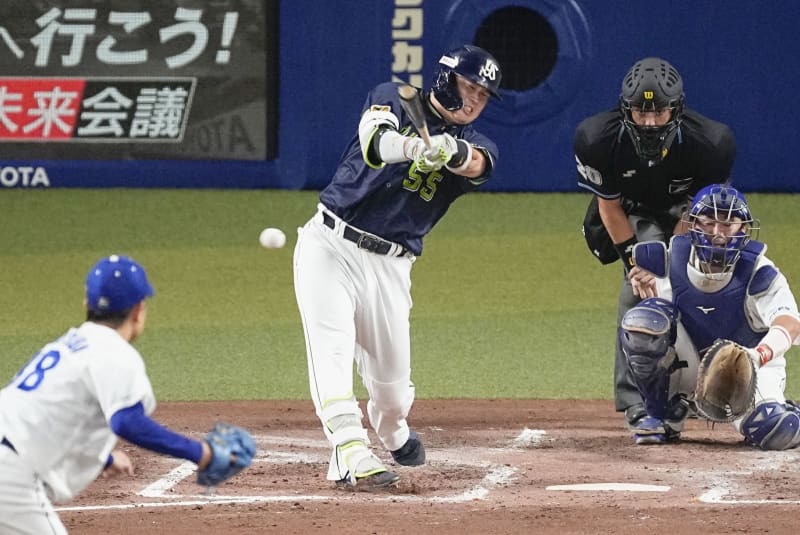 Japan's most highly anticipated home run in years has yet to leave Munetaka Murakami's bat, but his Yakult Swallows moved closer to their second straight Central League pennant with a 6-2 win over the Chunichi Dragons on Wednesday.
The Swallows' win at Vantelin Dome Nagoya and the second-place DeNA BayStars' 2-1 loss to the third-place Yomiuri Giants increased Yakult's lead to seven games. The Swallows' magic number to clinch the pennant dropped to four.
Murakami, homerless for five games since hitting his 55th on Sept. 13, is in a four-way tie for the second most in a season, along with Japan's career home run leader Sadaharu Oh.
On Wednesday, Murakami went 1-for-3 with two walks and scored a run, raising his CL-leading batting average to .330.
The Dragons took a 2-0 lead off 42-year-old Swallows starter Masanori Ishikawa (6-4) in the third, but Yakult took the lead for good in a three-run fourth.
Murakami opened with a single off Takahiro Matsuba. Jose Osuna doubled, and Domingo Santana blasted his 15th home run.
"I was just looking for a good pitch to drive the ball," Santana said.
New Swallow Patrick Kivlehan doubled in a run in the fifth, and Yakult put the game away in a two-run eighth.