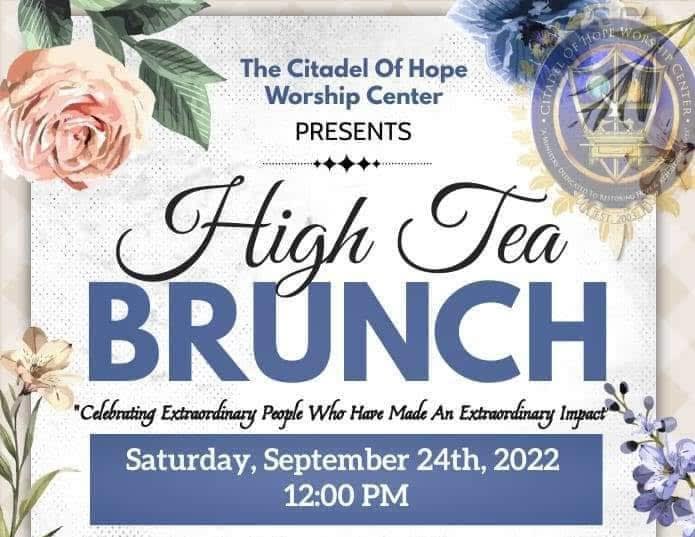 MONTCLAIR, NJ – The Citadel of Hope announced the 2022 honorees for their annual Ladies Hi-Tea Brunch event taking place on Saturday, September 24th at the Montclair Women's Club at 82 Union Street, Montclair.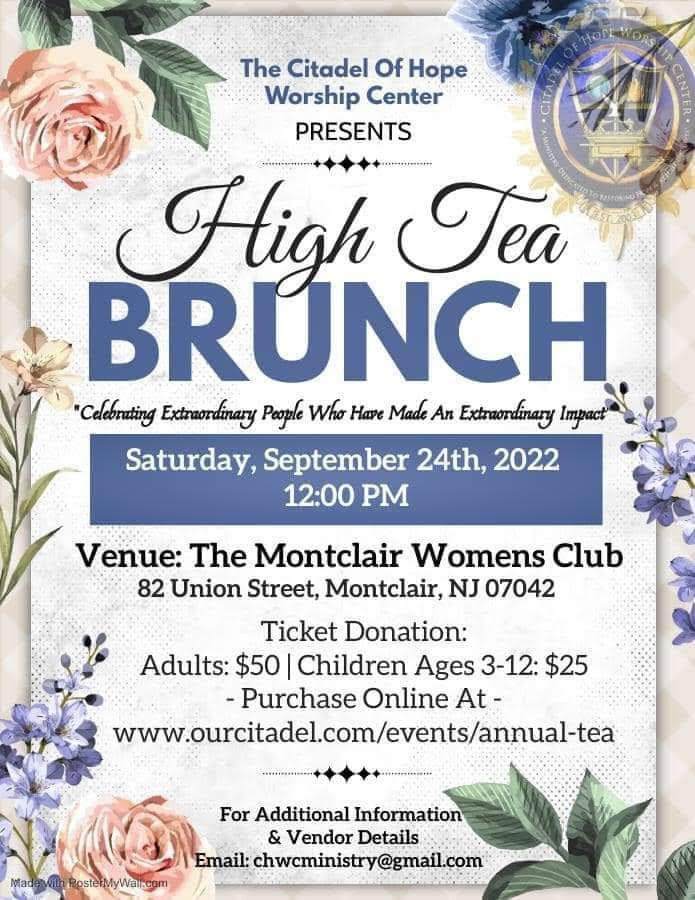 "God gives us people who are doing excellent work in the community, in education, and in the church to celebrate. People who work tirelessly, without looking for attention or recognition, they have a heart for what they are doing and are making such a positive impact in the lives of everyone they come into contact with. I think it is our responsibility to say we see you; we thank you, and we appreciate you. That is why we are so pleased to honor Latifah, Peter, Aminah, Marcia and Katherine for their exemplary public service," said Pastor Chris Spivey
Tickets can be purchased here: www.ourcitadel.com/events/annual-tea
Honorees
Aminah Toler
Aminah Toler is a Montclair native who attended the Montclair Public Schools and still resides here. As a Montclarion, she takes great pride in her community and understands the advantageous benefits of growing up living here. Aminah has gained the name, "The Connector,' within the Montclair Community as she is known as someone who is able to connect people to people, people to resources and people to the community, as featured in the Montclair Neighbors Magazine (Aug. 2020). Aminah is one of the founding members of Montclair Mutual Aid, an organization started during the height of the pandemic to help serve neighbors in the Community. Aminah has been seen throughout town coordinating initiatives with other organizations and implementing new projects to continue to help all people in her community. A few of her accomplishments include, Adopt-a-Mountie to send low-income students off to college with resources they need; little free food pantries; regular food and water distribution to families, adopt a family for the holidays, toiletries drive, free kitchenware store, and a host of other initiatives. Her recognized accomplishments have allowed her organization to continue to shine brightly within the community, as featured in in Suburban Essex Magazine (2021), Aminah is also a member of Mocha Moms Inc., an organization designed to help mothers connect with other mothers of color and share insights, educational concerns and a host of other challenges they may face as Moms of Color. Mocha Moms Inc. also gives Mothers the needed support regarding choices for their families, careers, and provides resources to help Moms be the best and most important influence in their child's life. As an active member, Aminah continues her quest to help other Mothers co-exist in the workplace, at home and in their communities. Aminah has also served as one of the M.F.E.E. Certified Community Health Workers, she helped coordinate virtual Townhall Meetings, informational clinics, vaccinations sites and has registered over 300 people for vaccinations in Montclair. She is also a member of the Montclair Chapter of the NAACP and she also serves as the Vice-Chair for the Township's Landlord Tenant Advisory Committee. She is also part of a small group of community stakeholders involved with ensuring members of the community have the necessary forms information regarding voting. The "Rock the Vote," groups mission is to ensure every person in the 4th Ward of Montclair is registered, aware of their polling location as well as, vote by mail opportunities available. Aminah is currently employed by the East Orange Public School District and works as an Administrative Assistant. Aminah is actively involved in her union and serves as a point of contact for secretarial related union matters. She also works part-time job as the Admin for the Montclair Local Newspaper. Aminah enjoys spending quality time with her family and friends, baking, retail therapy and looking for the next new project to undertake. Aminah is the mom of a terrific daughter, whom she dotes on, as Aliyah is her main strength and reason.
Latifah Jannah
President Montclair Board of Education Latifah Jannah is a mother, grandmother, and long-time resident of Montclair. She attended Nishuane Elementary School, long before magnet schools and bussing, and holds memories of a tight knit South End community of families, shops, ice cream, Police Officer Page, Nishuane and Glenfield Parks. At the age of 10, her father, Arthur Chapin, union organizer, national labor and civil rights activist, received a Presidential appointment as Assistant Secretary of Labor, and the family moved to Washington, D.C. There, she finished her public school education, graduating from Western (now Duke Ellington School of the Arts) High School. From there she attended Boston University, receiving a Bachelor of Science in Elementary Education. She remained in Boston, teaching in alternative schools, beginning a career in Family Intervention and Counseling, and, after marriage and moving to Ft. Lauderdale, FL, started a family and raised her children. Latifah's immediate family moved back to Montclair, and it was here she returned with her children, all of whom attended and graduated from Montclair Public Schools. She has been involved in the Montclair School District since 1984, beginning as PTA Co-President at Edgemont School, Home School Liaison at Glenfield Middle School, and Student Assistance Counselor at Montclair High School, Edgemont School, and Buzz Aldrin (Mt. Hebron Middle School). Along the way, she was a Teacher/Advisor at Essex County College, and a Drug/Alcohol Counselor at Mountainside and East Orange General Hospitals. Latifah holds a Master's Degree in Counseling from Montclair State University, and Certifications in Elementary Education and Student Assistance Counselor.
Peter Yacobellis
Montclair Council Member Peter Yacobellis was elected in 2020 at the height of the pandemic and immediately got to work helping those in need both through his government role and as a community volunteer. During and since then, Peter has raised almost $50,000 to support more kids going to Project Oasis, getting air conditioners and free pool passes to low-income seniors and sending low-income students to college with dorm essentials. Peter also raised almost $75,000 to support homeowners and tenants who suffered damage from Hurricane Ida and for Ukrainian refugees and $40,000 for the family of Jordan Tassy following his tragic death. On the Council, Peter helped lead the charge to make sure rent stabilization covered as many units in Montclair as possible and continues to advocate for more of a share of the Township budget going to human services. Peter is a Board Member with the Montclair Foundation and Van Vleck as well as a member of Montclair Mutual Aid, the Montclair Art Museum, the Montclair Film Festival, the Rotary Club and several other organizations. When he isn't focused on improving quality of life in Montclair, Peter can be found traveling the world capturing photos of amazing places and endangered species.
Marcia Haddock
Retired Educator Montclair School District Marcia W Haddock, who effectively educated her students within the Montclair School District for thirty-five years by Seeing them, listening to them, and then challenging them to be their best authentic self. Mrs. Haddock taught first and second grade at Glenfield, Rand, Nishuane, Edgemont and Northeast School. She created the districts first Performing Arts Program at Glenfield School, Ninth Grade. She also, replicated an Arts in Education Program in several district schools. Mrs. Haddock assisted and taught in the development of Montclair's initial Head Start Program. Additionally, she created curriculum and programs and taught at Nishuane's Gifted and Talented School. When Montclair was designated a laboratory district for Integration, Mrs. Haddock was appointed the Project Director for improving minority student achievement in concert with their non-minority peers.
Mrs. Haddock's most Memorable Achievement was designating students as "Haddock Heroes." Yet, her Most Memorable Lifetime Achievement is being the loving mother of Leslie and Darryl and the proud Grandmother of Nia, Miles, Candice, Destiny and the foster grandmother to Toddy, and my loving and supportive family and God-given friends. Mrs. Haddock's presence is like the Sunlight radiating through the windows in the morning; she also embodies Wisdom and Love in her daily life.