By Greg Bishop
He isn't the next Ken Griffey Jr. He wants to write his own story—beginning with ending Seattle's playoff drought.
On Sept. 11, the Mariners trail the Braves in the bottom of the ninth. They've already blown a 6–1 lead in front of a rowdy, near-capacity home crowd. Many in attendance have returned to T-Mobile Park only recently, flush with cautious optimism born from knowing better while they reach for their maxed-out emotional credit cards once more.
If the playoffs started today, the Mariners would be in, ending the longest playoff drought in professional sports. But there's still a month to go, meaning plenty of time for another promising season to collapse.
The M's are facing closer Kenley Jansen, a three-time All-Star, and their center fielder is stalking the dugout, whistling and screaming and waving his arms. We will compete! Believe! We got this!
This is Julio Rodríguez, human helium; electric, soulful rookie; and would-be franchise savior. He's so young that teammates referred to him as Simba in spring training. He's so talented that All-Stars wax poetic about his tools—all five, all sharpened—plus a ceiling that's higher than the Space Needle.
His life also spans the Mariners' postseason drought, revealing a potentially transformative juxtaposition. His 21 years is infancy for a professional baseball star. Seattle's 20 years of postseason absences is nearly half of its 46 seasons. Counting this one, drought and star are the same age.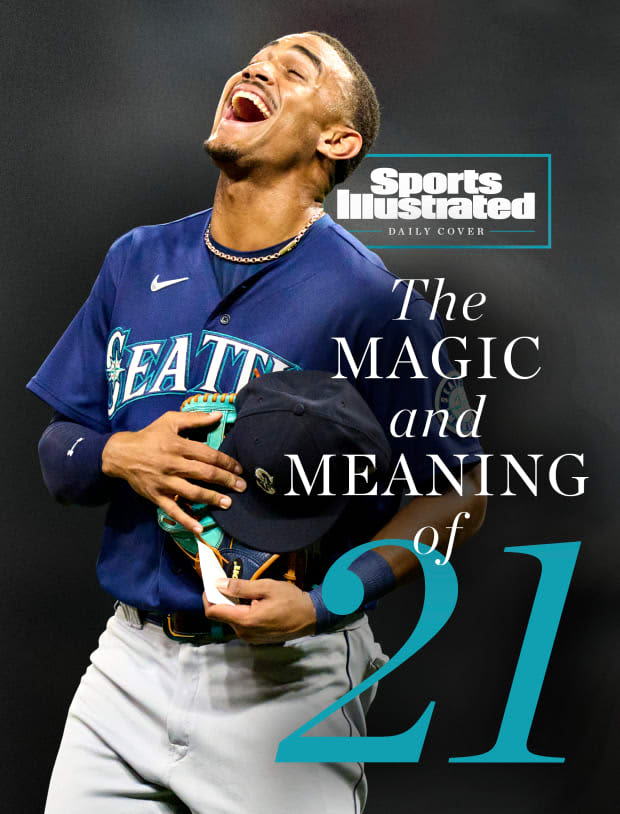 On this Sunday, Julio stands in the on-deck circle, watching as Sam Haggerty fails to bunt his way on base. As Julio strides to the batter's box, the crowd rises, anticipation soaring. Then: Juu-leeee-oooooo. Jansen throws a cutter, down and away. Strike one. Juu-leeee-oooooo. Jansen delivers a slider. Outside. Ball one. Music thumps. Hearts beat. Juu-leeee-oooooo.
Another slider, but it's hanging low, over the middle of the plate. Julio swings, the ensuing thwack audible in the nosebleeds and sharp, like a lightning bolt splitting apart a tree. The ball whistles toward left field, slams into the scoreboard and careens back onto the field. Radar confirms what eyes and brains hardly had time to process. This shot traveled up to 117.2 miles an hour; it's the hardest ball Julio has ever hit in a pro game and the hardest anyone has ever smashed a Jansen pitch since Statcast started tracking such things in 2015. It's Julio's second dinger of the day and 25th of the season. The Mariners win. Again.
This particular moment, deep into a season defined by must-see, cannot-believe moments, is vintage Juu-leeee-oooooo, from the dugout exhorting to the clutch homer to the backdrop that's impossible to ignore. This is their moment, when history meets prodigy, and, through all his promise, verve and vibe, expectations elevate, effective immediately.
(The biggest issue for Julio and Seattle, with 12 days left in the regular season, is a mild lower back strain that has been nagging him for about a week now and forced him to leave Thursday's game against the A's in Oakland in the bottom of the first inning. Multiple Mariners officials told Sports Illustrated that the team likely will place Julio on the 10-day injured list to rest but they expect him to return before the end of the season.)
They need him. Seattle won 33 one-run games last season. But many required summoning magic of some sort. "That's the difference between this year and last year," says general manager Jerry Dipoto. "We now have a more complete team and a star who can just walk up and hit a bullet off the scoreboard."
In other words: Julio is their magic now. And the goal is not simply a return to the playoffs. It's to win the whole damn thing.
Sept. 6, 2022
The man of the moments arrives a few minutes late to lunch, sliding into a black leather booth at Central Bar in downtown Bellevue, a short drive east of Seattle. He pays no attention to the opulence around him, ignoring the craft cocktails, shiny chandeliers and suited-up executives on lunch breaks. As Julio orders steak tacos, his shoulder-strap man purse and high-end leisurewear speak to the moment he's in—young, comfy and expensive! But when he himself speaks, he comes across as much older. Wise, even.
Julio is like his last six months. Doesn't make sense to many. Makes perfect sense to him.
Yes, Julio leads the American League in rookie WAR (4.9), per FanGraphs; he's the 16th rookie, age 21 or younger, in history to smash at least 25 home runs, joining Joe DiMaggio, Ted Williams and Albert Pujols.; he's just the third rookie with at least 25 homers and 25 stolen bases (hello, Chris Young, Mike Trout!).
Still, that Julio is elite was assumed, expected. In one Mariners evaluation from May 2016, the scout wrote "15 year old OF with big upside." By '19, in another report, the evaluator typed potential superstar after "Impact Statement."
Elite isn't surprising. How elite is. How quickly is. In how many ways, is.
The Mariners expected the versatile skill set, the endless potential, the in-game impact. They didn't necessarily anticipate everything else. And there's a lot of everything else.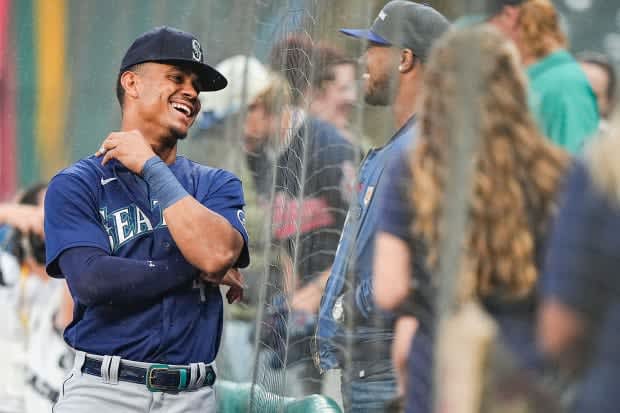 Sept. 4, 2022
In Cleveland, at the end of a short road trip, a rain delay stretches past four hours. Julio has already scored after an infield single in the first and homered in the third. But he's not bored, not locked on his phone. This is newsworthy. He's 21!
As the downpour rages, Julio leaves the visitor's clubhouse, having spied an unusually large contingent of Mariners fans before. Of the maybe 1,000 souls left at Progressive Field, roughly one-third came specifically to see him. They're loud. They're wet. And when they see Julio casually stroll toward them, they're ecstatic. He stands there, signing autographs in the rain, everyone else inside, and he has no idea that Dipoto and his executive team are watching from a suite above the field.
Dipoto doesn't say anything. But he makes a mental note. Of all the things that come naturally to Julio, less-obvious and less-typical ones stand out. He's naturally engaging. Naturally empathetic. Naturally helpful. Which reminds Dipoto of another moment, the most human of all.
His mind drifts to 2020, as COVID-19 spread, T-Mobile Park sat empty, and the Mariners hemorrhaged cash. On one especially terrible day, Dipoto needed to call roughly 60 employees and tell them that, while the team would pay their salary through October, their positions would be eliminated.
The list included a player development coach who Dipoto prefers not to name. But this coach started out at the club's Dominican Baseball Academy, same as Julio, who despite still being a minor leaguer, phoned Dipoto the same afternoon.
"Jerry," he started, "I know I might be overstepping. But I really want you to know how much he means to me, and what he's done for me and other young Latino players."
Julio paused, but briefly. He started again.
"I don't know what would make the difference for you. But I can't think of too many people in the organization who make it feel more like the 'Mariners' than he does."
Dipoto nearly fainted. Julio didn't overstep, he says. He showed maturity far beyond his age (19). He didn't ask Dipoto to rehire the coach, but he explained why he might want to consider another option, and he grounded his rationale in value and respect.
For all those reasons, Dipoto reconsidered. He called the stunned coach back, and they engaged in a lengthy conversation. He learned more about this coach—and his value—in that hour than he ever would have otherwise. The coach was a single dad to a teenage daughter. He wanted to remain in Arizona, because the country he came from was mired in political unrest. He was nervous and scared and surviving on a measly minor league coach's salary that had an expiration date. But not anymore, thanks to Julio.
The Mariners set the coach and his daughter up in one of their team-owned apartments near their spring training complex. They hunted for roles to maximize his impact, along with side jobs to pay him once his contract ran out and before they could hire him again full time. They connected him with an immigration lawyer, in hopes of establishing residency. "Julio pulled a string that unraveled the bigger story," Dipoto says recently, inside his office.
Dipoto is still stunned. He understands something now: Julio saves a lot of things. Even jobs. Maybe even his own.
Julio is the thread that, once unraveled, will tell a larger story.
"He could truly be one of the great players of his generation," Dipoto says. "But he cares about more than that." Dipoto even has a phrase to encapsulate what separates Julio beyond his immense talent, those five tools as sharp as samurai swords. Courage in approach, an ethos that revealed itself way before this season.
March 2022
Julio reports for another spring, his most promising yet. Earlier this month, the Seahawks traded quarterback Russell Wilson to the Broncos, creating an opening Julio never expected to seize this soon: face of Seattle sports.
Engagement had defined his previous camps, not talent, although he had plenty of that, too. He became known for traversing the club's complex in Peoria, Ariz. with a backpack forever strapped onto his shoulders, just a teenager still in awe of stars like Ichiro Suzuki. He also visited the Major League clubhouse daily, after breakfast, to check the list of minor league campers the team selected when they needed extra bodies for Major League exhibitions.
Dipoto knew that Julio desperately wanted to see his name. But Julio wasn't just searching for himself. He also studied which teammates had been chosen, then found them in the other clubhouse for hugs and high-fives and whoops of joy.
The Mariners wanted him around, for the cohesion that came as easily as the capability. In fact, the combination almost hastened his real Major League debut, when the M's scratched their way into playoff contention last season. Fans began returning to the ballpark, carrying"Believe"signs, heartened by a rebuild that appeared—finally, mercifully, for the love of baseball—to be aligning.
Julio flew to Seattle for the season's final weeks to experience training with the club amid a postseason push. Executives wanted him to see a city that loved baseball; a team that was trending upward; all that would come, if only he could help them win.
When Dipoto called to share some news, Julio was in Nordstrom, shopping for a suit to wear at an upcoming game. He would receive an award that night for his minor league season. But that wasn't the reason for the call.
"If we make the postseason, you're coming with us," Dipoto says.
He could hardly make out the screams that echoed off the walls of the department store, stopping strangers, alarming security. But he did hear this: Oh! My! God! Are you kidding me????
"Pick out a good suit," Dipoto quipped.
That Julio is like his younger teammates—and not like them at all—is part of his appeal. The part that deepened his organizational impact and forced an early call-up that never came.
This spring, as he sits across from Scott Servais in the manager's office, he's not sure whether he'll make an even more important list: the Opening Day roster. Servais is more than sure; he's certain, his belief owing to "the combination of talent and personality that was going to knock people over."
The manager conveys a simple message to his budding superstar. His spot is secure. Have fun. Enjoy it. Don't put too much pressure on yourself.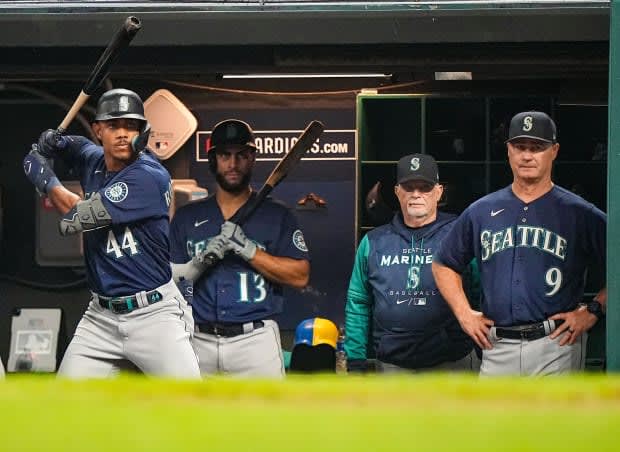 April 8, 2022
At last, it's all here: the prodigy's debut, the heightened anticipation, the beginning of another season. Julio is the fourth-youngest player to start on Opening Day in team history, older than only three icons—Ken Griffey Jr., Alex Rodriguez and Félix Hernández—but not by much.
On this day, though, while everyone else looks forward, Julio himself cannot help but look back. His entire life had pointed toward this moment.
Born in Loma de Cabrera, in the northwest of the Dominican Republic. Playing catch with his father, Julio Sr., in the backyard. Fashioning homemade bats out of trees. Learning sacrifice and discipline from his parents; his father a structural engineer who still competes in adult softball leagues; his mother, Yasmin Reyes, a dentist who still visits the Mariners' compound to clean other prospects' teeth.
The day the Mariners signed him in 2017 for $1.75 million at age 16. His time at their academy, taking classes and learning English, until he earned a GED. The wrist injury (2019) and half a season spent cheerleading in West Virginia while it healed. The other wrist injury ('20), from diving for a ball while practicing with the big leaguers during the pandemic, his presence simply for experience, after the minor league season was canceled. How he showed up the next day, anyway, to hit one-handed in the batting cage, still smacking line drives with a cast on. Crack! Crack! Crack! The blink of a stint in Advanced A. The Double A star turn. Skipping Triple A entirely. All of it.
Everyone who helped him along the way. All of them.
It's interesting what he doesn't consider, what was made clear to him by outsiders early into his Mariners tenure but doesn't resonate, because of confidence and ability, because he's so damn young. He doesn't consider the drought, or the spurned fan base that turned Seattle from a baseball town to a football one about 15 years ago. If asked about the thing that's 21, he'll say, "I want to be the first to break it."
His quest starts this very night, where he considers his father's most important lesson above all. Before Julio became anyone's hero, Senior was his own. Love the game, Senior told him. Enjoy yourself.
He enjoys the hell out of his debut, setting the stage for the strange, surreal and spectacular next six months. The best part? His family is there in Minnesota, flown in by the club to surprise him and witness his first career hit, a ninth-inning double in his second game.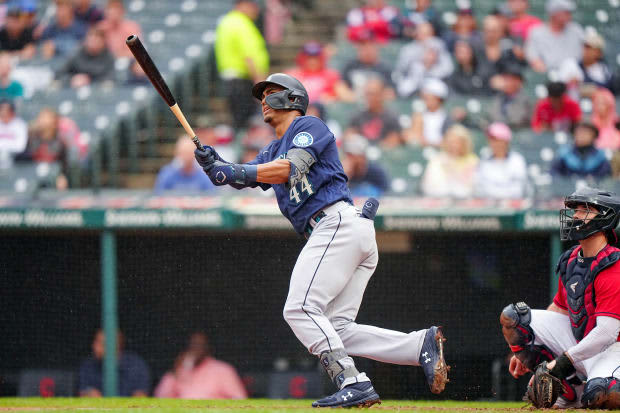 April 10–27, 2022
Julio is slumping, which is messing with his joy. Looking back, he thinks he lost sight of what Servais and Senior told him, that he wanted to accomplish so much, so soon, he actually did worse.
One game, an 8–6 loss in Texas to the Rangers, represents the nadir. Julio bats five times. He registers four strikeouts. His numbers drop, once more, and to embarrassing levels: batting average (.136), on-base percentage (.208) and slugging percentage (.159). It's early, and he will later say he's a notoriously slow starter. But never this slow, this putrid, this mortal. His 45.8% strikeout rate leads the majors. Doubt sets in. "Everything started off rocky," he says.
Servais calls him in for another meeting. The team plans to be patient. He wants Julio to be as well. "Remember what I said in spring training?" he asks. "Don't put too much pressure on yourself." The concept still applies, now more than ever. The Mariners never wanted Julio to be anything other than Julio.
Julio is A LOT. That's what they're asking for, a lot, yes, but no more than what distinguishes him.
"Do not change," Servais says. "We believe in you."
That night, Julio tells himself, "I gotta figure it out. I gotta help the team win."
"I didn't want to just be there, you know," he says at lunch, espousing a notion that seems laughable in hindsight.
April 28, 2022
Julio starts to come out of his slump when the Mariners finish up a road series against the Rays with an afternoon loss. Julio goes 1-for-3, but perhaps the best thing to happen to Julio is a … strikeout.
Shortly after his pep talk from a few weeks earlier, Servais caught COVID-19. But his bout was actually a blessing: While he recovered at home, he watched his team on television, and what he saw from a different angle was a young superstar "getting screwed over and over and over again" by the umpires crouched behind him. In Servais's informed-but-biased opinion, Julio was mostly swinging at the right pitches and letting the wrong ones pass. He just wasn't getting any breaks.
Tonight, Servais decides to make a statement. He searches for the right opportunity. Bingo. In the sixth, he turns a bad call into the big explosion that earned him the ejection he wanted all along. "Hasn't happened since," he says, deploying both a coy smile and a wink.
Well, that's not exactly true. Roughly a month later, Julio strikes out against Baltimore. He goes full Servais, only with a typical creative flair. Turn his wood bat into a No. 2 pencil, drawing a line outside the batter's box to indicate displeasure. The umpire doesn't find this funny and ejects him. His teammates find it hilarious.
Julio is only starting to understand the power of his influence, how vast it could truly be. He is injecting his particular brand of baseball onto a young roster with large aims on near and far horizons. "It's the tragedy in pro sports," says Andy McKay, the club's performance czar. "How many people are living their dream, and they're miserable?"
Same question, flipped around: How many are like Julio? So joyous, from the bat flips to the dugout rousing to the self-deprecating jokes. But so self-assured that capitalizing on the joy, in baseball and business senses, is also part of Julio. He's the star who wants to be distinct and normal, apart from his teammates and a part of what they're building. His spontaneity is both natural and planned, the ultimate goal staggeringly high.
Face of baseball? "He's gonna be," Dipoto says.
"He needs to be," says Ichiro, the most recent Mariner to capture the league's imagination.
Julio doesn't want to be Ichiro, though. Or Edgar Martínez. Or Ken Griffey Jr. He politely declines SI's request to photograph him recreating The Natural cover from 1990, the one that captures the brightest star in team history near the end of his smooth-and-sublime swing. Griffey made baseball cool. He oozed fun. He transformed backward hats into a thing.
Julio respects him, same as Ichiro and Edgar and Trout and all the rest. But he wants to be authentic, to deploy that courage in approach.
"I want to write my own story," he says.
June 19, 2022
The Mariners lose to the Angels, dropping 10 games below .500. The game is slowing down for Julio. But another lost season is speeding toward the same place—an October vacation.
He isn't "just there" anymore. He's carrying the team, with stellar defense, surprising speed, nine multihit games in May and a move to the top of the order in June. He nabs back-to-back American League Rookie of the Month honors, positioning himself a leading contender for Rookie of the Year. He's still learning, asking veteran first baseman Ty France for tips on umpires, how to approach certain pitchers, what to do on off days. France becomes more than a teammate. My babysitter, Julio starts calling him.
Still, in mid-June Seattle isn't winning. Twenty-one seasons continue to outweigh his 21 years that promise a better 21 ahead. Only now, because of Julio in particular, Dipoto sees what's possible. And not just in future seasons. In this one. "Since May, he [has] been outstanding," Dipoto says. "It doesn't make him one of the best rookies in the league. It makes him one of the best players."
June 26, 2022
While in Anaheim, another season slip-slip-slipping away, Mariners left fielder Jesse Winker is hit by a pitch. He doesn't like the plunk, and, after a brief pause, he charges right toward the Angels' dugout. Most of the Mariners charge with him, Braveheart-freedom! style, but none rush with more enthusiasm than Julio.
The brawl lasts longer than most, with a break in the middle. Throughout, it's clear that Mariners of all sorts—teammates, coaches, even trainers—want Julio anywhere but there. He's pushed toward the edge of the fray again and again. He pushes back again and again; pushes so hard his jersey comes untucked.
"Definitely not ideal," Dipoto says. "Definitely something that wasn't unnoticed by his teammates."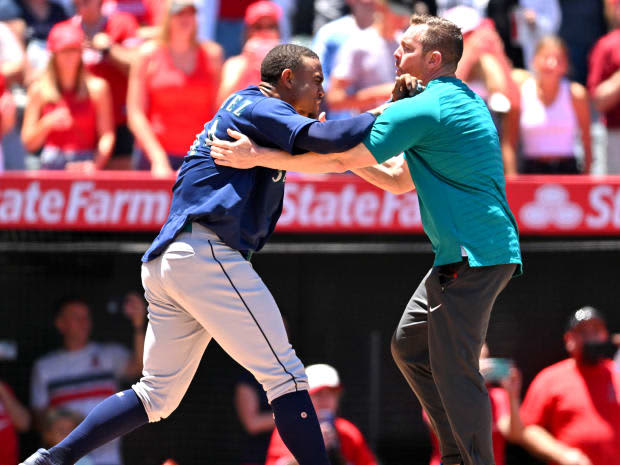 A fan has a pepperoni pizza delivered to Winker in the clubhouse, after his ejection. Of course his 21-year-old teammate grabs a slice on his way in. Julio initially receives a two-game suspension, which is later reduced to one game following a successful appeal, for his role in the fracas. But the signal he sends his teammates matters more.
The brawl changes it all, acting like a sealing agent for a young clubhouse that decides, like Julio, to never take itself too seriously. "It got real," he says at lunch. "And that definitely became something within us.
"That's when we really realized the team we have."
Julio also becomes something within them. Like in July, when he sends a line drive off the center field wall against the Blue Jays. Triple, he thinks, as he rounds first and heads toward second, only to take too wide of a turn toward third, forcing him to stumble as his team did back in June. He thinks he can still slide in safely, but the stumble slows his momentum. His body stops near the bag but not nearly close enough to reach it. So he does what comes naturally, which generally works out well. He tries to swim to third base. He's tagged out.
His teammates, from the babysitter right on down the lineup, love this sequence. They arrive early the next day at the ballpark and draw a chalk outline of his body right where he went all Failed Michael Phelps. They add yellow caution tape and orange cones. But Julio is one of them, remember, apart and aligned. Earlier that morning, he had asked his agent, Ulises Cabrera, to pick up a pair of water wings and deliver them to his condo. Julio wears them as he struts onto the field.
Julio proves something on both days, disparate as they were, that seems minor but is critical. He's not above laughing at himself.
The Mariners begin taking on the personality of their youngest player. It helps that most of his teammates aren't that old, either. They're bonding—over video games, locker room pranks, his slump, their stumble and the possibility that entices an entire city starved for successful baseball. France describes the collective atmosphere as "no one makes more fun of us than us." When the clubhouse begins to resemble "a brotherhood," Julio begins to consider what that means. Yes, he's talking about the playoffs—the end of the thing that's 21 years old.
"If we didn't go through that rough stuff right at the beginning, I don't think it would be the same as now," he says.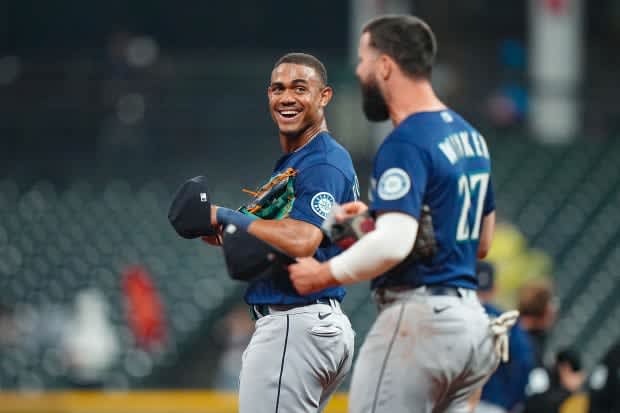 July 3–4, 2022
Done? Nope. The American League's Player of the Week hunts for Edgar Martínez, who works with Seattle's batters. Julio is having trouble hitting changeups and pitchers are deploying them more frequently. He's trying too hard, Martínez says, whether pushing (toward right field) or pulling (the other way). When pushing, he's blocking part of the plate. When pulling, he's turning too far, too fast, which screws with his balance.
"Stay inside the ball and wait," Martínez counsels. "It'll help you use the whole field."
Tip lodged, Julio faces the Padres. For a change, he's waiting for the change. He is patient, is inside the ball. He waits-waits-waits, then turns, his strike perfectly timed, the ball launched like a rocket toward the cosmos. The 429-foot flight path is interrupted only by the Western Metal Supply Co. building adjacent to Petco Park.
Executives, coaches and teammates need only this season—and moments like that one—to make their argument, to label Julio a prodigy. After his arrival this spring, they noticed that, despite his endless talents, he wasn't opposed to springing the occasional surprise. Julio had told no one what he focused on last winter—the hiring of a speed coach to transform his body, making him faster, more dynamic. The Mariners envisioned him as a corner outfielder, but Julio wanted to patrol center field. It's both more impactful and a more premium position, helping grow the team and his burgeoning legend simultaneously. That's also by design.
After a handful of practices, Julio was flying, Servais was floored and the manager asked his coaches, "You watching this? Where did that come from?"
Had to be the winter work. Scouting evaluations grade players and each of their tools on a scale from 20 to 80. Dipoto showed SI four scouting reports of Julio as a prospect. His speed rated between a 50 and a 55. In the same reports, under baserunning, he scored between 35 and 50. None of his "future" scores registered much higher; the numbers hinting at not "elite" but "average" speed. Still, Julio made himself more than fast, one of the fastest players in MLB, by simply trying to be faster. He would score more like 70 now, Dipoto says.
The prodigy continues on like this, tweaking on the fly, flying from the tweaks. On the Fourth, Julio becomes the fastest player ever to amass at least 15 home runs and 20 stolen bases—in only his 81st game, or one fewer than Ellis Burks. But it's the tip from Martínez—and Julio's implementation of it—that bolsters the true prodigy argument.
Sometimes, that can come across as hubris. Like before an August game in D.C., when Julio announces, "I got this," to his babysitter, amid a mini M's slump. "You're the best player in baseball," France says. "Go out there and prove it."
Eighth inning. Down by one. Two outs. No one on. Then … proof: Julio sails a homer 400 feet. "It's so easy for him," France says.
Sometimes, Edgar watches Julio and sees his old teammate, the one with the hat flipped backward. Griffey always seemed to possess an innate sense of moments that most mattered and not only when to rise to meet them but how. Julio sparks a 14-game winning streak, Seattle's longest since 2001.
Servais sees how much Julio has changed. The manager's mind drifts, to another sport and his beloved Green Bay Packers. Wouldn't Julio make an excellent safety? "Chances are," Servais says, "he'd pick that up quickly, too."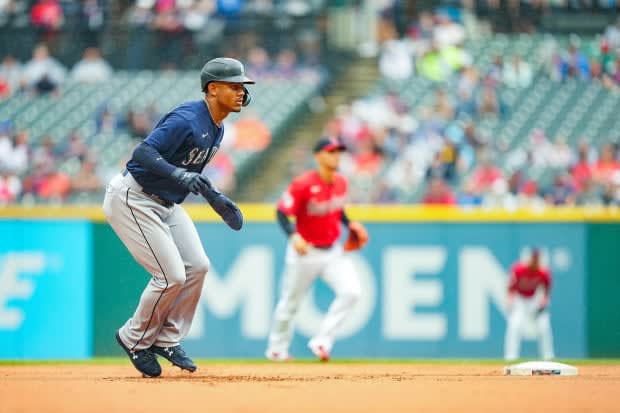 July 12–25, 2022
After initially choosing rest over participating in the Home Run Derby, Julio flip-flops. He wants to compete, because the prize is wider attention, a bigger stage for his show, which, speaking of hubris, is what he calls his season. He phones Dipoto.
"I want to be respectful to the organization," Julio says. "If you tell me that you don't want me to do this, then I won't."
"Not only is it O.K.; it's awesome," Dipoto responds. "You will introduce yourself to the world."
As derby day approaches, Julio calls a coach from back home and asks whether he will fly to Texas, where the Mariners would be playing, and then Los Angeles, to pitch to Julio in the derby, all expenses paid in exchange for pitches thrown softly and routinely over the middle of the plate.
The coach arrives in the Lone Star state just days before the derby. They head straight for the field, where it's just like old times. Pitch, smack. Pitch, smack. "We're definitely gonna do something good," Julio says that afternoon, after smashing 37 home runs in the practice session.
That same week, Julio injures his left wrist while sliding into second against the Rangers. But back out? No way.
Julio competes in the derby, anyway, after clearing his decision with the club. He's not nervous about the wrist. He is nervous about swinging at his first pitch and whiffing on an international stage.
France is still babysitting, becoming the rare All-Star happily reduced to fetching water and towels. Julio doesn't miss. He smacks. He slaps. He sails. He preens. In the first round, he hits 32 home runs; in the second, he tacks on 31 more. No player has ever before surpassed 30 twice in the same derby. "I blacked out," he says, trying to explain. But his pace slows in the final, just as Juan Soto, another (slightly older) prodigy, heats up. Soto wins the derby, despite hitting 28 fewer home runs overall. Julio wins the night.
Servais, squinting at a small TV in the Canadian part of the Rocky Mountains, can't stop smiling. Edgar, sitting inside the stadium, thinks of joy. Dipoto, watching at home with family, hears his 27-year-old daughter, Jordan, who has just returned from six years in Hong Kong and knows little about the Mariners say, "He is going to be a superstar." Ya think?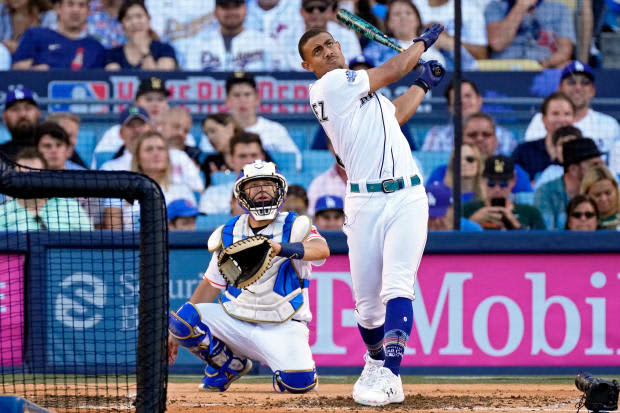 On this night, that sentiment seems all but certain. Some of Julio's new fans are even fellow All-Stars. They approach him the way he once approached Ichiro, with reverence and respect. Mookie Betts hugs and congratulates him. So does Trout. Julio seizes the opportunity, asking Trout, "How do I become you?"
"You already are," Trout responds.
When Mariners majority owner John Stanton calls Dipoto, he asks what Julio's performance will mean for contract-extension talks. "Oh, it just got more expensive," Dipoto says.
There's only one problem, really, at this point. Julio's wrist hurts even more.
The season resumes, and, when the Mariners host the Astros, Julio is absent. Houston sweeps Seattle, halting Seattle's momentum and wresting full control of the AL West. No one internally blames Julio, whether in public or private. They had implored him to be himself, explosive and exuberant and dramatic and full speed. They can't be upset when he's all of those things, and the outcome isn't what they desired.
July 27, 2022
He's back. At the park. In the lineup. To the rescue. And, naturally, in typical and hilarious form. He runs back to the clubhouse this afternoon to find another bat. What gives? Who knows? Who cares? He whacks a go-ahead, three-run homer in the seventh with the new lumber, as if pulling off a magic act, before flipping said bat toward the home dugout.
Why? Servais asks.
"The other one's sleeping," Julio responds. "It's a day game. He's not ready to go.
"I'm trying to keep it as simple as I can," Julio says.
Servais shrugs. What else can he say?
Julio doesn't make sense. Julio makes all the sense in the world.
Roughly three weeks later, Dipoto takes his family to the Storm's first WNBA playoff game, just to see Sue Bird, the other Seattle sports icon before she retires. "I find her magical," he says. Like Julio. He makes a vow that night, wanting to deepen the comparison, hoping to lock down another superstar for the entirety of their career.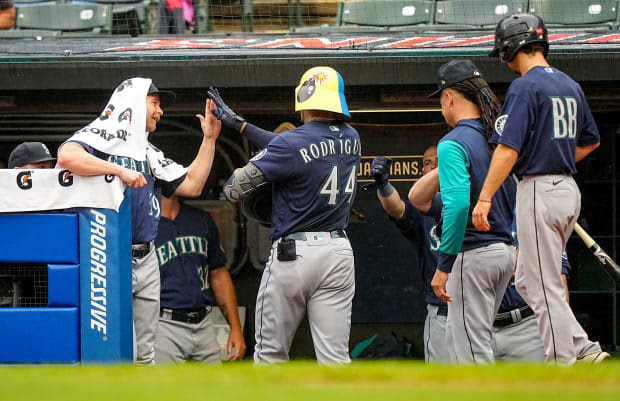 August 25–27, 2022
Three nights before cementing his baseball home in black ink, Julio convenes with his agent at the Grand Hyatt in downtown Bellevue. The sides have already considered at least 12 different structures for a contract extension. Hours pass before Julio makes a pivotal suggestion. Instead of MVP votes, he wants to marry winning the award—and more than once—to reach top value. He believes that deeply in himself. He's equally certain about the Mariners' direction.
The build-up to this moment, the most lasting and enticing and potentially transformative of all the moments, intensified for months. But it could do for Juu-leeee-oooooo what the Mariners couldn't do for Griffey or Ichiro—keep him in Seattle for his entire career.
Dipoto first contacted Cabrera, Julio's agent, in early July, while prepping for the MLB draft. He started with, "What are the chances of putting something together for Julio, for a long-term deal?"
Cabrera had some thoughts. But "it has to be creative" mattered more than the rest combined.
A week later, Dipoto sent over a preliminary offer, a standard eight-year contract with six independent club options. The next day, Julio called about the derby. Then he went back to work, leaving negotiations to Cabrera. For the next two months, both sides spoke daily by phone and held a half dozen meetings over videoconference. The Mariners made slideshow presentations.
Cabrera made two (mostly) clandestine trips to Seattle—in early July, as a more routine check-in, and late August, to finalize everything. He also met team executives in Texas right after the All Star break, and Dipoto describes this summit as the most critical to completing the deal. As they hammered through the unusual structure at the Four Seasons Resort, they even sat next to a fan wearing a Mariners jersey. The fan didn't seem to notice the history unfolding right next to him. Except he did, because he introduced himself to Dipoto the next morning, saying his name was Bob and he hoped they completed a deal soon. Bob didn't want to interrupt. Bob also didn't spill their secret.
"This is the most fun I've ever had negotiating," Dipoto gushed at one point. "Is this really happening?" he asked himself at another.
The final version is creative. It protects the Mariners in the event Julio is "only" what he is right now for the rest of his career. It rewards Julio if he becomes the player everyone expects he will become. And it includes several checkpoints for both to gauge collective progress.
The deal will last between seven and 17 years, the variance due to the protections on both sides. It guarantees Julio a full $210 million, along with $15 million to sign and a firm no-trade clause. It could be worth up to $470 million, an MLB record that's almost certain to look Mariners-friendly should Julio reach max value. The most likely scenario is that Julio plays his entire career in Seattle and banks between $350 million and $400 million.
As important: The contract is reasonable, loyal and collective; staggering in sum and concocted with a distinct flair. It captures Julio, at his core. "Julio wants the pot of gold," Dipoto says. "He also wants the World Series, to be a legend in this town, get the statue on the street."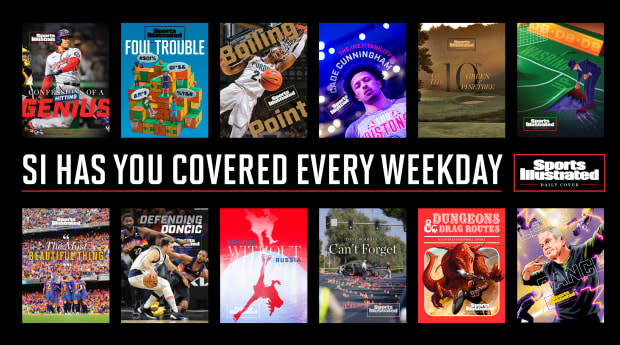 In late August, Dipoto texts Cabrera: we're at the goalline. Oh, s---, is the response. Cabrera cancels a trip to Orlando, where he had planned to take his daughter to a women's soccer game, and flies to Seattle instead on Wednesday, the 25th. He intended to work throughout the cross-country flight, only to realize a Mariners fan is sitting next to him. He closes his laptop.
After convening with Julio, Cabrera meets with Dipoto once more on Thursday. They inch closer, but their contract is so distinct that there's one more delay, while various baseball officials—for MLB and the players' association—take a deeper look.
Another morning dawns. But this isn't any other Friday. Even though Julio will soon be very rich, he's still 21 and fast-food-inclined. He heads with his agent to Chick-fil-A. Cabrera sends Dipoto another text, saying he's with Julio and they'll head to the park soon. While they're eating, Dipoto hears back from the last official he needs a sign off from. He calls Cabrera, who's in an Uber, heading with Julio to the park. The signing takes place that day.
The agent plans to sleep "for three days." The superstar calls his mom and promises to finish construction on her dream house. The general manager is juiced. On Saturday, the team holds the happiest Mariners press conference in two decades. But there's not a lot of time to celebrate.
They still have a drought to end. "The beautiful thing is, we don't know what's going to happen," says McKay, while urging everyone caught in the Julio hysteria to learn from the man himself. "Let's just have fun finding out."
Speaking of, Julio will soon add a song from Future and Lil Wayne to his walk-up music options. The title: F--- Up Some Commas.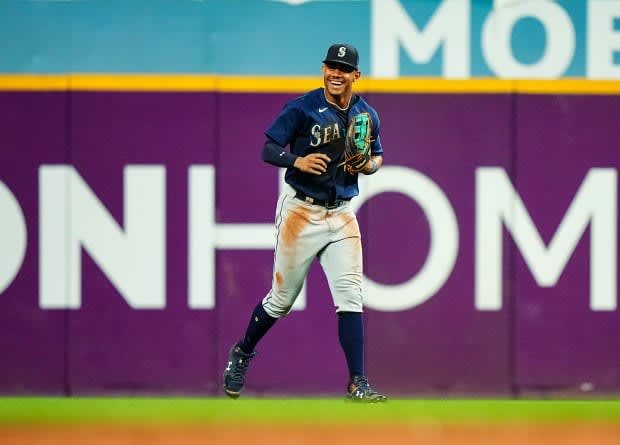 September 2022
As the postseason approaches, an unfamiliar feeling for Mariners fans—legitimate excitement—reigns. Julio has changed the calculus, allowing everyone to dream more broadly and not simply for future seasons. But for right now.
Seattle, for all its stars, managers and organizational strategies from seasons past, last played a postseason baseball game Oct. 22, 2001. On that day, Julio was not yet 10 months old.
How both arrive at the same place, let alone the same sport, same season, same contract and same lofty aims, is more than improbable. It's nearly impossible, one in whatever staggering number might be chosen.
For now, the gap between 21 years and 21 seasons seems likely to close. If that happens, if the Mariners joy their way into the playoffs, one juxtaposition will end. But, on the same day, another will begin.
If the M's make the playoffs, the thing that is 21 will no longer exist.
When Julio turns 22 on Dec. 29, the next 21-season stretch will start in a few months. His presence will promise an antidote intended to turn the next two decades into the antithesis of the last two.
Julio is their magic now.
__More MLB coverage:
• Inside the Drive: The Minor Leaguers Who Sprung a Union on MLB
• The Yankees are Built for a Deep Playoff Run
• How the New Mets are (Mostly) Overcoming Decades of Dysfunction
• Everything in Aaron Judge's Career Led Him to This Historic Season__