By Aaron Abhishek
This wasn't the first time Shaquille O'Neal had expressed his interest to own an NBA franchise.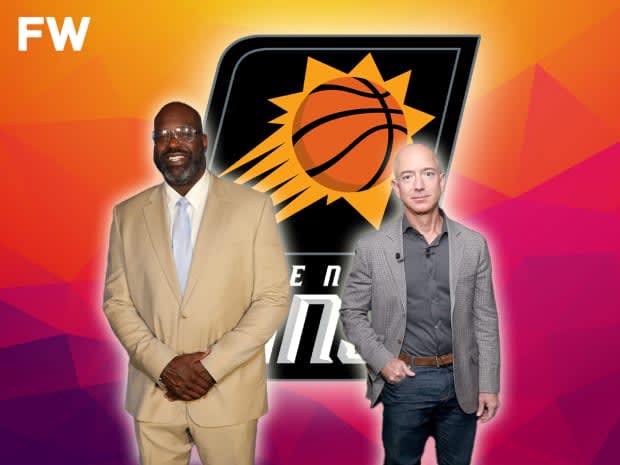 View the original article to see embedded media.
Former Los Angeles Lakers star, Shaquille O'Neal was considering joining the list of frontrunners to bid for the Phoenix Suns, but the big man backed out when he saw the former president and CEO of Amazon, Jeff Bezos's name in the mix.
With Robert Sarver selling the NBA franchise following a slew of scandals he was embroiled in, there were quite the big names that were reportedly interested in acquiring the side.
Former Disney CEO Bob Iger, billionaire Elon Musk, and Oracle founder Larry Ellison were some of the names doing the rounds.
In the recent episode of The Big Podcast with Shaq, the superstar revealed how Bezos had made him bow out of the race.
"I was open [to the idea of purchasing the team] until I saw the initials JB. Let me tell you something, you don't mess with James Brown, you don't mess with Jeff Bezos," Shaq said candidly. "When the boys come on stage, get your a** and go. So, Jeff said he wants it and a couple of other heavy hitters said they want it. I'm not even gonna put my name in the bucket on this one."
---
Shaquille O'Neal Had Previously Expressed His Interest In Buying The Orlando Magic
This wasn't the first time that Shaq, whose estimated Net Worth touches over $400 million, had plans of buying an NBA franchise. Earlier this year, he revealed he had plans to buy the Orlando Magic — the team that drafted him with the first pick in the 1992 NBA Draft. He would later join the Los Angeles Lakers on a seven-year, $121 million contract in 1996.
The Center had a message to the DeVos family, who had bought the team in 1991 for $85 million. On his podcast, the 50-year-old made his intent very clear.
"This message goes out to the DeVos family, if you're ready to sell Orlando Magic, sell it to somebody who's gonna take it to the next level, that's us."
Shaq is known for his ever-expanding franchise portfolio that includes Pizza giant, Papa John's, Krispy Kreme, and Auntie Anne's among others. Only time will tell if he indeed buys a franchise.