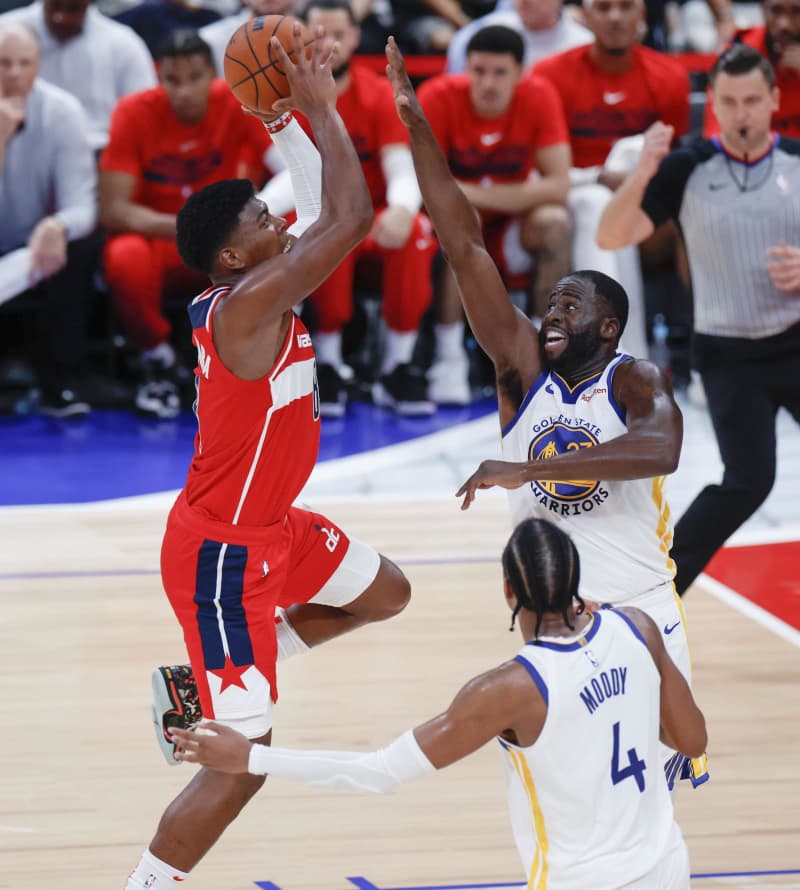 Rui Hachimura's Washington Wizards were 96-87 losers to the Golden State Warriors on Friday, but the local favorite delighted fans with a handful of highlight moments in the first of two preseason exhibition games at sold-out Saitama Super Arena near Tokyo.
The Toyama Prefecture native had 13 points and nine rebounds in 25 minutes for the Wizards in a game where both teams showed plenty of off-season rust and gave their main rotation players limited minutes.
Warriors backup center James Wiseman made the most of his 24 minutes for the NBA champions, contributing a game-high 20 points.
Washington head coach Wes Unseld Jr. declined to reveal whether Hachimura would be in the starting lineup ahead of the game, but there was little doubt the star attraction would be on the floor for the opening tip.
The fourth-year forward received a huge ovation when the starters were introduced, with only Golden State superstar Stephen Curry's reception from the crowd rivaling Hachimura's in volume. The two players' jerseys were also noticeably the most popular among the many fans sporting team gear.
Asked what he hoped to see from Hachimura, Unseld Jr. said he had "no particular expectations," but predicted the entire team would have extra motivation to give a strong performance.
"I understand the gravity of this situation, in him coming home and playing," Unseld Jr. said. "There are probably some nerves involved for sure, but I think all parties involved will want to put on a good show and compete at a high level."
Hachimura ignited the crowd early in the opening quarter when he stripped Curry of the ball and dived to the floor to secure possession.
He brought the crowd to their feet again when he drove into the paint and scored over former defensive player of the year Draymond Green at the rim.
All-time three-point record holder Curry prompted a collective intake of breath from the arena whenever he had the ball outside the arc, and eventually sparked celebrations with his first make from deep at 8:52 in the second quarter.
Hachimura showed off his expanded offensive skills by knocking down a mid-range jumper midway through the second quarter, and soon after scoring through contact and completing a three-point play from the free throw line.
He caused the crowd to erupt with back-to-back buckets midway through the third, first on a driving layup and then on a fade-away jump shot.
The two teams will meet again at the same venue on Sunday.