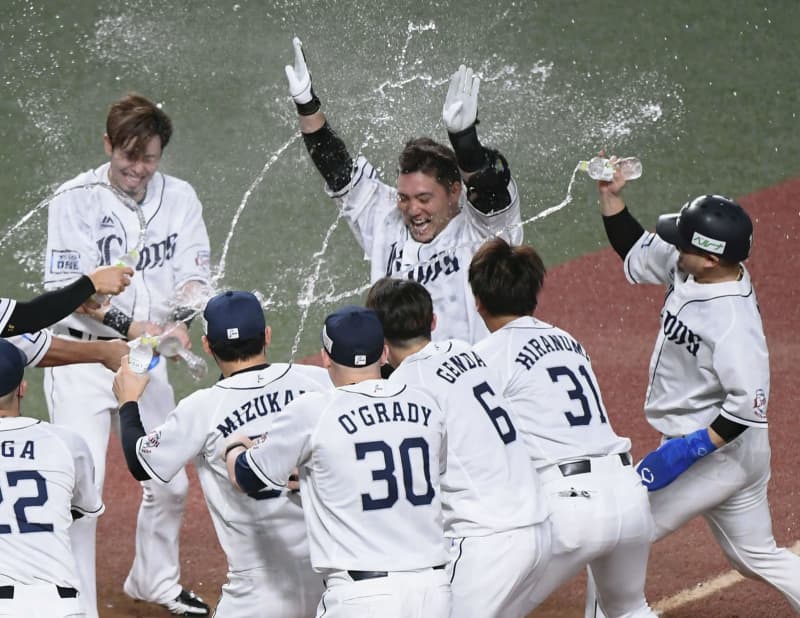 Hotaka Yamakawa belted an 11th-inning, two-run walk-off homer as the Seibu Lions won 3-1 to deny the Pacific League-leading SoftBank Hawks from clinching the pennant on Saturday.
The Hawks, who had to avoid defeat at Belluna Dome to secure their first pennant since 2020, stay top of the standings thanks to a better winning percentage than the second-place Orix Buffaloes heading into the final day of the regular season.
The magic number for the Hawks to win the pennant remains at one. They will travel to play the Lotte Marines on Sunday, while Orix will visit the Rakuten Eagles.
The Buffaloes, the PL champion last year, can only win this year's pennant by winning their Sunday game, with the Hawks losing theirs.
In a pitching duel, Seibu went ahead in the fourth inning when two singles and a walk off Hawks starter Kodai Senga loaded the bases, and Takumi Kuriyama drove in a run with a single to center with one out.
While Senga struck out nine, allowing three hits and four walks, Seibu starter Wataru Matsumoto kept the Hawks off the board on five hits and a walk, striking out six as the two right-handers both threw seven innings.
Yuki Yanagita kept SoftBank's hope alive in the ninth when he tied the game with a solo shot off Seibu's fourth pitcher Tatsushi Masuda.
The Hawks then loaded the bases in the top of the 11th, but Alfredo Despaigne flew out to first base before Yamakawa ripped one into the left stand off Koya Fujii (5-1) in the home half as his team won its fifth straight game.
"It's my first walk-off home run, so I'm really happy," said Yamakawa on his PL-leading 41st homer. "It felt a bit scary, too, as I actually said to my teammates, let's score three runs before the game."
The Lions will finish the regular season in third place and will head to the first stage of the Climax Series to play the second-place team in the PL.
In the Central League, Shota Imanaga threw seven shutout innings as the second-place DeNA BayStars held off the Yomiuri Giants 1-0.
The BayStars will play the third-place Hanshin Tigers in the CL's Climax Series first stage, with the winner playing the champion Yakult Swallows.