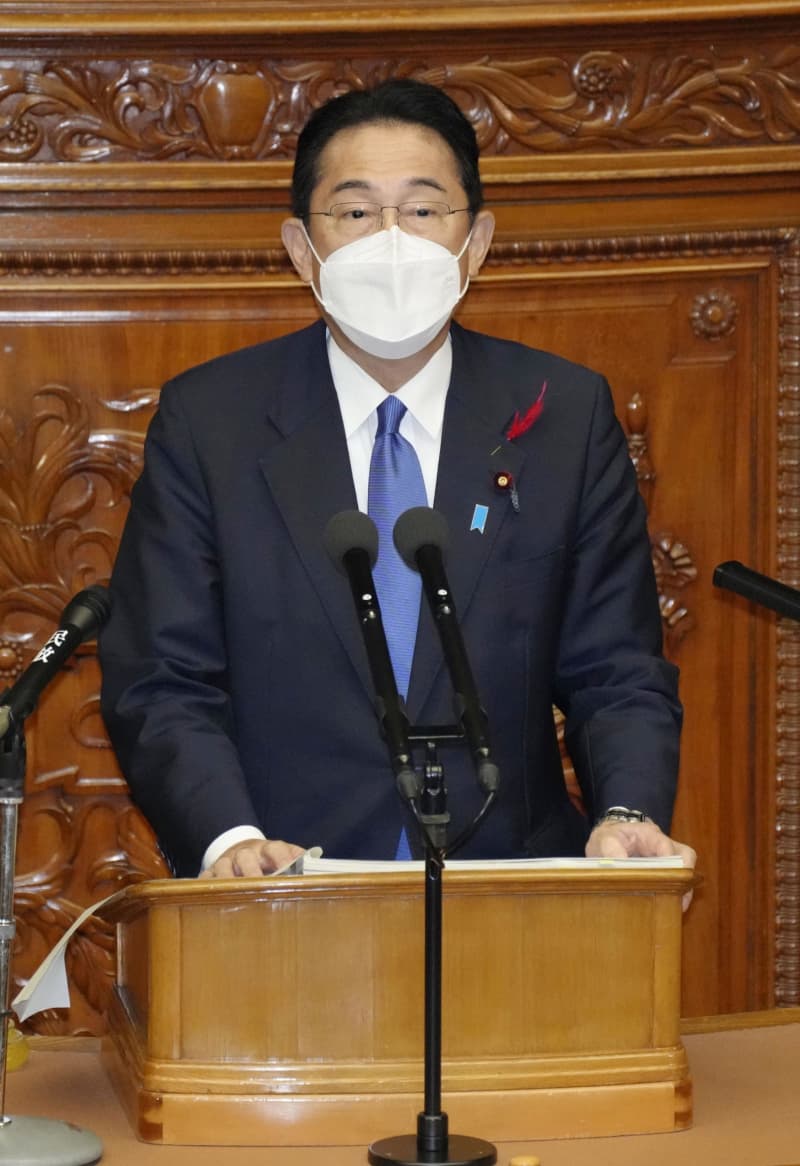 Japanese Prime Minister Fumio Kishida is heading into a tough parliamentary debate at an extraordinary session amid falling approval ratings, with Tuesday marking the first anniversary of the launch of his administration.
The Diet session began Monday as Kishida has faced a series of setbacks, such as suspicious relations between his ruling party and the notorious Unification Church, a controversial state funeral for former premier Shinzo Abe, as well as rising prices.
Kishida got off to a favorable start after taking over the post on Oct. 4 last year from Yoshihide Suga, who had resigned after just about a year due largely to mounting criticism for a poor response to the COVID-19 pandemic by his government.
Vowing to realize a "new capitalism," by which Kishida claims the fruits of economic growth could be redistributed to the middle class, the support rating for his Cabinet stood at 55.7 percent, a Kyodo News survey showed, immediately after he took office.
In the lower house election at the end of October 2021, Kishida succeeded in leading his Liberal Democratic Party to a win. As public support ratings for his Cabinet were relatively high, Kishida's LDP also achieved a victory in the July 10 upper house election.
But things have changed after the election. Investigations about the assassination of Abe, who was fatally shot during a stump speech two days before the upper house election, have unveiled dubious ties between LDP lawmakers and the Unification Church, often labeled as a cult.
Abe's attacker, Tetsuya Yamagami, has reportedly said that he harbored a grudge as his mother's substantial donations to the religious group ruined his family's finances, and he believed Abe had some links to the organization.
In 2021, Abe appeared in a video message aired at an event held by a group affiliated with the Unification Church, established by a staunch anti-communist in South Korea in 1954.
Connections between LDP members and the Unification Church have come under scrutiny, sparking concern that the contentious religious group may have sought to exert political influence by deepening relations with ruling party lawmakers.
The LDP has pledged to sever ties with the Unification Church, but the results of an internal investigation released last month showed around half of its lawmakers had some connection with the organization, dealing a heavy blow to Kishida's government.
Opposition parties are set to grill Kishida and other Cabinet members in the 69-day parliament session over the group, now formally known as the Family Federation for World Peace and Unification.
The Unification Church has drawn attention to problematic practices, including "spiritual sales," in which people are talked into buying jars and other items for exorbitant prices. Kishida has denied having any relationship with the organization.
One of the main targets of the opposition bloc is the economic revitalization minister, Daishiro Yamagiwa, who has been under fire for fallacious explanations about his links to the group.
During the ongoing extraordinary parliamentary session, the state funeral for Abe, Japan's longest-serving prime minister, is expected to be another issue to be debated between Kishida's Cabinet and the opposition camp.
Although Kishida touted his "ability to listen" to various opinions in decision-making, he decided to stage the taxpayer-funded ceremony, the first of its kind for a former prime minister in 55 years, without consulting with parliament.
Opposition lawmakers criticized Kishida's decision as "hasty," arguing that there is no legal basis for holding a state funeral for a former premier, while questions have also arisen about how much its costs ballooned from an estimated 1.66 billion yen ($11 million).
The Kishida administration, meanwhile, has become more unpopular as recent price hikes, triggered by Russia's invasion of Ukraine and the yen's abrupt depreciation stemming from a wider Japan-U.S. interest rate gap, have frustrated the public.
The weaker yen has been driving up import costs and, in turn, pushing up domestic prices, weighing on the household and corporate sectors. In Japan, wage growth has been stagnant for decades.
In his policy speech on Monday, Kishida promised to take "unprecedented and drastic measures" to ease the negative impact of higher prices on the broader economy, while he has not elaborated on what kind of steps his government will implement.