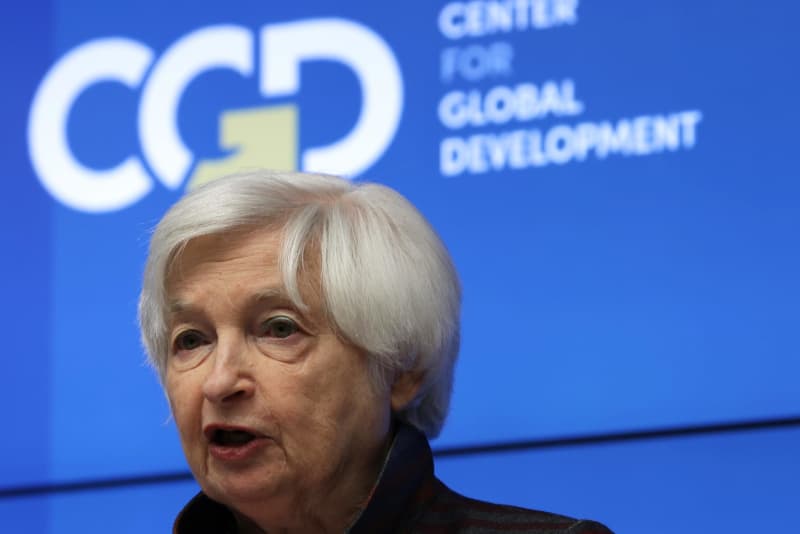 U.S. Treasury Secretary Janet Yellen said Thursday that tackling inflation through monetary policy tightening is a priority for major economies facing high prices, but noted she is "attentive" to the impact of exchange rate moves.
There are concerns about how much the strength of the U.S. dollar, driven by the Federal Reserve's aggressive interest rate hikes, is weighing on emerging markets and developing economies, such as by pushing up costs of servicing dollar-denominated debts.
"For major economies facing high inflation, the immediate task is to return to an environment of stable prices," Yellen said in a speech ahead of the annual meetings of the International Monetary Fund and the World Bank next week in the U.S. capital, adding, "Central banks bear the prime responsibility."
But she also highlighted the "international spillovers" as a result of monetary tightening in advanced countries, and expressed concern that emerging markets and developing countries are often "most acutely affected" both by global shocks and the collateral damage caused when monetary policy shifts.
"Swings in capital flows and financial pressures resulting from higher interest rates can add additional stress on top of significant and strained debt vulnerabilities," she said.
While noting the Group of Seven industrialized nations have committed to "market-determined (currency) exchange rates," the former Fed chairwoman said, "We are attentive to the potential consequences of exchange rate movements."
The sharp rise in the dollar is also posing a headache to some advanced economies such as Japan, with a weak yen increasing the prices of imported energy sources, raw materials and food for the resource-scarce country.
Last month, Japanese authorities stepped into the foreign exchange market in their first intervention to prop up the yen in 24 years.
Whether the move will stem the yen's weakness remains unclear, however, amid prospects of a further widening in the interest rate gap between the United States and Japan. The Bank of Japan remains committed to powerful monetary easing.