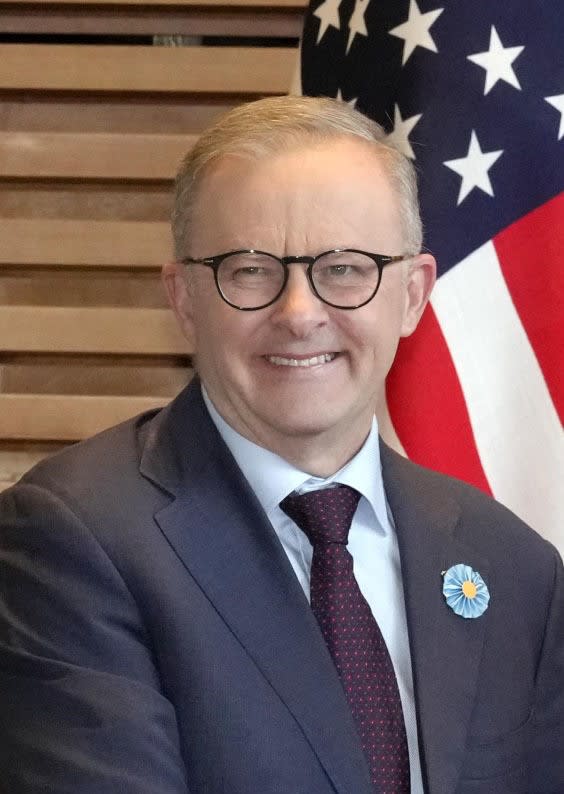 Australian Prime Minister Anthony Albanese said Wednesday he will discuss security, energy and climate change issues with Japanese Prime Minister Fumio Kishida this weekend in Perth.
The meeting in the state capital of Western Australia on Saturday comes as the two countries step up security cooperation amid China's military rise and maritime ambition.
The leaders are set to issue a joint declaration underscoring the importance of a "free and open Indo-Pacific," according to Japanese government sources.
"Japan is a close and trusted friend of Australia -- our partnership is fundamental to both countries' strategic and economic interests," Albanese said. "Prime Minister Kishida and I will discuss ways to strengthen our cooperation and achieve our shared vision for a peaceful, stable, climate resilient and prosperous Indo-Pacific."
During the meeting, while addressing security issues, they are expected to consider steps to implement a bilateral reciprocal access agreement signed in January, which is aimed at facilitating the deployment of troops to each other's country for joint drills and relief operations.
The planned joint declaration would be an update of the document signed in 2007 by then Japanese Prime Minister Shinzo Abe and former Australian Prime Minister John Howard. It recognized "common strategic interests" embodied in their respective security alliances with the United States.
Kishida's visit to Australia will be the first by a Japanese prime minister since 2018. He had planned to visit Australia in January, but the trip was canceled due to a wave of COVID-19 infections in Japan at the time.
According to officials, energy and climate change will also top the agenda when Kishida and Albanese, who took office in May, meet.
"As Australia seeks to become a clean energy superpower, we will remain a steady and reliable supplier of energy to Japan including for new energy sources like hydrogen," Albanese said in a statement.
Albanese visited Japan in May for a Quad summit. Late last month, he also traveled to Tokyo to attend the state funeral for Abe, who was gunned down during an election campaign speech in July.