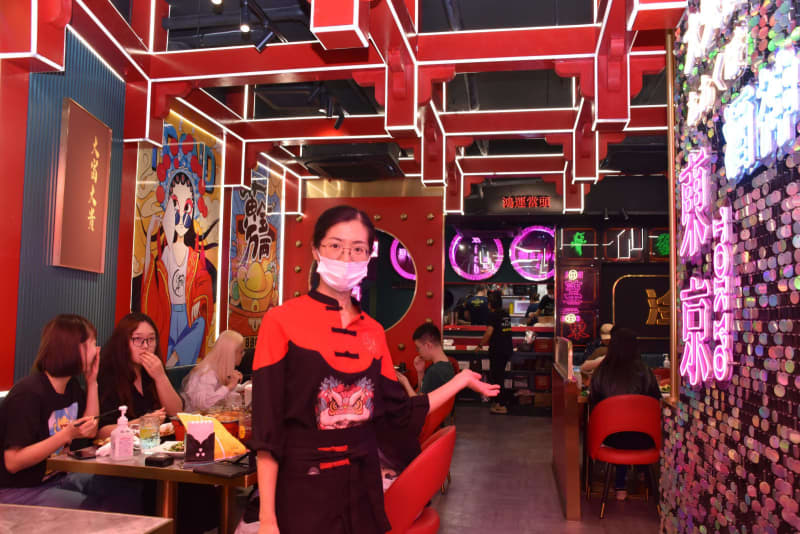 Restaurants serving local cuisine from various parts of China have been popping up around many of Japan's large metropolitan areas, bringing authentic flavors to people missing home or those with wanderlust.
While the eateries do not specifically cater to Japanese tastes and instead target residents from the Greater China region, they have become a draw for Japanese customers wanting a "genuine" Chinese food experience. Many ingredients are unfamiliar to them, such as some chili peppers, crawfish and catfish.
Sa Jiao Xiao Jiu Guan near East Japan Railway's Okubo Station in Tokyo is one such restaurant that serves Chongqing dishes known for their fiery, spicy flavors.
On a recent Sunday evening, shallow iron pans were carried out to a full restaurant of customers enjoying "kao yu" -- butterflied catfish of about 30 centimeters in length, grilled then surrounded by thinly sliced potatoes and lotus roots simmered with chili peppers. The dish is popular among people from the Chongqing region.
Sa Jiao has adopted the dazzling decor that has become popular in China recently -- brightly illuminated, fully illustrated walls and gold-plated figurines.
"When you come here, you not only get to know the flavors preferred in China but the trends in the restaurant industry, such as popular menus and store designs," Masato Nakamura, 59, an editor and writer, said while enjoying a hearty serving of kao yu.
Nakamura has long been involved in publishing tour guidebooks and visited China many times. Last year when demand for his work dried up amid the COVID-19 pandemic, he set up the "Tokyo Deep China Study Group." He introduced "gachi" Chinese restaurants to group members on websites and social media.
Gachi is a Japanese word used by young people to mean "genuine," "serious" or "legit."
With the information drawing much attention, Nakamura published books about such Chinese restaurants in Tokyo. Recently, he has been organizing gachi dinner parties in various locations.
According to the study group, gachi Chinese restaurants began to appear in Shin-Okubo, which is near Okubo and has a large number of foreign and particularly Korean residents, in the 1990s. After that, the center moved to nearby Ikebukuro, and from around 2015, the number increased rapidly in the surrounding area. The group recently compiled a tally of some 150 restaurants, including those around the Takadanobaba neighborhood.
The restaurants, which include those that use Chinese for advertising displays and communication with diners, have also increased in Chiba and Saitama prefectures as well as the Kansai region with Osaka at its center. "We cannot figure out their total number," Nakamura said.
Each gachi restaurant serves meals unique to a particular region in China, like Sichuan cuisine, known for its spicy mala seasoning, and rare local dishes with various characteristics from Hunan, Fujian and Xinjiang.
Many restaurants have adopted a service method widely practiced in China: customers pick their favorite ingredients from refrigerator shelves to create an individual-sized hot pot. Some delivery service apps only support the Chinese language.
A craving for a taste of home among Chinese residents is behind the surge in such eateries. According to the Immigration Services Agency of Japan, there were some 720,000 Chinese residents in the country at the end of 2021, down approximately 100,000 from 2019, before the pandemic began.
Such a sizeable Chinese presence, including students who often dine out, means the restaurants can operate profitably without relying on Japanese customers. But Japanese and other nationalities who wish to experience the feeling of traveling to China also flock to the eateries.
Fuku Egami, a 22-year-old senior at Rikkyo University and member of the study group, said, "Many women of my generation post photos of the bright red hot pots on Instagram these days." Gachi Chinese meals are also alluring because they are covered on TV programs and by YouTubers.
Although there might be little support to order food in Japanese or other languages at many of the restaurants, operators say there is no reason to hesitate in trying them out. "Rare meals are worth challenging," said Guo Fengping, 38, manager of Sa Jiao.