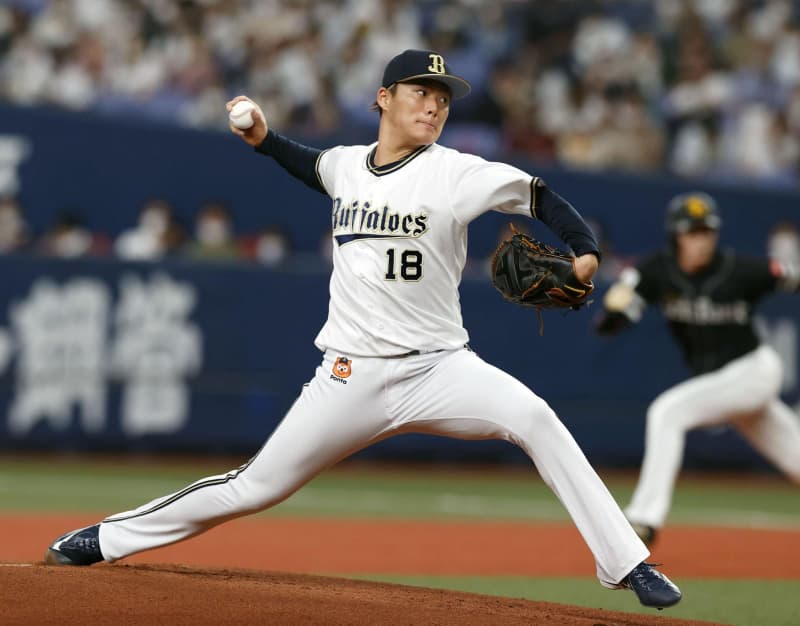 Orix Buffaloes ace Yoshinobu Yamamoto won his second straight Eiji Sawamura Award as Japan's most impressive starting pitcher of the season on Monday, becoming the sixth player in Nippon Professional Baseball history to go back-to-back and the first from the Pacific League.
The right-hander led the PL in four statistical categories for the second straight year after going 15-5 with a 1.68 ERA, 205 strikeouts and a .750 winning percentage.
While Yamamoto saw a slight dip in the four figures from last year, he had a no-hitter in June and gave up no more than three runs in any of his 10 starts since July 23 as he helped the Buffaloes win the PL pennant.
The 24-year-old failed to meet just two of the award's seven statistical benchmarks of 15 wins, 150 strikeouts, 10 complete games, 2.50 ERA, 200 innings pitched, 25 pitching appearances and .600 winning percentage.
"It's an award which rates (a pitcher's performance) over a season and I feel it's a challenging task," Yamamoto said through Orix. "I'm genuinely happy to have been selected for the second straight year."
Yamamoto did not appear before the press on Monday after leaving the mound in the fifth inning of Saturday's Japan Series Game 1 loss to the Yakult Swallows, complaining of discomfort in his left side.
The award's four-member selection committee was left with a simple choice even with Yamamoto, who pitched Japan to the Tokyo Olympic gold medal, falling short in two categories, having only four complete games and 193 innings pitched.
"There really isn't a rival candidate. We can't choose anyone but one player," said committee chairman and former Yomiuri Giants ace Tsuneo Horiuchi.
The panel comprising former pitchers meets and makes its selection every year on the first travel day of the Japan Series. The award, sponsored by The Yomiuri Shimbun newspaper, is named after the Giants' first ace pitcher Eiji Sawamura.
Tomoyuki Sugano of the Giants was the last pitcher to win the award back-to-back in 2017 and 2018.
Should he recover from his health setback, Yamamoto could pitch for the Buffaloes after Game 6 of the Japan Series, which he aims to win for the first time.